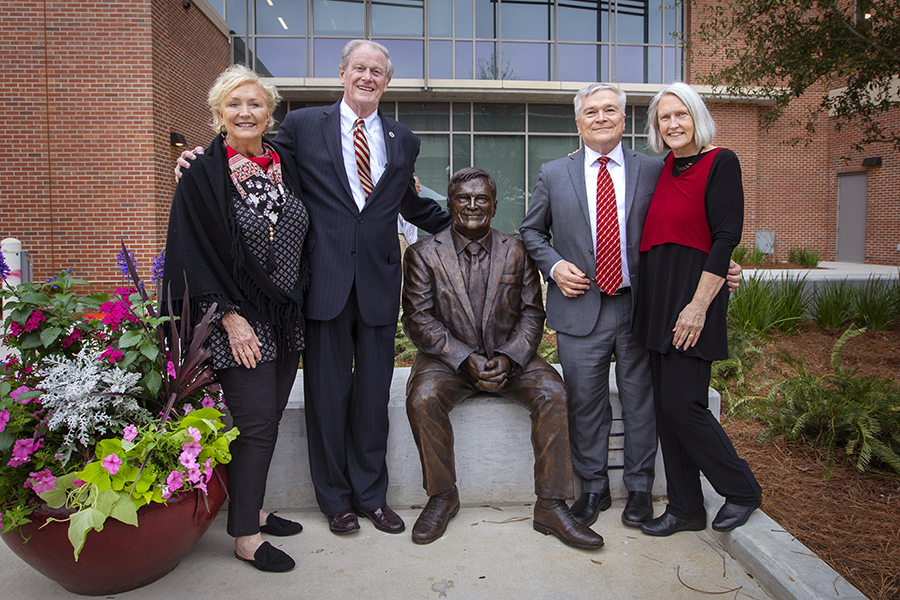 Florida State University honored former President Eric Barron with the unveiling of a life-size bronze statue to commemorate Barron's tenure as president of the university.
The statue was unveiled at the grand opening of the new Earth, Ocean and Atmospheric Science Building, a project Barron launched during his tenure. Barron and his wife, Molly, joined President John Thrasher, FSU First Lady Jean Thrasher, the FSU Board of Trustees and EOAS faculty, staff and students at the ceremony.
"If we look around, Dr. Barron's legacy is everywhere," Thrasher said. "The statue we are about to unveil ensures that future generations will know about his contributions to the university."
The statue of Barron was created by the artists at Master Craftsman Studio, an in-house studio dedicated to preserving the history of the university through artwork. The studio was created in 1999 by the late President Emeritus Talbot "Sandy" D'Alemberte. D'Alemberte's successor, T.K. Wetherell, started the tradition of commissioning a sculpture of the president who preceded him.
Barron served as president from 2010 to 2014 before taking the presidency at Penn State University. When Thrasher became president of Florida State, he commissioned the statue of Barron.
Barron said he thought of his time as president of FSU warmly, particularly because of the people and friendly campus culture.
"This is family," he said.
Chris Horne was the lead artist, but nearly the entire staff of the Master Craftsman Studio worked on the sculpture. The artists at Master Craftsman spent more than an hour with Barron in preparation, taking photographs and deciding on the right pose and tone for the statue.
"President Barron wanted something that was approachable, so he really liked that concept of seated, reflective as opposed to standing, in-the-robe look," said John Raulerson, director of the Master Craftsman Studio.
The statue was placed outside the new building to acknowledge Barron's role in initiating it. Barron received his degree in geology, a major currently within the Department of Earth, Ocean and Atmospheric Science, in 1973.
Thrasher noted that Barron's influence and legacy at Florida State go far beyond his work on the new building.
Barron established FSU's Student Veterans Center, worked with the Florida Legislature to set benchmarks that led to FSU being named a preeminent university in the state and was the first to articulate the university's goal to become a top 25 public university. Last fall, FSU surged to No. 18 in the U.S. News & World Report's rankings of public universities.
"I may not be here, but I spend a lot of time watching," Barron said. "And I just can't tell you how proud I am of what this university has been doing."