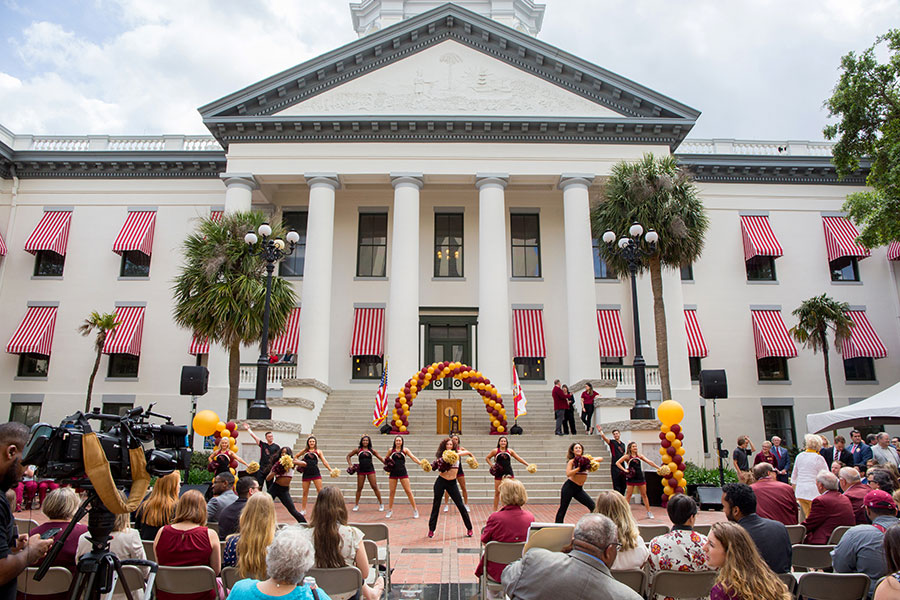 The Florida Capitol will gleam garnet and gold as Florida State University celebrates its academic and athletic success during FSU Day at the Capitol.
The event will showcase several of the university's colleges and academic departments, which will have displays and information tables set up on the first three floors of the capitol from 10 a.m. to 2 p.m.
An outdoor pep rally will take place from 11:30 a.m. to 1 p.m. on the plaza between the old and new capitol buildings. The pep rally will feature remarks by President John Thrasher and Head Football Coach Mike Norvell, recognition of FSU alumni serving in the Legislature and performances by the FSU cheerleaders, members of the Flying High Circus and a pep band from the College of Music.
The event will take place from 10 a.m. to 2 p.m. Wednesday, Feb. 12, at the Florida Capitol, 400 S. Monroe St. 
President Thrasher and the FSU Student Government Association will co-host a reception, "Seminole Evening," from 5:30 to 7:30 p.m. Tuesday, Feb. 11, on the 22nd floor of the Capitol where members of the FSU Student Government Association will recognize legislators.
All events are free and open to the public. Fans are encouraged to wear garnet and gold apparel during the festivities.