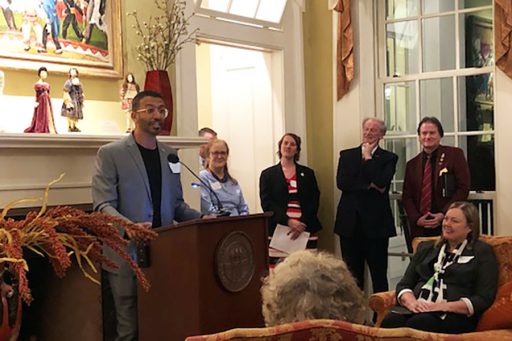 Florida State University President John Thrasher recognized students and faculty who have received Fulbright awards during a Nov. 7 reception at the President's House.
"Tonight's event is an important part of FSU's International Education Month, and I'm glad we are taking this opportunity to honor students and faculty who have received a Fulbright at some point in their careers," Thrasher said.
Members of the North Florida Fulbright Association, which is made up of Fulbright alumni from the region, also were in attendance, as well as guest speaker Stephen Hubler, U.S. Department of State Diplomat-in-Residence for the Southeast Region, who is based at Florida A&M University.
FSU ranked second in the nation among research institutions as a top producer of faculty scholars, with nine Fulbright recipients in the 2018-2019 academic year. In addition, 10 FSU graduate students and recent alumni were awarded grants for 2018-2019 as part of the Fulbright U.S. Student Program.
"FSU will again be among the top producers of student Fulbright awards this academic year — a wonderful reflection of our commitment to internationalization and a testament to the good work of the Office of National Fellowships," Thrasher said.
Thrasher also recognized international students and faculty who are studying or teaching at FSU through the Fulbright program. Omar Mohammad Al Busaidy, from the United Arab Emirates, is one of nine new international students on campus this fall through the Fulbright program. During the reception, He spoke about his experience as a Fulbright studying in America.
"These students and visiting scholars are enriching our campus by sharing their knowledge and perspectives with us, and we are so happy they are here," Thrasher said.
Other speakers included Peggy Wright Cleveland, director of Faculty Development; Mark Riley, dean of the Graduate School; Craig Filar, associate dean of Undergraduate Studies and director of the Office of National Fellowships; and Latika Young, president of the North Florida Fulbright Association Chapter.
The Fulbright Scholarship Program, named after Sen. J. William Fulbright, aims to facilitate a mutual understanding between U.S. citizens and those of other countries by sponsoring the exchange of both U.S. and foreign participants across disciplines. The program is led by the U.S. government in partnership with more than 160 different countries across the globe.