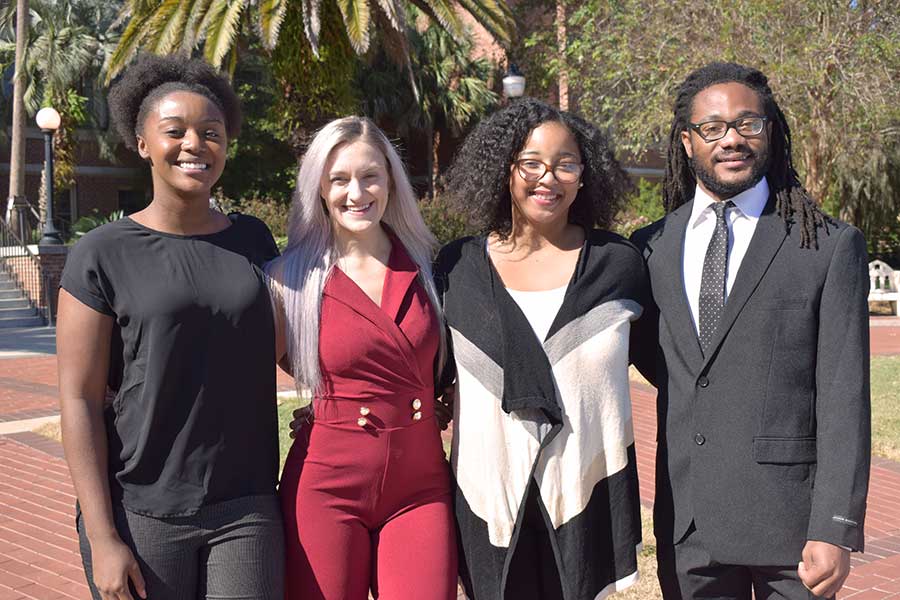 Florida State University is continuing its long-standing relationship with neighboring Florida Agricultural and Mechanical University with the acceptance of its largest class of new graduate students involved in the FAMU Graduate Feeder Scholars Program.
This year, FSU awarded a record four fellowships to FAMU students seeking master's or doctoral degrees. Through the Graduate Feeder Scholars Program, the students received admission into FSU and financial support for their higher education.
"The FAMU Feeder Program is a wonderful partnership between Florida State and Florida A&M," said Adrienne Stephenson, assistant dean of FSU's Graduate School and director of the Office of Graduate Fellowships and Awards. "It demonstrates the importance of collaboration in higher education to increase diversity and provide opportunity for underrepresented students who desire to pursue advanced degrees."
The program acts as a liaison between students and more than 40 partnering feeder institutions, including FSU, to advocate for a quality graduate experience.
Two of the fellowship award winners were accepted into FSU's Integrated Marketing Communication (IMC) graduate program. Beverly Graham chose FSU because of the positive experiences she has had with FSU alumni. She is pursuing a graduate degree with plans of increasing the representation of minorities in marketing efforts. Graham wants to use her degree to develop programs and businesses that will have positive, holistic effects on low-income communities.
Jessica Gardner, also accepted into the IMC program, is pursuing an advanced degree so that she can provide for her son.
"My son deserves the entire world," Gardner said. "As a single mother and his sole provider, it is my job to ensure he grows up with everything he could possibly need. A graduate degree is vital in making that possible. My motivation is my son."
Gardner also dreams of opening an Alzheimer's foundation in the future. She said this desire came from watching her grandmother suffer from the disease when she was a young girl. She plans to use her degree to gain work experience before opening her own marketing firm and allocating a portion of the money to an Alzheimer's foundation or starting her own.
One fellowship recipient has already overcome many obstacles. Hans Supre, who is pursuing a Master of Public Health, said that it was always his plan to be the first one in his family to go to college.
"It was never an option for me not to pursue a master's degree," he said. "Ever since I was younger, I have always had expectations of success in my life. Growing up less fortunate, I wanted to become the first person in my family to graduate college, which I did."
When he was 14, Supre's older brother was shot and killed while playing basketball. Supre described this tragedy as the most traumatic event in his life. Afterward, he realized he was now the oldest child in his family, and it was up to him to beat the odds.
"My family and my circumstances are my two greatest motivations to pursue this degree," Supre said.
The fourth Feeder Scholar is Taylor Darks, who will be working toward her doctorate in sociology from the College of Social Sciences & Public Policy. Darks specializes in Pan-Africanist thought, African American studies and the effects of colonialism. While she pursues her doctorate, Darks' goal is to study the national and international effects of colonialism on the African Diaspora. She chose FSU because of its top sociology program and because she genuinely enjoys the people she works with there.
"The intellectual conversations that I have with those in my department push and inspire my work," Darks said.
Darks wants to apply her educational background with her everyday work. Her ideal job is to work for the United Nations to combat racism and human rights violations.
Also a published author, Darks has written two children's books as well as adult novels concerning racial injustice. Her first book, "Caged: A Poetic Collection of the African American Experience," is currently part of the Sociology of the Black Experience class curriculum at FAMU.
"Writing children's books for black youth and sci-fi adult novels is just a hobby for me right now," Darks said. "I find writing to be a relaxing release for me, and I can't wait to see where it takes me."
For information on the FSU Graduate School, visit gradschool.fsu.edu. For more information about FAMU's Graduate Feeder Scholars Program, click here.