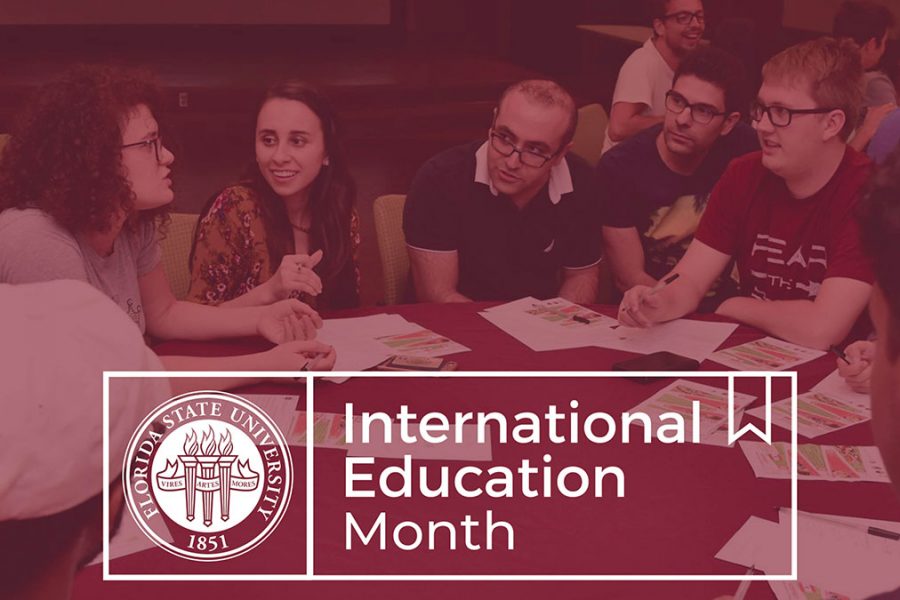 Florida State University will observe International Education Month during November to highlight its internationalization and global awareness efforts.
The monthlong celebration expands upon International Education Week, a joint initiative led by the U.S. Department of State and the U.S. Department of Education, which is held across the nation during the third week of November.
"Florida State is recognized as a leader in international education and research, and this is another way we can engage our students and faculty to explore different cultures and global issues," said Sally McRorie, provost and executive vice president for Academic Affairs. "These events and activities celebrate FSU's global connections and perspectives, while helping the university to advance its mission to expand international outreach."
Over the past two years, Florida State has earned two national awards for internationalization, the 2018 Platinum Level Institutional Award for Global Learning, Research & Engagement from the Association of Public and Land-grant Universities (APLU) and the 2017 Senator Paul Simon Award for Campus Internationalization. The awards honor FSU's excellence in integrating international education throughout all facets of the university.
Events, which are free and open to the public, will begin Oct. 30 and run throughout the month of November. Featured events include:
THURSDAY, OCT. 31
International and Cultural Studies Fair
11 a.m. – 3 p.m., Landis Green
Come and learn about international and global-related programs at FSU. Program staff and representatives will be present to answer questions about international studies or opportunities abroad.
TUESDAY, NOV. 5
IEM Opening Reception with President Thrasher followed by Going Global
3 p.m., The Globe Auditorium
Join President John Thrasher for international hors d'oeuvres at the official launch of IEM before attending Going Global, where FSU students will showcase their international experiences from around the world.
THURSDAY, NOV. 7
Immigration: An Interdisciplinary Symposium
9 a.m. – 4:30 p.m.
Strozier Library, Bradley Reading Room
FSU Libraries invites you to explore the immigration and refugee experience through presentations and discussion. Free lunch and coffee will be provided for those who attend. To RSVP, visit https://fsu.libcal.com/calendar/events/Immigration.
FRIDAY, NOV. 8
Around the World with International Programs
12 – 2 p.m., The Globe Auditorium
Join International Programs for a time of activities, crafts and food to explore the cultures of FSU's study abroad centers in Florence, London, Panama and Valencia.
SATURDAY, NOV. 9
"Identity in the Ottoman Empire" Exhibit
10 a.m. – 4 p.m., Museum of Fine Arts
This is the final day to visit the Museum of Fine Arts' three-month exhibit exploring the diverse ethnic and religious identities that co-existed in the Ottoman Empire.
THURSDAY, NOV. 14
Department of Modern Languages and Linguistics Open House
1 – 5 p.m., Diffenbaugh
The Department of Modern Languages and Linguistics' 11 language and linguistics programs will table to provide students with information about offerings, programs and events. A display of cultural items and some food and sweets will be provided in order to highlight the diversity and the global cultural aspects of the department.
Circus Performers and Popular Media in Fin de Siècle France
5 – 8 p.m., William Johnston Building, Room 2009
The French Lecture Series will host a four-person symposium featuring discussion on the different lenses through which French-related popular entertainment media were viewed by the public in Europe and America.
FRIDAY, NOV. 15
Global Exchanges Fair
4 – 6 p.m., The Globe Auditorium
Come meet with international students from FSU's partner universities and Global Exchange students who have recently returned from abroad.
For more information and a complete list of on-campus events, visit https://cge.fsu.edu/intercultural-programs/international-education-month.