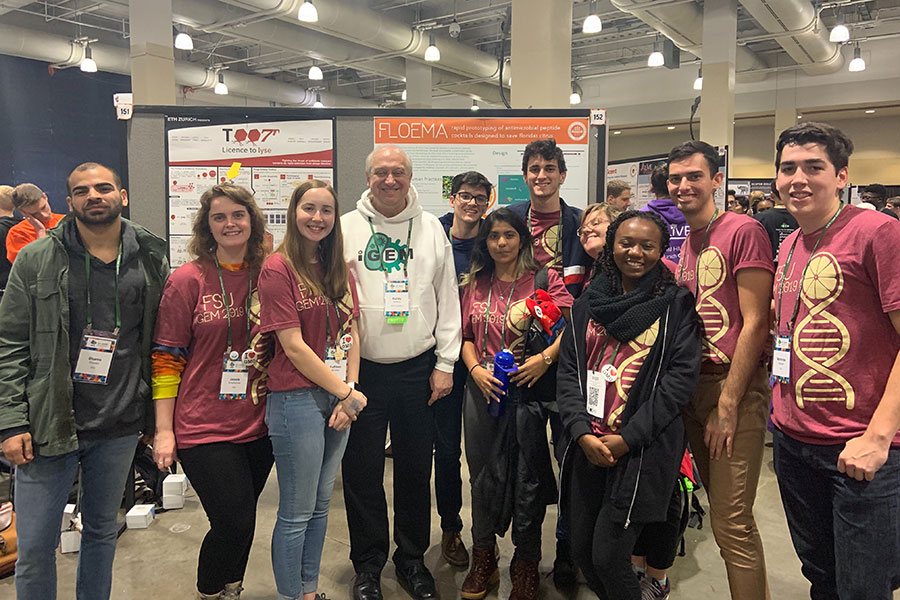 A team of 15 Florida State University undergraduate students earned a gold medal at the International Genetically Engineered Machines (iGEM) competition Nov. 4 in Boston.
FSU's entry competed in a field of 360 teams from around the world. FSU was one of only eight American teams to earn gold and the first team from Florida. The other gold medal-winning American teams were MIT, Cornell, Virginia, Rice, Pittsburgh, UT-Austin and a combined squad from Stanford, Princeton, and Brown.
"There is no shortage of talented students at FSU," said Dr. Cesar Rodriguez, research faculty I and entrepreneur in residence in the College of Medicine, who serves as the team's adviser. "It was incredibly heartwarming to see that demonstrated so concretely."
The team tackled the issue of citrus greening, a disease which causes citrus trees to produce fruit that is green, misshapen, bitter and unsuitable for consumption. From 2007-2014, the Associated Press estimates citrus greening has seen Florida orange growers lose $2.9 billion.
The FSU students developed a cocktail including three antimicrobial peptides to eliminate the bacteria that is causing greening and guard against the emergence of resistant strains.
In addition to getting each participant project-based experience, a goal of iGEM is to bring together team members from multiple disciplines, Rodriguez said. He added that FSU's 15 team members represented seven different majors.
"Putting together people from such different disciplines is very challenging," he said. "But when you get it done, there is a magic that comes from it, and those teams can do things that others just can't do."
In addition to developing a compelling biological science and engineering project, the team also created a comprehensive presentation, a poster and a website.
Roderick Meyer, a senior from Fleming Island, Florida, said working alongside teammates with different backgrounds is its own benefit.
"Being on a team with like-minded people is one thing, but when you're working on a multidisciplinary team, you are introduced to an entirely different realm of ideas and schools of thoughts, which everyone can benefit from," he wrote in an email. "Every single day was a learning experience for each member of the team."
Meyer said that seeing FSU's name in the gold category was a "we did it" moment.
"I was overcome with pride," he wrote. "I'm not scared to admit I cried — a lot. Our achievement goes to show the power of a well-designed team."
Jacob Gottlieb, a junior from Coral Springs, Florida, lauded the virtues of the experience. From the practical application of cutting-edge science to how this solution could play out in the modern marketplace, Gottlieb noted that iGEM offered a broad set of experiences and lessons that he'll carry with him into his professional career and beyond.
"And," he said, "the way this looks on a resume is magnificent."
For more information on FSU's gold medal-winning iGEM project, visit https://2019.igem.org/Team:FSU.