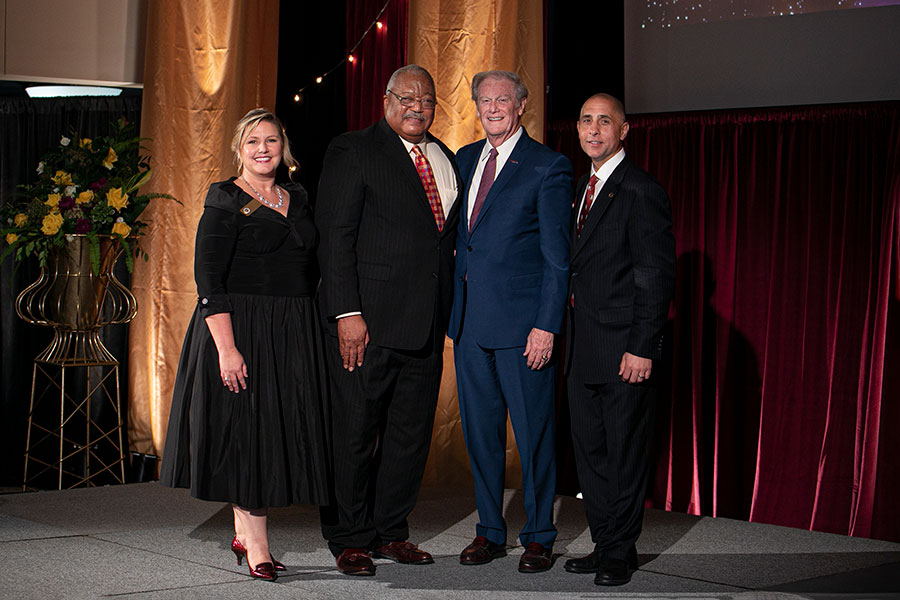 The Florida State University Alumni Association recognized seven members of the FSU family during the Alumni Awards Gala Friday, Oct. 25, at the FSU Alumni Center Courtyard and Ballroom.
The gala took place during FSU's annual Homecoming Week.
"Homecoming is a time when we welcome back Florida State University alumni, and there's no better way to do so than honoring these seven graduates," said Julie Cheney, president and CEO of the FSU Alumni Association. "What's amazing about FSU alumni is their eagerness and willingness to give back to this top 20 university, which these honorees have done. For that, we are so proud and thankful."
The highest honor went to Melvin Stith, who was presented with the Bernard F. Sliger Award. Named for the 10th president of Florida State University, the Sliger Award is the single highest honor given by the FSU Alumni Association. This award recognizes a member of the university community who has made a major contribution toward the fulfillment of Florida State University's mission. 
Stith is widely known for spearheading the Jim Moran Institute for Global Entrepreneurship. During his tenure at FSU, Stith forged a friendship with Jim Moran, which resulted in numerous financial gifts to the college and FSU, including a $1 million gift in 1995 to establish the Jim Moran Institute for Global Entrepreneurship in the college and the recent $100 million gift from Jan Moran and The Jim Moran Foundation. Additionally, Stith is a founding member of the PhD Project, a national program that supports the diversity of business school faculty across academia. This led to the FSU College of Business being recognized as a national leader in producing African-Americans with doctoral degrees.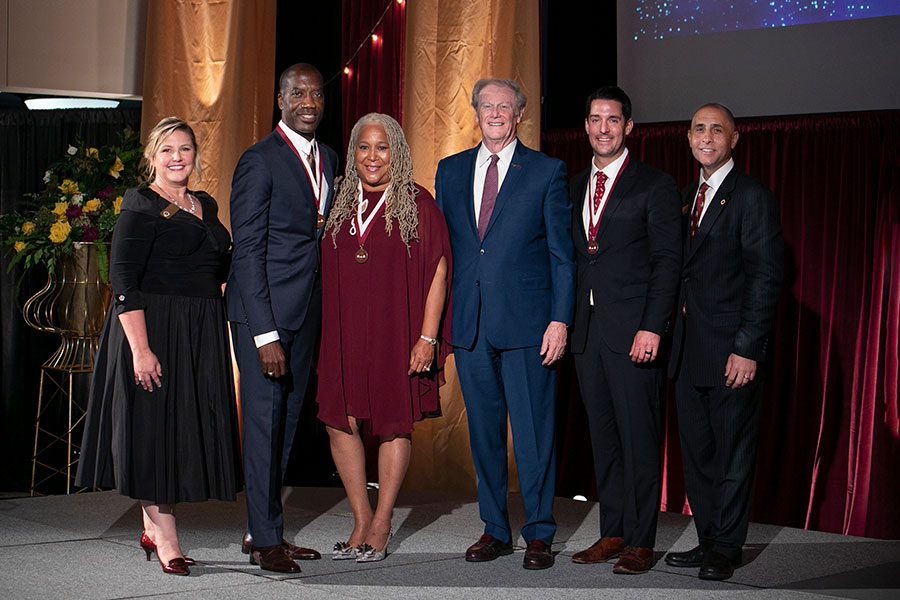 The Alumni Association also awarded three recipients the Circle of Gold Award, which is presented to individuals who, through their service and achievements, personify the university's tradition of excellence. The 2019 Circle of Gold awardees are: 
Keith Carr (B.S. '90, M.P.A. '93)
College of Criminology and Criminal Justice
College of Social Sciences and Public Policy
Keith Carr is a two-time graduate of FSU, receiving his Bachelor of Science degree in Criminology in 1990 and his Master of Public Administration in 1993. Carr has always maintained an active role when it comes to giving back to the university. He currently is a member of the FSU Foundation Board of Trustees. He and his wife, Nutoshia, established the Keith D. & Nutoshia D. Carr Endowed Scholarship to assist students in paying for their education.
J.D. Doughney (B.S. '02, M.S. '03)
College of Communication & Information
College of Social Sciences & Public Policy
John "J.D." Doughney holds three degrees from Florida State — bachelor's and master's degrees from the College of Communication & Information and a bachelor's degree from the College of Social Sciences and Public Policy. He currently serves as a global client partner at Facebook and credits Florida State University for preparing him to take on challenging leadership roles and diverse business opportunities. He was selected to the FSU Senior Hall of Fame and the Homecoming Court during his senior year, which contributed to his understanding of the valuable role that the FSU Alumni Association plays in the university experience for alumni and current students. To this day, he volunteers his time to assist with special projects for the Alumni Association.
Doby Flowers (B.S. '71, M.S. '73)
College of Social Work and College of Social Sciences and Public Policy
Doby Flowers followed in her brother Fred's footsteps and enrolled in Florida State University in 1967. In 1970, she was elected as FSU's first African American Homecoming Queen, which marked a political and social shift on campus. Known as a trailblazer for her achievements in breaking down barriers and challenging society's perceptions of African American women, a bronze statue of Flowers stands on the FSU campus as a symbol of the courage she demonstrated as a leader of the integration movement at the university.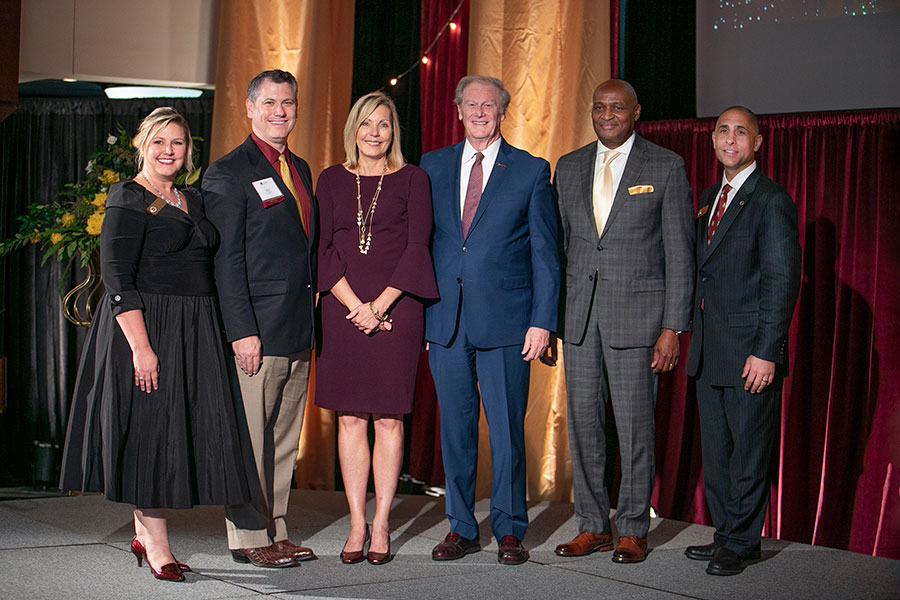 In addition, the Alumni Association presented three alumni with the Grads Made Good Award presented to FSU graduates who have made outstanding contributions to their community or chosen field. The three 2019 recipients are: 
Arthur Fleming (B.S. '81)
College of Criminology and Criminal Justice
A 1981 FSU graduate, Arthur L. Fleming continues to embody "Vires, Artes, Mores" in every aspect of his life. He has dedicated his professional career to improve and enrich the lives of those less fortunate by providing opportunities for quality affordable housing. Over the years, Fleming devised the first community development lending business plan for GMAC residential and developed a comprehensive affordable housing policy for the state of Florida while working as the executive director of the Community Financing Consortium. His efforts have helped residents across the state and across the nation achieve the dream of home ownership. 
Myrna Hoover (B.S. '83, M.S. '84)
College of Communication and Information
Myrna Hoover is the definition of a Seminole — spirited, hardworking, intelligent, a true leader and role model. Hoover has over 33 years of career services experience and is currently the director of the FSU Career Center. She co-authored the National Career Development Association published monograph, "Employer Relations and Recruitment: An Essential Part of the Postsecondary Career Services." During her career, Hoover has impacted countless students, alumni and friends through her commitment and dedication to the field of career services and FSU.
David James Kennedy (B.S. '99)
College of Arts and Sciences
D.J. Kennedy is a professor and chair of Physical Medicine and Rehabilitation at Vanderbilt University Medical Center where his practice focuses on non-operative and interventional spine. His research has focused on the safety and efficacy of interventional spine procedures, which has changed the standard of care of medicine in his field. He has pioneered safe injection techniques and is an internationally recognized expert in interventional spine procedures. Kennedy epitomizes the spirit of the Grads Made Good Award, as he has demonstrated a dedication to excellence in teaching, research, creative endeavors and service.
For more information about getting involved with the FSU Alumni Association, please visit alumni.fsu.edu.