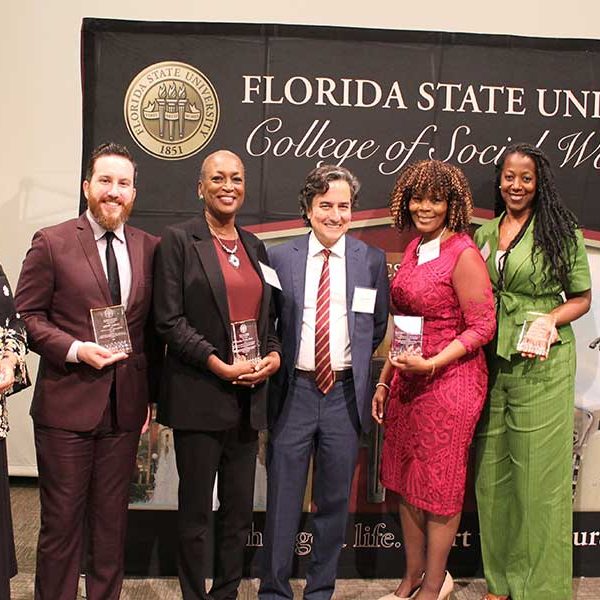 The Florida State University College of Social Work celebrated its 2019 Distinguished Graduate Award recipients and social work scholarship recipients at a dinner at the FSU Alumni Association Thursday, Sept. 26.
Each year, the event celebrates the contributions of students, alumni and donors to the College of Social Work, social work education and the profession.
More than 90 scholarship recipients were honored. Oluremi Abiodun was the featured scholarship recipient speaker. She is a graduate student from New Orleans, who is pursuing a master's degree in social work along with a Juris Doctorate from the FSU College of Law with a focus on public interest law. Abiodun is also a third-year student ambassador at the College of Law and helps first-year law students transition into law school.
Five graduates of the FSU College of Social Work were recognized for their significant contributions to social work. These recipients include:
Patricia (Pat) Lager – Distinguished Emeritus Alumni Award (BA, 1967; MSW, 1983)
Lager is a two-time alumna of the FSU College of Social Work. Prior to joining the College of Social Work in 1988, she had a long career as a child welfare professional. Lager held a deep commitment to cultural diversity, which led her to establish the college's international program. She was appointed director of the program in 2004 and served in the position until her retirement in 2011.
Andrew Richey – Distinguished Young Alumni Award (MSW, 2015)
Since graduating in 2015, Richey has served as a loss and bereavement counselor in community hospitals, first in the Tampa Bay region and currently for Penn Medicine in Philadelphia. Within Pennsylvania Hospital's Emergency Department, he serves as the first social worker position in an emergency response setting. Richey is also a full-time doctoral student at the University of Maryland School of Social Work. He is dedicated to bringing attention and destigmatizing the diagnosis for people in the Philadelphia area with sickle cell anemia.
Barbara Williams White – Distinguished Social Work Educator Award (BSW, 1974; MSW, 1975; Ph.D., 1986)
Williams White, who passed away July 19, 2019, was honored posthumously. Williams White was a three-time graduate of the FSU College of Social Work and holds a degree in music education from Florida A&M University (BA, 1964). She served as a professor and associate dean for the college from 1979 until 1993. She became the first African American dean at the University of Texas at Austin, serving as dean of the School of Social Work from 1993 to 2011. Williams White was a prominent scholar in cultural diversity, women's studies and domestic violence. She was a former president of both the National Association of Social Workers and the Council on Social Work Education, the only person in the social work profession to have held both leadership positions.
Terrilyn C. Rivers-Cannon – Distinguished Alumni in Social Work Practice (MSW, 1993)
Rivers-Cannon is a certified school social worker and graduated from the FSU College of Social Work with her MSW in 1993. She holds a bachelor's degree in criminal justice from Voorhees College and a doctoral degree in educational leadership from Argosy University. Rivers-Cannon is the 2019 National School Social Worker of the Year, awarded by the School Social Workers Association of America, and is the first Georgian and African American recipient. She also has served as president of the School Social Work Association of Georgia. She has worked with youth in the Georgia school system for 18 years.
Earline Wesley Davis – Distinguished Alumni in Social Policy and Administration (MSW, 1975)
Earline Davis graduated with her MSW in 1975. In the same year, she became the first African American department head in Brevard County, Florida, serving as the director of the county welfare department. She has also served as director of Social Services in Alachua County, Florida, and as director of the Human Services Department in Wichita, Kansas. She continued to make history in 1998 when she was appointed as the first African American female leader in the role of director of the Department of Family and Children Services in Cheatham County, Georgia. Later she became the first African American executive director of the Housing Authority of Savannah, Georgia.