More than 200 Florida State University students, faculty and staff took part in a healthy dialogue on the topics of diversity, inclusion and equity in researching and teaching in higher education during the 2nd annual DIRECTO symposium DIRECTO, held Friday, Sept. 27.
DIRECTO — or Diversity and Inclusion in Research and Teaching Organization — is a graduate student-led organization that promotes incorporating diversity and inclusion in research projects, teaching methods and higher education life at FSU.
President John Thrasher kicked off the symposium discussing the importance of nurturing a culture of inclusion and equality.
"I always say our diversity is our strength because I believe it is," Thrasher said. "I see it in the world we live in today. We have to understand why diversity is important, and we have to go out and be ambassadors for those kind of roles."
Those remarks were praised by the morning's keynote speaker, Pam McCauley, professor and director of the Ergonomics Laboratory in the Department of Industrial Engineering and Management Systems at the University of Central Florida.
McCauley stressed the importance of having an administration that recognizes the importance of diversity and inclusion and said those in attendance were difference makers.
"It makes a difference globally when diverse people can come together, and not just be together but include each other," McCauley said. "We all matter. What you're doing here is so important."
McCauley shared facts about diversity in a team setting, noting that it typically leads to a decision being made twice as fast. She talked about recognizing personal biases and reminded attendees that a little kindness goes a long way. She also was impressed that a student-led organization like DIRECTO could produce such a powerful program.
During the event, breakout sessions on topics such as LGBTQ and education, women in STEM and international graduate student education were discussed. In a session on women in mathematics, a panel of math professors and graduate students had an opportunity to talk about a new mentoring network led by the FSU chapter of the Association for Women in Mathematics. Another breakout session allowed group members to share their personal stories of what diversity and inclusion has meant in their lives.
The power of the personal story was the focus of the afternoon's keynote address by FSU's new dean of the College of Fine Arts, James Frazier. Frazier, who earned his bachelor's and master's degrees at Florida State, said he found his complete self as a college student learning about dance as an independent platform at FSU.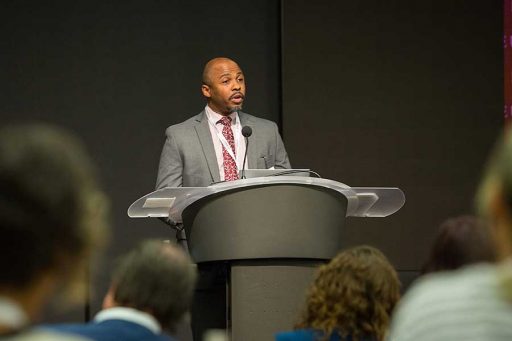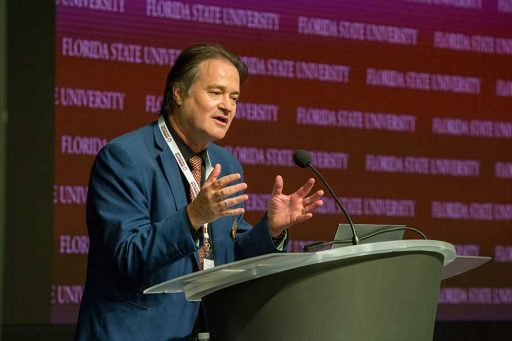 "I want to talk about the teachers who helped me see me, because I am grateful," Frazier said. "I want to talk about freedom because so many have died in pursuit of it… I want to talk about the power of the personal story, because without it, what do we have?"
Frazier discussed his own experiences and journey from his youth growing up in chronological closeness to the civil rights and black arts movements, which informed his outlook on equality and access for all.
Using the literary works of Langston Hughes' "Dream Variations" and Maya Angelou's "I Know Why the Caged Bird Sings," Frazier talked about how various people encouraged him and how he himself found the courage to speak his own truth.
"In my full embracing of the personal story, my willingness to tell, to share the personal story and realize that it's not something that is other, or that is marginal — I find power," he said.
Mark Riley, dean of the FSU Graduate School, closed out the symposium by encouraging everyone to keep the conversations going.
"We all need to learn from each other," Riley said. "We've got to change the landscape. It's events like this, and us going out and spreading the conversation that will change how things are. We need the momentum that DIRECTO has to continue."
Lisa Liseno, assistant dean of the Graduate School, said it was an honor to be the academic adviser for the organization and that the future of higher education depends on ensuring that diversity and inclusion are addressed.
DIRECTO co-chair,Katie Pierson agreed. Pierson said it was gratifying to see how many people were interested and excited about DIRECTO's mission, especially after starting out as a book club with the help of the President's Diversity & Inclusion Mini-Grant in 2017.
She said following the book club things spun out of control in the best way possible and led to the creation of the symposium, which the DIRECTO team continues to volunteer their time for in addition to their research and teaching assignments.
"It's totally worth it," Pierson said. "We need to have different perspectives in both our research and our teaching. We are a diverse culture, and we just need to embrace it and bring it to academia."