Florida State University graduates celebrated milestones and reflected on the opportunities FSU provided them during summer commencement held Friday, August 2, and Saturday, August 3.
Degrees were awarded to 2,673 students, with more than 1,400 graduates participating in two ceremonies at the Donald L. Tucker Civic Center.
President John Thrasher presided over commencement and introduced keynote speakers Allan Bense and retired Lt. Col. John Crowe — both proud FSU alumni.
Bense, a former speaker of the Florida House of Representatives and former chairman of the FSU Board of Trustees, addressed graduates during Friday evening's ceremony.
He told tales of his final semester at FSU — when he was a broke janitor living out of his car — and of his numerous lost elections before finally being elected.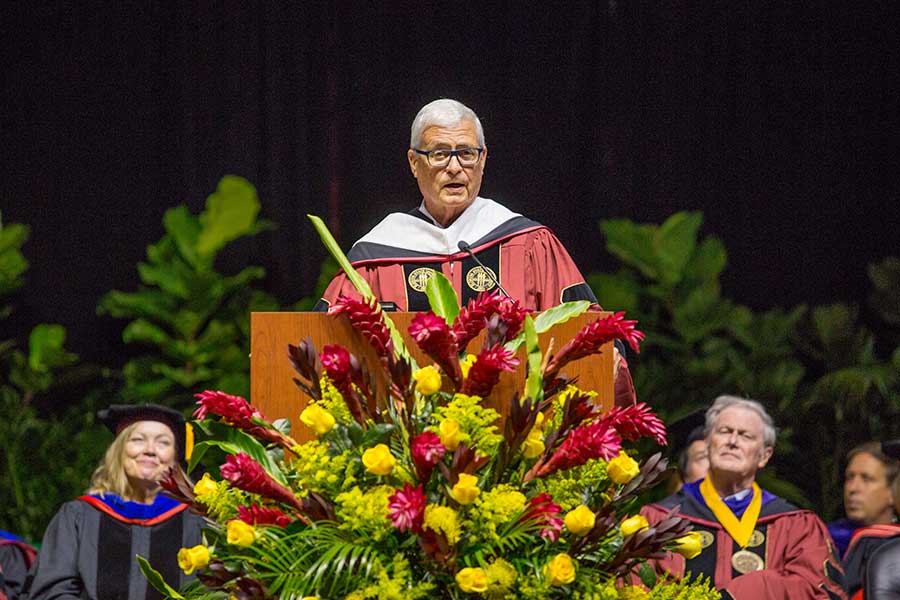 Bense, who received an Honorary Doctor of Humane Letters degree from FSU in March in recognition of his years as a dedicated public servant and his devotion to his alma mater, also shared the importance of having a PLAN: Plan, Learn, Attitude and be Nice with graduates.
"If you can make other people successful, you will be successful," Bense said. "Persevere, be persistent and don't quit. Keep going forward. Whatever you choose to do, we live in America; it's the greatest country on the planet. In America, if you work hard, if you're honest, you're going to be successful every single time."
Derek Brown graduated in Friday's ceremony with a bachelor's degree in studio art. Through connections he's formed as an intern at the FSU Master Craftsman Studio, Brown feels confident in a successful future, despite how unreal it feels to be graduating.
"It feels surreal," Brown said. "It's weird because I graduated high school five years ago, so it feels so soon. It hasn't hit me yet. I left my internship at the Master Craftsman Studio after three semesters the other day, and it's weird to finally walk away from it all. I'm getting a little sad."
Celine Chasteen was one of six undergraduates to receive a degree from the College of Medicine on Friday. She earned a bachelor's degree in clinical professions, and said she eventually wishes to attend PA school — hopefully at FSU.
"It's been a long four years and a lot of studying, so it's nice to officially have a pay off," Chasteen said. "Florida State has definitely pushed me toward new things, and I'd love to go to grad school here."
Lindsay Marks had never taken a class on FSU's campus before receiving her master's degree in English education during Friday night's ceremony. She completed her program within two years completely online while teaching full-time in Sarasota.
"I was already teaching English, and FSU taught me so much more," Marks said. "It made me a much more effective educator with my kids, and now I have the research practices to back up what I'm doing. Walking into this room makes it all worth it. The fanfare, the big auditorium, seeing everyone; it makes the two years of hard work mean more now that I'm here."
One graduate who knew all too well about hard work was Kalisa Villafana. She made history during Friday night's ceremony when she became the first black female graduate to earn a doctoral degree in physics from FSU.
"This isn't the end, because there's always more to do," Villafana said. "This experience has been so rewarding. FSU has helped me learn a lot about myself, and I've met so many influential people."
Villafana joined Rebeka Lubna and Maria Anastasiou as one of three women to receive a doctorate in nuclear physics — another historic milestone for the university.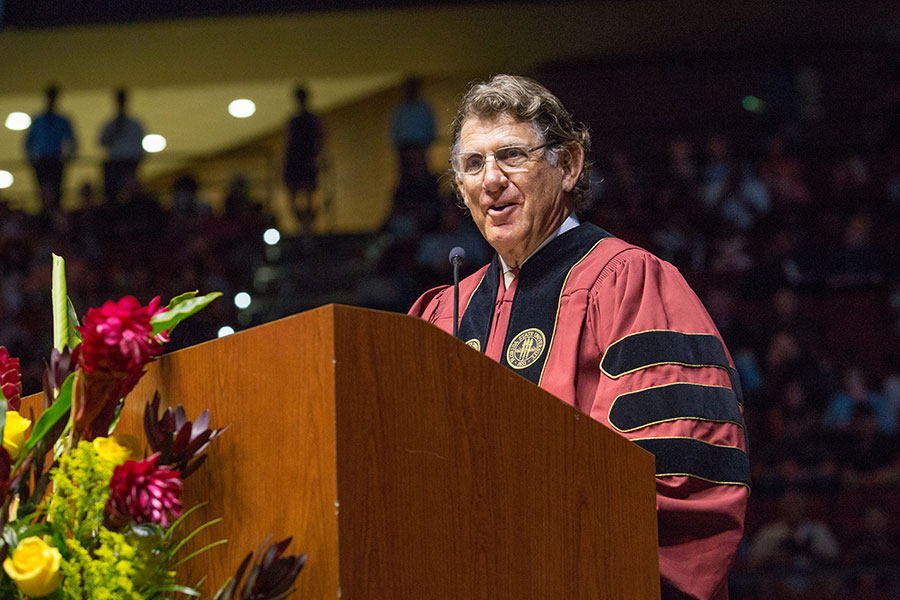 At Saturday morning's ceremony, Crowe echoed the importance of having a plan during his speech to graduates.
"It is my hope that all of you will make your college experience the foundation of your life plan," Crowe said. "It is my hope that you will see the world as you play out your life plan, and it is my hope that you will always value and support Florida State University."
Crowe, who graduated from Florida State 50 years ago, served as a U.S. Air Force pilot for 28 years and later led a paper manufacturing company. He listed several tips for graduates to consider during the development of their life plan, including being a team player, remaining humble, having role models, enjoying life and having a vision for where they are going.
"Write it down and read it to yourself often," Crowe said. "Believe good things will happen, and they will. If you don't know where you are going, you will get nowhere. Those who dream dreams and create an innovative plan go on to achieve them with passion and determination."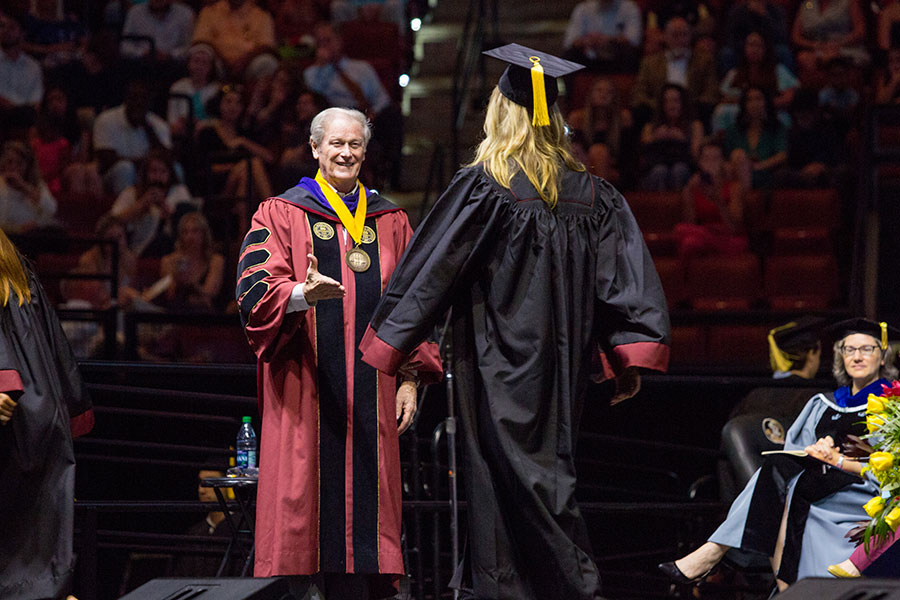 Those words of wisdom resonated with sociology and criminology graduate Jatia' Harris. She took six years to complete her bachelor's degree after battling health issues and taking time off to raise her daughter.
"Graduating from FSU magna cum laude is a testament to my perseverance," Harris said. "I'm overjoyed that I was actually able to do it."
If the long-awaited moment wasn't enough, Harris' walk across the graduation stage proved even more special because her father was waiting on stage to greet her. Gregory Harris, associate dean for Academic Affairs at FSU's College of Human Sciences, has sat on the dais for years, but this time was different.
"I tried not to hug her too long," he said.
Harris will attend graduate school with plans to become a digital forensics analyst. She had this advice for future members of the Florida State family.
"Know that college is hard," she said. "You're going to have setbacks. However, by being at FSU you are properly preparing for your future, even if you don't know what you want to do just yet. At FSU you will have limitless opportunities. Determine your future, go do what you love and never procrastinate."