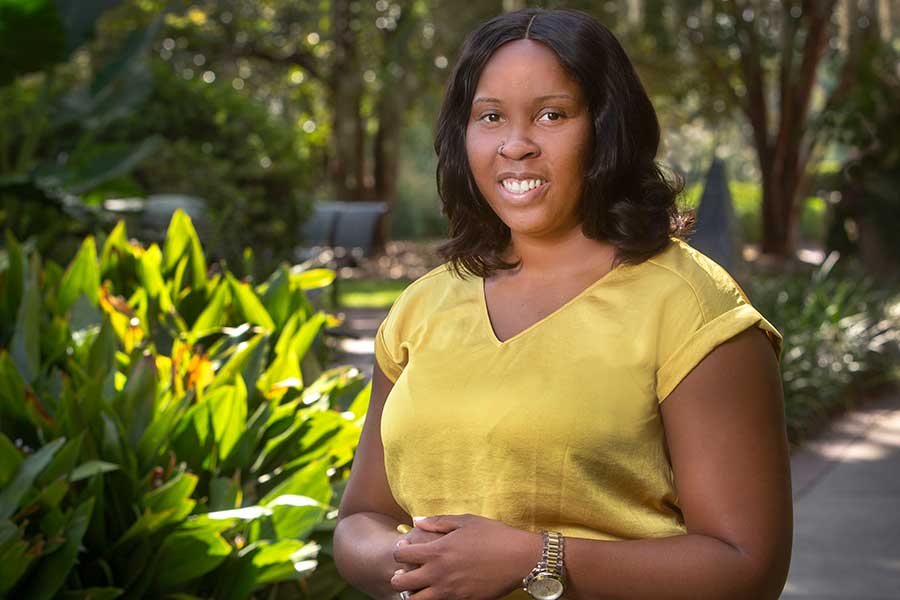 Kalisa Villafana will make history when she is hooded in front of thousands Friday evening during the first of two summer commencement ceremonies at Florida State University.
Villafana will be FSU's first black female graduate to earn a doctoral degree in nuclear physics and only the 96th black woman in the country with a Ph.D. in physics.
"It's overwhelming and a pretty big deal," she said. "It feels great to be the first at Florida State, and I hope that more young women are encouraged to pursue physics degrees. Diversity and inclusion are necessary. Everyone can contribute different perspectives to various fields."
Villafana, at the tender age of 12, decided she would be a physicist after conducting science experiments at Holy Faith Convent in her home country of Trinidad and Tobago.
"It was a strict Catholic girls' school," she said. "We had a lot of courses, and we were exposed to tons of physics experiments. The teacher would explain that this is how we understand how the universe works. I thought it was interesting. From then on, I said I want to be physicist. That never changed."
Villafana received her undergraduate degree from Florida A&M University before returning to Trinidad and Tobago to work. After a year, she quickly decided an advanced degree would provide greater career opportunities. Villafana toured a number of schools, but Florida State stood out.
"When it comes to a Ph.D. program you have to feel like you're going to thrive and the people there want you to succeed," she said. "That was what I got from FSU. None of the other schools I visited gave me that energy."
That energy definitely wasn't lacking for Villafana after choosing Mark Riley, a world-renowned physicist, to be her adviser. Riley was chair of the physics department when Villafana first arrived at FSU and now serves as dean of the FSU Graduate School.
"Kalisa is absolutely fabulous," Riley said. "She is brilliant, persistent and has a super sense of humor. It has been a joy to work with her and the research results she has produced are outstanding. She has an amazing future ahead of her."
Villafana studied nuclear structure with Riley. She credits him with expanding her network of mentors and resources and providing opportunities for travel and growth. Riley has helped her attend an academic conference in Hawaii and conduct research at Argonne National Lab Chicago.
"Working in his group, I got the best experience out of my degree program," she said.
During her FSU career, Villafana also served as a mentor to minority students with the goal of encouraging them to pursue graduate studies. Eventually, she hopes to continue to pay it forward by helping young people in her home country attend the school of their dreams.
"I want to show them how to get to the next point," she said. "In Trinidad, many people don't know how to get to the United States and get a Ph.D. that's paid for by the school. They don't know how to go from being an international student from the islands to a doctor in the U.S."
Villafana said her accomplishments have also inspired her mother and sister to go to college.
"My mom went back to school and got her bachelor's and master's degrees, and my young sister started her bachelor's program as well," Villafana said. "When you do certain things, especially coming from a small place in Trinidad, people are encouraged."
She advises people looking to follow in her footsteps to be sure about what they plan to study, to go the extra mile in their efforts and strive to keep a balanced life.
"You have to pursue something you're passionate about because it's a long journey," she said. "I felt like I wanted to quit very often in the beginning but with each challenge, I succeeded. I took courses I didn't have to take to expand my knowledge. You have to ask yourself 'What is it going to mean to you in the end?'"
After graduation, Villafana plans to work as a process engineer with the Intel Corporation in Arizona, but ultimately, she aspires to work as a medical physicist specializing in cancer research.
For now, Villafana looks forward to gracing FSU's graduation stage along with two other women, Rebeka Lubna and Maria Anastasiou, who are graduating with their doctorates in nuclear physics — another historic milestone for the university.
"Hopefully, other young girls are motivated when they see us, even though the field is predominantly white and male," she said. "Hopefully, they see that they too can be a physicist. You may not see a lot of us, but we're there. We're out there."