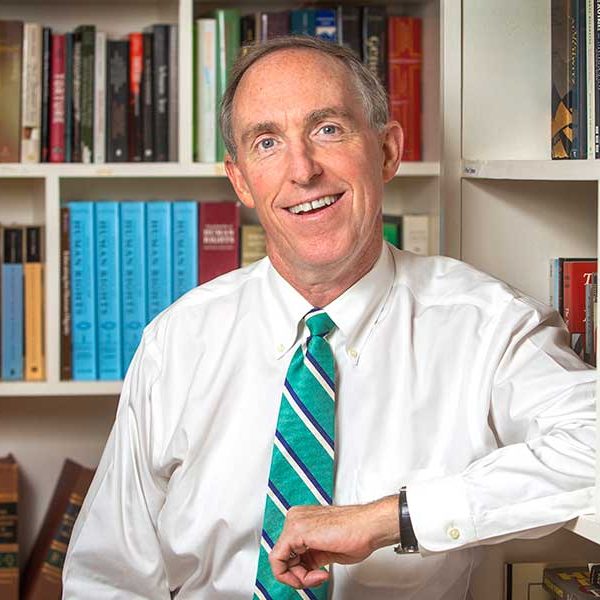 Terry Coonan sits behind a big desk. Hundreds of sheets of paper are organized into neat stacks on top of it, and he'll tell you that there's a special story attached to each one.
Coonan is director of the Florida State University Center for the Advancement of Human Rights, an entity dedicated to human rights education and the representation of people, usually immigrants, seeking to have their lives changed for the better.
The life of a 17-year-old Nigerian girl who fled her home country out of fear of female genital mutilation will never be the same thanks to Coonan and the human rights center. They helped her get Special Immigrant Juvenile status, which allowed her to seek safe haven in the United States.
Another young woman from Peru who had been brutalized by the Sendero Luminoso guerrillas as a child was able to achieve political asylum through the pro bono legal services of Coonan and his team.
These are only two of the hundreds of people the interdisciplinary center has helped since it was established in 2000. The center is led by a small but mighty staff. They help with the facilitation of human rights courses throughout the university, establish field placements for FSU students, support non-governmental organizations and represent human rights victims from across the globe.
Coonan has been with the center from the beginning.
"It was great to start — at the time — one of the very first human rights interdisciplinary programs in the United States," Coonan said. "We've actually been seen as a model program in this area."
Coonan teaches a number of classes every year, ranging from a 200-student criminology course to a more intimate human rights film class.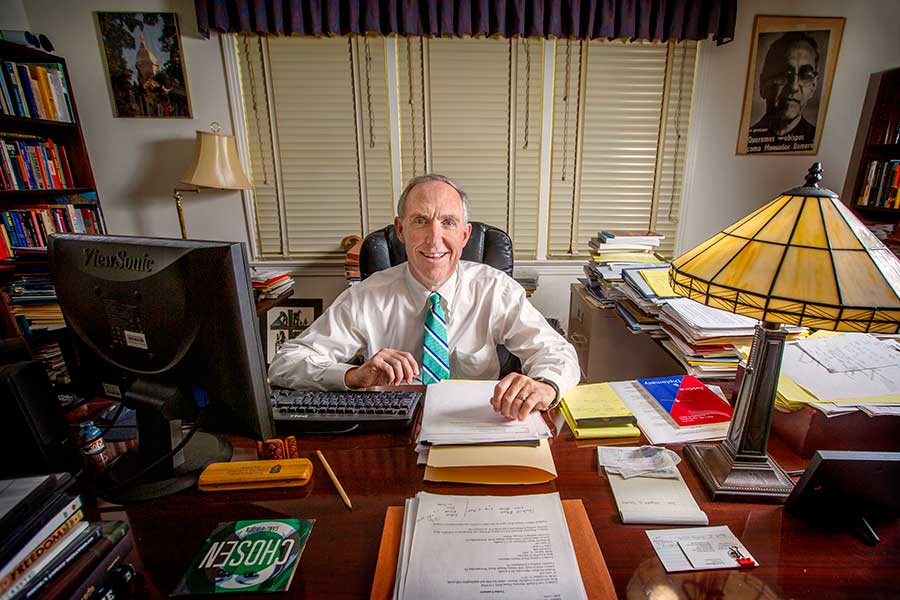 But before he donned a suit and tie, Coonan wore a clergy collar and robe after studying to become a Roman Catholic priest at the University of Notre Dame.
It was a mission trip to Chile that introduced him to the international human rights field.
"It wasn't religious work, it was almost only human rights work," he said.
Coonan worked primarily with torture victims, many of them his own age at the time.
"Before I didn't know any lawyers I respected," Coonan said. "They all seemed a little questionable. Then I came to Chile where I met some of the most heroic lawyers who were operating in the teeth of a military dictatorship. It was quite a moving introduction to the human rights field."
Coonan went on to serve as a priest for a number of years, but a calling of a different sort drew him to the field of immigration law. He received his juris doctorate from the University of Cincinnati.
It was the late FSU President Emeritus Sandy D'Alemberte — who passed away in May — who found Coonan working as an immigration lawyer in 2000 and asked him to start the center.
"One of the great privileges now is to carry on this dream that Sandy D'Alemberte had," Coonan said. "He's one of our heroes in the human rights world and now we carry forth the vision that he brought to FSU to work with victims, teach courses and do policy work as well. Those were all areas where Sandy was superb. It's part of the great legacy that he left us — the road map for our human rights center at FSU to go forward."
Coonan has been carrying out D'Alemberte's vision for nearly two decades. He manages a full-time staff of four but works with nearly 50 faculty who teach courses, and he sponsors even more faculty and their students to engage in human rights projects all over the world.
"We've been at the cutting edge of human rights work for 20 years and we very much look forward to being a part of that ongoing movement at FSU to keep our students plugged into the world," he said.
Off campus, Coonan works on the front lines of human trafficking. You can often find him standing before the Florida Legislature testifying on human rights policy implications. This summer, he will lead a workshop to train more than 200 judges on human trafficking prosecution.
Coonan also has worked with several state agencies and the Florida Attorney General's office to craft better laws to prosecute traffickers and help victims of sex and labor trafficking.
"We get to see people rebuild their lives," Coonan said. "I often tell my friends in law enforcement they're only involved with the victims for as long as their case is open, maybe 9 to 12 months. We work with them for life. We get to see victims, say from South America, be reunited with their children and start entirely new lives here in the United States with a range of possibilities that they could never have had while they were being victimized."
Years ago, Coonan and the center worked closely with the FBI and federal prosecutors to pursue a Colombian organized crime ring that was responsible for the forced prostitution of Latin American sex trafficking victims. They were able to get visas for the young women so they could legally stay in the United States and start a new life — even arranging for their children to be brought to the U.S. to be reunited with their mothers.
"We witnessed some tearful reunions in the Tallahassee Airport," he said.
"We've been at the cutting edge of human rights work for 20 years and we very much look forward to being a part of that ongoing movement at FSU to keep our students plugged into the world," he said.
As he looks toward the center's next 20 years, Coonan wants to strengthen collaborations with campus partners and expand the human rights coursework. He also hopes the center can build a facility with the latest audio, visual and internet technologies that could house classrooms for teachings and seminars, as well as a space to hold press conferences.
"We love our location," Coonan said. "We're right across the street from the College of Law and easily accessible to our clients. But here we are 19 years later, still in a rental property. That's one of the areas we need to catch up, so, it's one of our great goals and objectives to really have a state-of-the-art facility."
Coonan's overarching goal is to continue sending students forward and preparing the next generation of human rights advocates.
"FSU has embraced sending students out to do international research or international advocacy," he said. "In this globalized world we're living in, we're absolutely connected to those women and children working in sweatshops in Bangladesh. We are connected to the people being victimized in places like Syria or the Middle East."
Coonan said it has been an unanticipated part of his role to help a growing number of FSU students and faculty who themselves are survivors of torture or gender-based violence in their home countries. Through globalization, students can learn that survivors of human rights violations are much closer than they know.
"The great impetus of the human rights field is to look at places close to home and realize every place is close to home," he said. "Therefore, every place is in our backyard. As a human rights center, the more we can connect our students and faculty to the human rights issues in our global backyard, that's our ultimate mission. FSU has been a tremendous place to do that work and will continue to play a crucial role in that process."