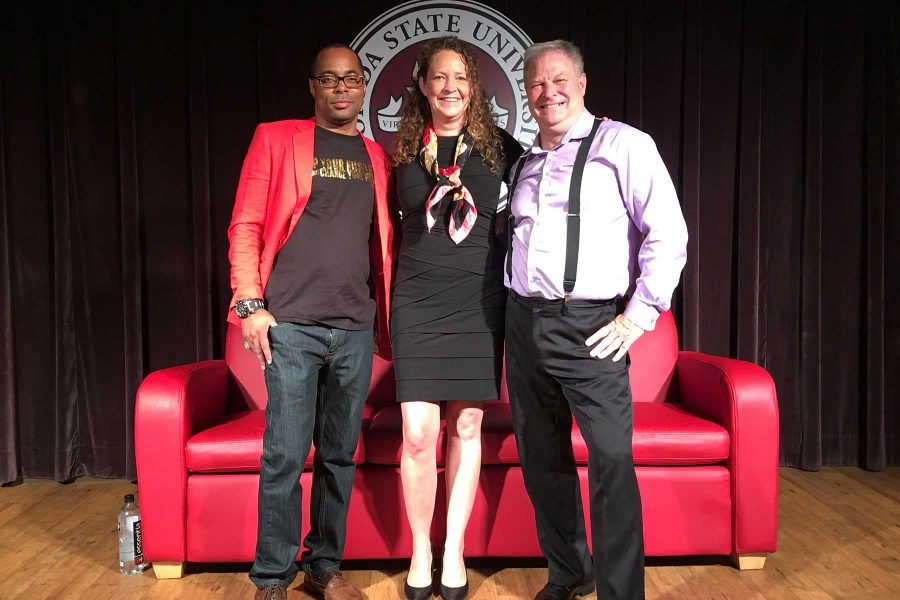 Florida State University's Institute for Justice Research and Development (IJRD) hosted a spoken-word event about justice and opportunity June 27 at the FSU Center for Global Engagement.
The event, organized by Carrie Pettus-Davis, founder and executive director of the Institute for Justice Research and Development (IJRD), was designed to generate public discourse about criminal justice reform. Pettus-Davis is one of social work's leading experts in criminal justice and smart decarceration strategies.
"We are at a unique moment in history where we have the moral will, the fiscal will and the political will to create and implement data-driven solutions to the problems of current criminal justice approaches and help individuals, families and communities thrive," she said.
The event, with nearly 100 guests in attendance, featured spoken-word artist Lamont Carey of Washington, D.C., and Bill Rone, a re-entry specialist, who was incarcerated three times during his lifetime for drug crimes. Rone also is a member of the inaugural class of Post-Master's Fellows at IJRD.
Carey and Rone shared their personal experiences with the criminal justice system and the many ways in which their lives, families and communities were and forever will be impacted. The event concluded with facilitated discussion and a question-and-answer session with Pettus-Davis, Carey and Rone.
"The presentations introduced an IJRD initiative of using data-driven solutions to transform the criminal justice system for the 21st century," Pettus-Davis said. "Transforming approaches to criminal justice is the civil rights issue of our time, it is the human rights issue of our time, it is the justice issue of our time and it is the liberty issue of our time."
The event was filmed and will be used to support a range of research and grant proposals all designed to decrease the use of incarceration and develop well-being among the more than 12,000 men and women who are released from prisons in the United States every week.
Pettus-Davis joined FSU as an associate professor in 2018 as the founding director of the IJRD — a premier trans-sector research center located in the College of Social Work. The institute recently celebrated its first anniversary at FSU, where it is gaining national attention for a signature approach of rapidly translating rigorous, real-world research into policy and practice to maximize the impact of evidence-driven interventions for incarcerated and formerly incarcerated men and women.
"As an emerging leader in criminal justice reform, scholars from across FSU have come together to create a multidisciplinary team of thought leaders to leverage technology as a vehicle to reduce stigma, promote individual and community well-being and help the men and women who leave incarceration work, live, study and fully participate in all aspects of our communities," Pettus-Davis said.