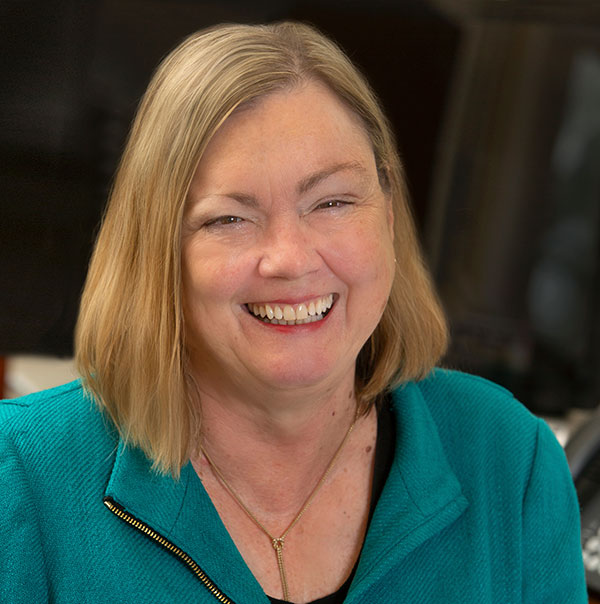 When Sally McRorie talks about how a college education can change someone's life, it's not empty rhetoric — it's based on firsthand experience.
Her experience as a first-generation college student inspires McRorie in almost every decision she makes as Florida State University's provost and executive vice president for Academic Affairs.
"A college education changed my life in so many ways," McRorie said. "I had the opportunity to work with interesting faculty members who were very dedicated to their own research — in this case making art — as well as teaching at a small college. That's one of the reasons I've tried to make the experience that our students have here much more like that. It really impacted me in a very significant way. It gave me a lot of confidence that I didn't have."
Every step of her educational and professional career prepared McRorie for the provost's role at one of the top public universities in the nation. And today, under McRorie's leadership, Florida State is enjoying an unprecedented run of success and a rise in national prominence.
As a child, the North Carolina native loved English and art and wanted to be a teacher, but at the time, no one in her immediate family had even graduated from high school.
"I remember my mother telling me that a good job for a woman is to be a dental hygienist," McRorie said. "I certainly never wanted to be a dental hygienist."
She listened to her gut and enrolled at Pembroke University in Pembroke, North Carolina, to pursue art education, but another passion — surfing — almost stopped McRorie from finishing her degree.
In her youth, McRorie spent her summers on the beaches of Emerald Isle, North Carolina, and her love of the ocean and surfing led her to a brief experience as an entrepreneur.
"At one point, my friends and I scraped together $800 and opened up a surf shop, focusing just on boards and wax and wetsuits," McRorie said. "It was pretty cool, but after a year, I realized I needed to go back to school. It wasn't nearly as much fun running a store as it was surfing — and I didn't see a great big future for me in it."
McRorie went on to earn a bachelor's degree in art education and painting from Pembroke in 1976 and landed her first job as a public-school art teacher in Dillon, South Carolina. She taught art to 1,400 students at five different elementary schools in the district. There were no art rooms, so she pushed an art cart from classroom to classroom for 20-minute periods with only 12 cents per student to spend on art supplies for the entire year.
"I had to be extremely organized and that taught me a lot about how to get things done in a crunch," McRorie said. "The kids saw me for such a short amount of time, they couldn't remember my name so they called me 'Miss Art,' which I loved."
After a year of teaching elementary school, McRorie returned to the classroom as a student to earn a master's degree in art education and printmaking from East Tennessee State University. She went on to pursue a doctorate in art education with a concentration in aesthetics and printmaking from the University of Kansas.
"I think having an arts background is helpful in the sense that you are trained to think creatively and to be very perceptive of things other people may not pay attention to," McRorie said. "When you allow yourself to think creatively, it opens you up to recognizing things that are happening around you and pursuing ideas to make things better."
When she graduated from Kansas in 1985, there were two art education faculty job openings in the country. Purdue University hired McRorie as an assistant professor of art education, and she worked diligently to earn tenure. She presented at nine conferences during her third year at Purdue while she juggled being a single mother to two small children. It was difficult, but she saw the development of her research reputation as an investment in her future.
The investment paid off. She was voted chair of Art & Design in Purdue's Department of Visual and Performing Arts in 1992, and two years later, the university sent her to the Bryn Mawr Summer Institute for Women in Higher Education to prepare her for future leadership positions.
As she was attending the institute, Florida State called and offered her a full professorship and position as chair of the Department of Art Education. She accepted, and now, nearly 25 years later, she is Florida State's top academic officer.
"I came here from Purdue thinking I would be here for a few years and then do something else, but I fell in love with FSU because of its focus on students," McRorie said. "We've only gotten better about that. We really have continued to improve every year on how we both challenge and help our students succeed. To me, that's the most important thing. The reason we're all here is because of our students — at every level."
McRorie has worn many hats since arriving at FSU in 1994. She was promoted to dean of the School of Visual Arts and Dance in 2002. The school added several departments in 2004, becoming the College of Visual Arts, Theatre, and Dance, which McRorie led until 2012. It is now the College of Fine Arts.
"Someone from outside that college might think there is a lot of similarity among the different components," McRorie said. "Dancers are very different from theatre people although they are all performance-based. Interior designers are very different from visual artists in terms of how they work and think. Art, dance, and theatre history are grounded within the humanities. It was interesting over time to see the range of strengths and differences among all the groups."
In 2012, McRorie was promoted to vice president for Faculty Development and Advancement, at the time a new position created to better promote and facilitate faculty success and support.
Two years later, she was called upon to serve as interim provost — twice. During that time, she worked with deans, chairs and faculty across campus to lead Florida State in meeting all 12 of the state's preeminence metrics for the first time. After her second stint, President John Thrasher appointed McRorie to the permanent position in November 2015.
"The complexity of the provost's role may be easier for me because I've been here a long time," McRorie said. "I know many, many people at the university. It's an advantage, I think, for the provost's job. Being here for so many years, I've really seen FSU improve in its academic quality and in all the things that we do. The improvement is remarkable especially when you consider our resources are really limited compared to most large universities across the United States."
She and her team have examined key metrics and taken a data-driven approach to investing in student success. That evidence-based strategy is clearly working.
During her tenure as provost, Florida State has climbed 17 spots to No. 26 among national public universities in the U.S. News & World Report Best Colleges rankings. FSU also has seen its four-year graduation rate rise to 72 percent, placing first among all State University System of Florida institutions and among the top 10 nationally.
In addition, Florida State has eliminated disparities in graduation and retention rates among its diverse undergraduate population, which includes nearly a third who are Pell Grant recipients and first-generation college students.
"The thing I'm most proud of is our ability to have every student perform at the same high level," McRorie said. "Whether a student is from an underrepresented group or first generation or a person who has aged out of foster care, we've proven that everybody can succeed at the same high level. I'm very proud of that."