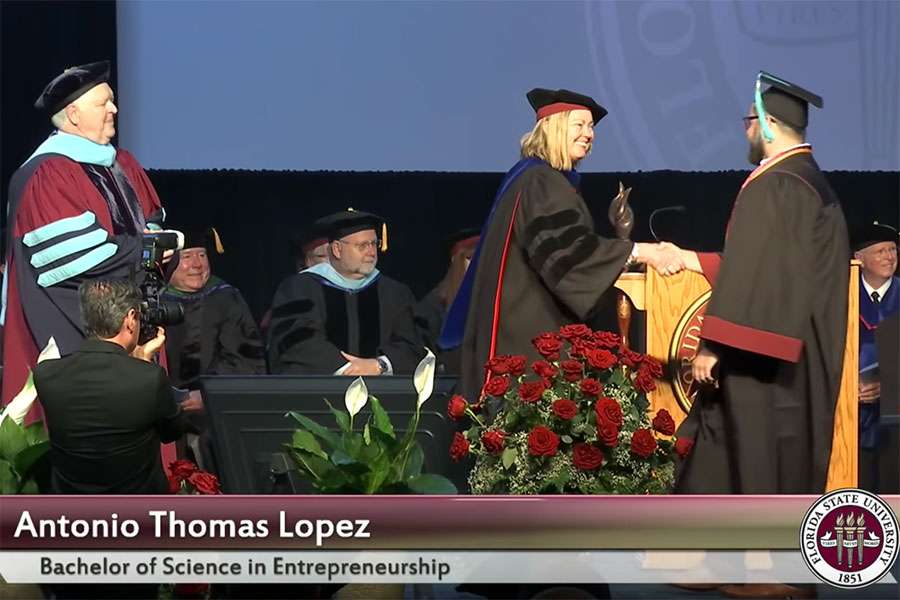 Seven months ago, students at Florida State University Panama City had more than homework and exams on their minds as Hurricane Michael barreled down on the region.
The Category 5 storm forever changed the Panhandle and the lives of its residents. Michael devastated the region, killing more than 40 people and producing 15 million cubic yards of debris in Bay County, with the estimated insured losses exceeding $6 billion.
Despite these obstacles, 332 FSU Panama City students overcame incredible adversity and persisted to earn their degrees. Graduates celebrated during a commencement ceremony Sunday, May 5, at the Edgewater Beach Resort Conference Center in Panama City Beach.
FSU Provost and Executive Vice President for Academic Affairs Sally McRorie and FSU Panama City Dean Randy Hanna presided over the ceremony.
Instead of a keynote speaker, the ceremony featured a video spotlighting the resiliency of its graduates and campus community. While the process of rebuilding the region is still underway, these FSU graduates now serve as a beacon of hope for the entire region.
Hanna said the extra work these students have had to put in has not gone unnoticed.
"All of our faculty and staff work so hard, but the ones who work the hardest, they're the students," Hanna said. "They're the ones who work the hardest to make sure that they reach this day."
Antonio Lopez, who graduated with a bachelor's degree in commercial entrepreneurship, said he hopes that his fellow graduating peers don't take this accomplishment lightly.
"This is a huge accomplishment for all of us, and I am really proud to be with all of you," Lopez said. "I really hope that we go forth and make a difference in the community, just like this school has made a difference in our lives."
Hurricane Michael made landfall Oct. 10 between Mexico Beach and the Tyndall Air Force Base in Panama City. FSU Panama City closed Oct. 9, unable to reopen until Oct. 29, with some adjustments to class and office locations due to damages inflicted by the powerful storm.
The video highlighted how the reopening of the campus instilled a sense of normalcy to the students, and studies became a welcome distraction rather than an arduous task. For students who lost their homes or were temporarily displaced by Michael, campus became a refuge for them.
Hanna told graduates that they will always be a part of the Florida State family.
"Regardless of where your next steps take you, or your ultimate journey, please know that this is your home," Hanna said. "Whether you come back to graduate school here, whether you support us as an alumnus, or whether you participate in our many activities at Florida State University, this will always be your home."
Justine Powell, who graduated with a master's degree in corporate and public communication, described graduation as a bittersweet milestone in her life.
"I've absolutely loved everything about this school," Powell said. "All of my professors, my friends — I know I will have them the rest of my life. The education I've gotten here has been truly unlike anything else I could've ever expected."
"I've poured my heart and soul into it, joined clubs, joined the student government, and to leave it all behind is really sad, but it's really amazing to step into the next chapter of my life."
For more information on FSU PC, visit pc.fsu.edu.