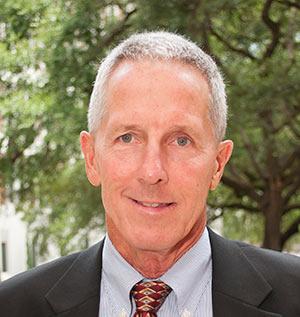 The ability to extract data and analyze information critically, solve a current business problem or grow an existing business is crucial for business students.
That's why Florida State University works to ensure students develop the creative reasoning skills integral to their business success and career growth.
Tim Kinney, an associate lecturer in the College of Business Department of Marketing, strives to help his students acquire problem-solving skills pertinent in the modern business world. Kinney has taught at the FSU College of Business for the past eight years and previously worked for 28 years in engineering and sales at IBM — one of the world's largest information technology firms.
Kinney has been enhancing critical thinking in key upper division courses since 2015, when he earned a faculty fellow grant through the Office of Critical Thinking Initiatives.
His Case Analysis and Marketing Strategy courses are based upon real business situations, which students analyze as a means of developing their critical thinking skills.
"Students put themselves in the seat of the decision maker," Kinney said. "They have to think through what is happening in the outside world, in their industry or with the competition, what is happening within their company, and what they would do to solve specific business problems."
Case studies reinforce decision-making processes, require students to identify and understand the problem and solve that problem based upon the context. Kinney believes this is an effective instructional approach and makes students more marketable.
"Companies are not going to hire college students to do exactly what they are told," Kinney said. "Rather, they are going to ask them to think creatively and solve business problems."
Kinney also uses "think-fast exercises" to strengthen students' critical thinking by posing business problems and giving students 20 minutes to solve the problem in a group setting before presenting solutions to class.
This exercise gives students the opportunity to take a large amount of information and sift through it quickly, and then come up with initial ideas and recommendations. It also deepens students' ability to link their thoughts together and to work as part of a team, which are essential skills for success in the business world.
Kinney also organizes case competitions in which students form teams and come up with solutions to real-life business problems. In fall 2017, he invited Frontier Communications, a telecommunications company working to expand into the millennial market, to meet with FSU students and solve a real-life business case over three days.
Students had to identify the problem, gather and analyze relevant information, develop recommendations that they could support through analysis, and present those solutions to consultants and business professionals. Through these competitions, students learn about themselves and how to perform under pressure, develop their communication skills, and receive valuable feedback from the judges.
Case analysis also better prepares students for interviews and job acquisition. Today, rather than requesting job candidates tell them about a difficult situation and how they handled it, potential employers often ask candidates to demonstrate how they would solve a real business problem that the company is currently facing. Kinney said case analysis training gives students long-term problem-solving skills and immediate job acquisition skills.
"Instilling critical thinking among students is crucial as demand to understand business issues and needs in competitive and fast-paced environments, and appropriately respond, will determine success and career growth," Kinney said. "Creative problem solving, solution development and communication skills are vital for future success in our fast-paced world."
To learn more about the FSU Critical Thinking Initiative, visit https://criticalthinking.fsu.edu/.