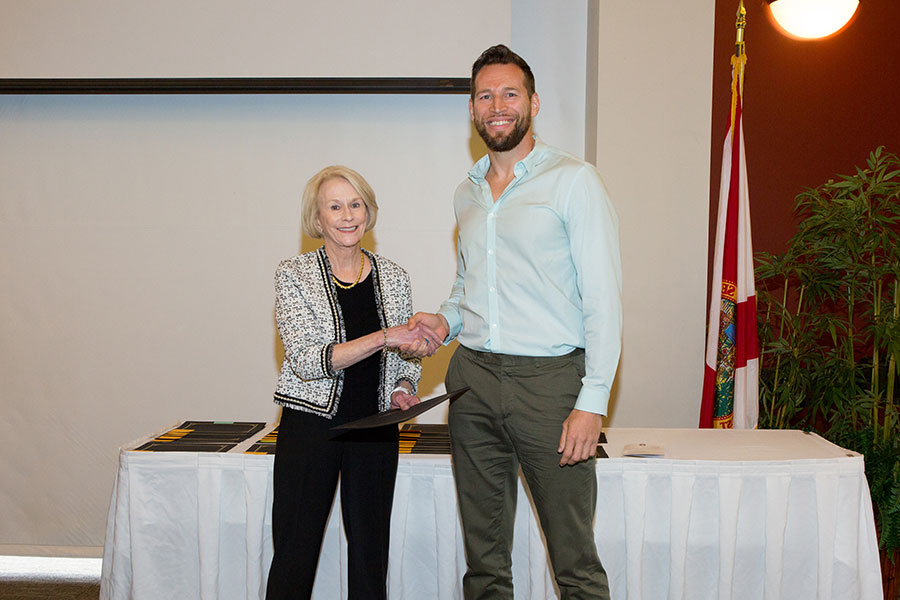 More than 100 graduate students were recognized for their achievements in teaching, scholarship and service during Florida State University's annual Celebration of Graduate Student Excellence Thursday, April 18.
Mark Riley, dean of the Graduate School, presided over the program.
"Your contributions are incredibly vital to all of the things we do at this university," Riley said. "We can't function as an institution without your brilliance and I know that you will continue that excellence as you go out into this world and change it for the better."
President John Thrasher attended the ceremony and thanked attendees for all the work they've done to advance graduate education and elevate Florida State.
"Our graduate students' exceptional work has obviously contributed to our national prominence," Thrasher said. "I hear it everywhere I go, and I know Dean Riley does as well."
Thrasher also recognized the Graduate School's new record number of fellowships and awards, totaling more than $4 million for the 2018-2019 academic year.
Pam Perrewé, a pioneering business administration professor and Florida State's 2018-2019 Robert O. Lawton Distinguished Professor, delivered the plenary address. She encouraged students to focus on the joy throughout their academic journeys.
"Remember achieving goals is only a small part of your happiness," Perrewé said. "My real wish to you is to experience joy on your journey. Focusing on endpoints is not joyful and while you're recognizing the joy, remember that you have a whole university that's behind you and we're very proud of you."
Following Perrewé's address, dozens of students were recognized in the areas of teaching assistance, leadership, visual arts, research and creativity.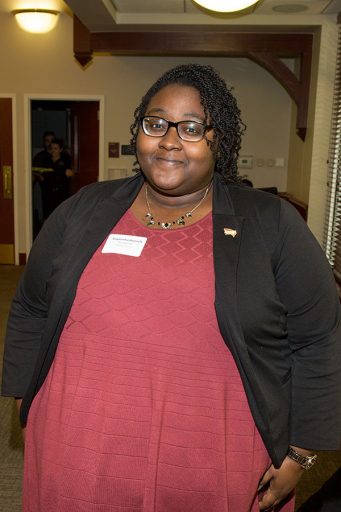 The award carries a $10,000 stipend for the 2018-2019 academic year.
"I'm really grateful because after being accepted to FSU for grad school I wasn't sure how I was going to pay for it," Russell said. "I had to be nominated for the scholarship as well, so to be here means that my work is being noticed and it's a really humbling experience."
Alexis Chauchois received an Outstanding Teaching Assistant Award for his work in modern languages and linguistics. The student who nominated him said Chauchois encouraged mistakes and open thinking.
"These things are very essential for intellectual progress and growth," the student wrote in Chauchois' nomination. "I'm beyond glad that I was able to have him as my instructor in my last semester at Florida State."
Six faculty members were recognized for excellence in mentoring graduate students.
Honorees include:
RECOGNITION OF PROGRAM FOR INSTRUCTIONAL EXCELLENCE (PIE) TEACHING ASSOCIATES
Jason Barlow, physics
Maribel Borger, chemistry and biochemistry
Allyson Gates, history
Kate Hill, biological science
Jennifer Kellett, modern languages and linguistics
Amanda Kowalsky, psychology
Julianna Edmonds, English
Ebone Amos, School of Dance
Spencer Youngberg, family and child sciences
Vivianne Asturizaga, musicology
John Bandzuh, geography
Jeffrey Conley, economics
Benjamin Dowd-Arrow, sociology
RECOGNITION OF 
PREPARING FUTURE FACULTY (PFF) FELLOWS
Derek Ferguson, history
Samantha Tackett, learning and cognition
Phillip Worts, nutrition, food and exercise sciences
RECOGNITION OF
PREPARING FUTURE PROFESSIONALS (PFP) FELLOWS

Garret Vo, industrial and manufacturing engineering
Jason Smotryski, social work
OUTSTANDING TEACHING ASSISTANT AWARDS
Alexis Chauchois, modern languages and linguistics
Amy Cicchino, English
Rasheda Haughbrook, psychology
Elizabeth Lange, biological science
Deborah Kochman, School of Theatre
John Pension, School of Theatre
JOHN F. LISENO GRADUATE AWARD
Kate Hill, biological science
EXCELLENCE IN VISUAL ARTS AWARD RECIPIENTS
Toni Ardizzone, studio art
Christopher Christian, studio art
Channing Gray, studio art
Christopher Rivera, studio art 
Honorable Mention: Gokila Dorai, Toye Durrah, Caroline Ennis, Brian Holcombe, Erwin Skip Brea
GRADUATE STUDENT LEADERSHIP AWARDS
Bryan Keller, Earth, Ocean, and Atmospheric Science
RESEARCH & CREATIVITY AWARDS
Nick Byrd, philosophy
Andrew Gardner, religion
Alexandra Challenger, art history
Heather Maranges, psychology
Sarah Terrill, psychology
Shiyi Chen, educational psychology and learning systems
Xi Wang, physics
Yan Zhou, chemistry and biochemistry
Chenkun Zhou, chemical and biomedical engineering
THREE-MINUTE THESIS WINNERS
First Place: Eve Humphrey, biological science
Second Place: Bruno Chiurliz, psychology
People's Choice: Anwer Al-Kaimakchi, civil and environmental engineering
MASTER'S IN 4 WINNERS
First Place: Jason Cassel, piano technology
Second Place: Steven Pope, communication
Second Place: James Hernandez, educational psychology and learning systems
Third Place: Stacy Hanson, modern languages and linguistics
People's Choice: Karl Wissemann, psychology
UROP POSTDOC / GRADUATE MENTOR AWARD
Kate Hill, biological science
GRADUATE FACULTY MENTOR AWARDS
Giray Okten, mathematics
Elizabeth Plant, psychology
Debajyoti Sinha, statistics
Lara Perez-Felkner, educational leadership and policy studies
Carl Kitchens, economics
James Elsner, geography