MORE: Photo Gallery | FSU doctoral graduate overcomes odds with perseverance, power of higher education
A short and sweet pep talk from Lonni Alameda, Florida State University's national champion softball coach, headlined Saturday's fall commencement ceremony, Saturday, Dec. 15.
"In our athletic world it would be good morning #Tribe18," Alameda said. "Today's an amazing day for you all, for your family members, faculty, staff. It's time to come together to share a smile and truly enjoy this moment."
Alameda spoke to about 1,500 graduates during the second of two fall commencement ceremonies Friday, Dec. 14, and Saturday, Dec. 15, at the Donald L. Tucker Civic Center. President John Thrasher presided over both ceremonies as the university awarded degrees to about 2,600 students.
Alameda said she reached out for guidance on what to say to the Class of 2018 and found advice from Billie Jones, one of FSU's first softball coaches, to be the most enlightening.
"You stand, you speak, you sit," Alameda said, recalling Jones' email.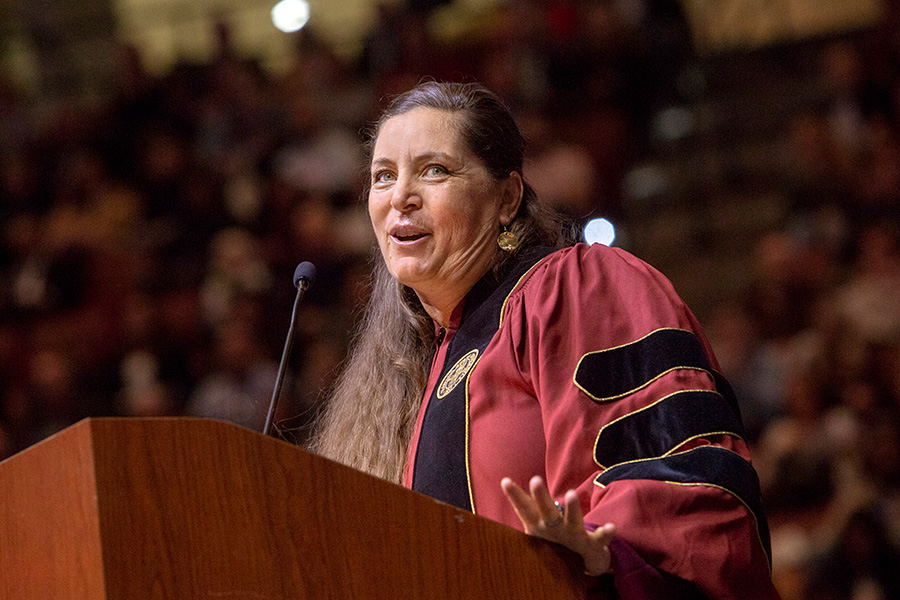 Alameda said Jones encouraged her to be profound in the beginning and the end, because the middle really didn't matter.
"But I started thinking, it is the middle that matters," Alameda said. "It's truly your journey here that's made you who you are, that built your character. The late nights, the highs, the lows, the fun with your friends, football games. The journey has given you the confidence to take on the world."
Alameda thanked everyone for their support of the softball team as she flashed her championship ring with a smile. She told graduates that it was the team's journey together that prepared them to win a national title.
"My wish for you here today as you reflect on your journey is to know that you're going to leave here excited about the opportunities ahead, but there's going to be a middle," Alameda said. "There's going to be a middle to the job you jump into or the next part of school you endure. Whatever road you take, challenge yourself to be where your feet are, show up and enjoy the moment."
Alameda told graduates that everything they learned at Florida State will help them in the next phase of their journey.
"As your next path opens up, take on your Nole ways," she said. "Take on that unconquered spirit that's within you all. Make that championship run in life."
FSU graduate Gabriela Alvarenga feels like she's already hit a home run, landing a job with Disney after graduation.
"This is a really big moment," Alvarenga said. "I'm a first-generation American and so glad to be graduating from the School of Entrepreneurship because it helped me achieve my dream of working for Disney."
Alvarenga is one of the first in her family to obtain a college degree and was among the first cohort of students to graduate from the Jim Moran School of Entrepreneurship. She said she will take FSU's spirit of camaraderie and the unconquered spirit with her into this next phase.

Those sentiments were shared by hospitality graduate, Kortnea Williams.
Williams entered FSU as an Unconquered Scholar after both of her parents were incarcerated while she was in high school.
"FSU and the CARE program gave me financial aid, confidence, family and friends," Williams said. "All things I didn't have before I came to the university."
After graduation, the Jacksonville native will be working with the Marriot Voyage Global Leadership Development Program to be trained as a manager.
"I now understand what it means when people say 'it'll all work out or it'll get better,'" Williams said. "I've gone through enough hardships in my life, but now that I can look back and see things did work out, I can view tough situations I face in the future in an entirely new light."
'You're Equipped to Make Your Own Breaks in Life'
A relentless all-day rain across North Florida could not dampen the spirits of jubilant graduates and their families at Friday night's commencement ceremony.
If graduates were looking for a little career advice as they head out into the job market, the featured commencement speaker could not have been more appropriate.
Internationally renowned business administration professor Pamela Perrewé, who's written or contributed to more than 40 books on business and human resources management, told the crowd of about 1,000 graduates they should strive to make their own breaks in their careers.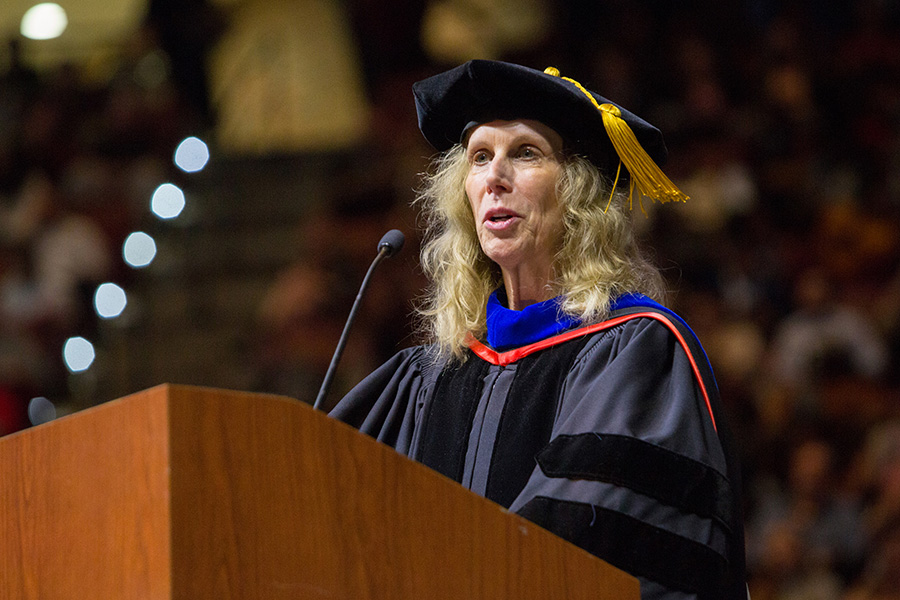 "Earning a degree from FSU will open some doors for you," Perrewé said. "Stay prepared and stay ready for it. I used to often say I was lucky, but a very wise man once told me, 'Pam, you're not lucky. You make your own breaks.' That's what I want for you. Stay prepared and stay ready. Because even if a door opens just a crack, you can bust through. Your education at Florida State should give you the confidence to do anything."
Perrewé, Florida State's 2018-2019 Robert O. Lawton Distinguished Professor, preaches to her students they can be whoever they want to be if they bring passion and excellence to their careers. She calls it "job-crafting," essentially being able to craft the job they want.
And if that vision isn't always clear, Perrewé told graduates not to worry because they have learned the most important secret of an education — they've learned how to learn.
"You will take that with you for the rest of your life," she said. "You have earned an education from one of the finest universities in the world. "You will likely ask yourself, 'Which path should I take?' The answer to that is you won't know. And that's all right. We all stumble sometimes in life. It's going to be fine because you've earned a valuable degree from a fine institution, and that will help you to get back up on the right path."
Isaac Wolfe, who earned a bachelor's degree in Information Technology from the College of Communication and Information, said he was "doubling down" on learning technical skills and planned to complete a second degree in computer science.
Wolfe said he loved FSU because he discovered so many opportunities across campus and he took advantage of them.
"I've experienced amazing growth," Wolfe said. "I feel so much more confident going into the working world. FSU has done a great job providing educational opportunities and experiences outside the classroom that taught me how to compete and make a name for myself."
Student body president Stacey Pierre congratulated the Class of 2018 and welcomed graduates to their first day as alumni of Florida State University.
"Some of you are graduating having gained experiences that have not only transformed the way you think about the world, but also yourselves," Pierre said. "All of you are graduating unconquered — unconquered by the obstacles put in your path. Here you stand ready to take on the world."
Dorothy Carter, now leaving FSU with a bachelor's degree in criminology and criminal justice and planning to go to law school, savored the moment as she reflected on the successful completion of a lifelong goal.
"I've wanted to go to FSU since I was 4 years old, so going to school here has always been a dream of mine," Carter said. "My experience here has been magical."