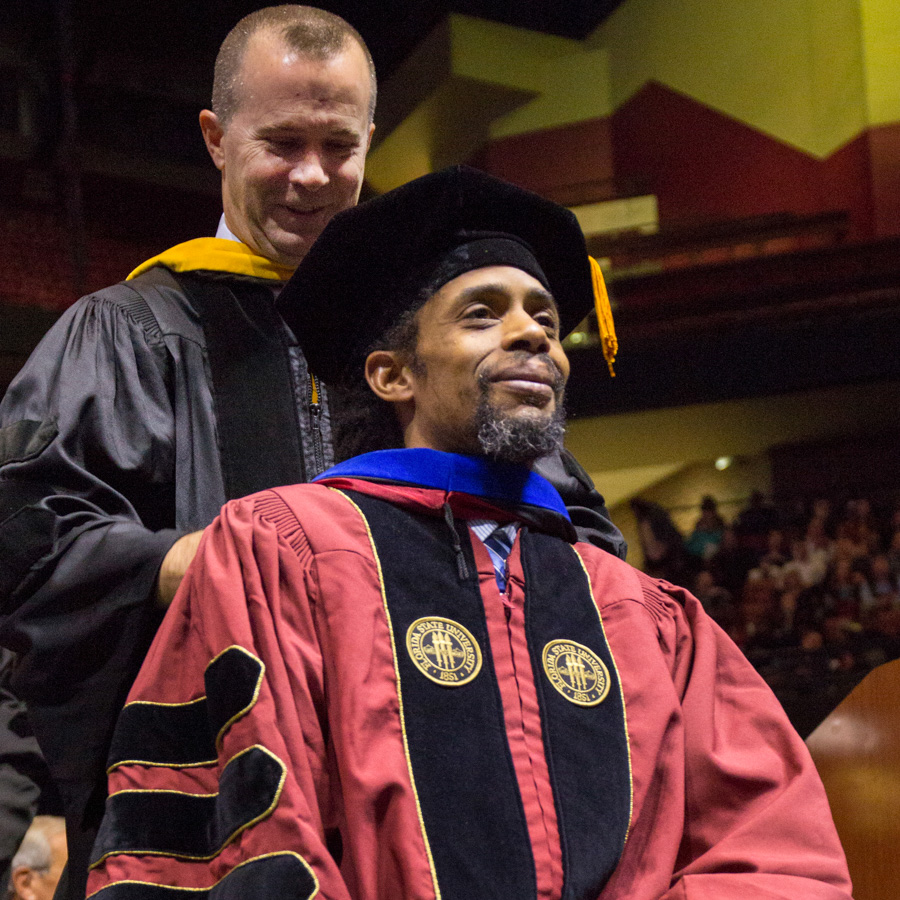 When Pablo Correa walked across the stage to accept his third degree from Florida State University during commencement Friday night, he completed a long, improbable college journey that started more than 20 years ago in a crime- and drug-ridden neighborhood in South Florida.
His latest academic achievement, earning a doctorate in communication, exemplified perseverance, redemption, inspiration and the transformative power of higher education and professors who invest in their students.
Correa's accomplishment represented the culmination of a challenging journey from his dangerous childhood neighborhood in Broward County — an environment where relentless stress and threats contributed to a bleak vision of his future.
"It was mainly about survival every day, trying to stay clear of the fights, bullying and drugs," Correa said. "I didn't have any dreams about my future because I literally believed I would not live to the age of 18. When I did make it, I just thought, 'Well, I probably won't make it to 25.' Many of my friends were dying or getting sent to prison for a long time."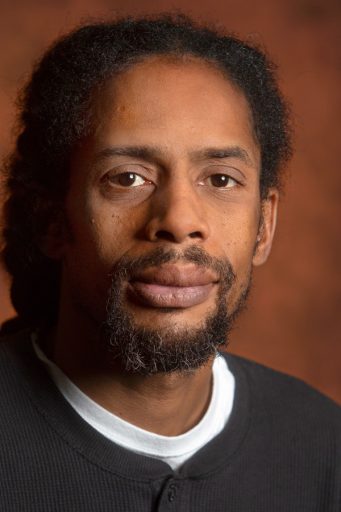 Looking back, the scene now seems unreal. Correa, 42, remembers walking to and from middle school each day and seeing people driving into the neighborhood in nice cars, wearing upscale business clothes and stopping to buy drugs.
"You'd see businessmen dressed in nice suits and ties asking for drugs," he said. "A lot of my friends graduated into the drug scene."
Correa tried to take a different path. He graduated from Boyd H. Anderson High School in Lauderdale Lakes, enrolled at Broward Community College and later transferred to Tallahassee Community College.
But he hit a roadblock. As he was taking classes, he also was performing as the front man, under his stage name Pabloco, for a regionally successful hip-hop group. Success on that stage, though, did not translate to his academics.
"I flunked out of school and tried to pursue a career in music," Correa said. "But after years of that, I came to terms with the reality that music would not work out. About the same time, I had friends going to prison and dying, so it was a lot to deal with. I realized I'd wasted a lot of years, and I wanted to fix that."
It was a life-changing realization. Correa started taking classes again at TCC, worked hard to raise his GPA and took CLEP exams with the goal of getting into Florida State. Finally, a path opened into FSU and he looked ahead, determined to make the most of his second chance.
Correa majored in Spanish, his first language, and enrolled in as many communication courses as he could for a minor. With a new focus and discipline, he earned a bachelor's degree in 2012.
But he was just getting started.
With guidance and encouragement from Davis Houck, FSU's Fannie Lou Hamer Professor of Rhetorical Studies in the College of Communication and Information, Correa was accepted into graduate school in Media/Communication Studies. The opportunities there helped crystalize his interests and hone his skills in digital media production and historical research.
In 2015, Houck and Correa partnered with Google and the Emmett Till Interpretive Center in Sumner, Mississippi. They developed a smartphone app documenting more than 50 locations related to the murder of Emmett Till, whose lynching in 1955 made him an icon of the civil rights movement.
Correa photographed places in the Mississippi Delta instrumental in the case. Now the content is available on Field Trip, a location-based mobile app that operates like a virtual tour guide.
"The app will ping your phone every time you're near a historical location and show you pictures, video and information about each one," Correa said. "We also put together a website called the 'Emmett Till Memory Project,' featuring all of the locations and helping people learn more about Emmett Till."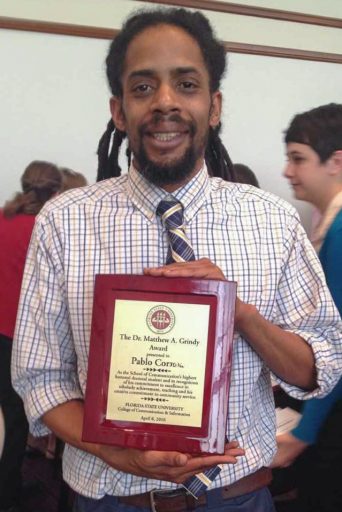 Correa's exceptional work as a doctoral student did not go unnoticed by faculty members at FSU's School of Communication. In 2016, he earned the school's highest doctoral honor, the Dr. Matthew A. Grindy Award, which celebrates exemplary achievement in research, teaching and service.
This past summer, Houck and Correa returned to the Mississippi Delta to celebrate and share the legacy of 1960s civil rights activist Fannie Lou Hamer through filmmaking and with a special K-12 public school curriculum that they'd developed.
Correa teamed up with FSU alumnus Joe Davenport to teach a five-week, college-level media production course to 17 local high school students, who learned elements of filmmaking such as composition, recording, lighting, sound and editing.
Houck said he's beyond proud of what Correa has accomplished at Florida State.
"What he had to overcome just to get into FSU is barely fathomable," Houck said. "He persevered and eventually succeeded in an academic world he knew nothing about. Truly remarkable and inspirational for what higher education and Florida State can offer."
Correa's FSU experience has created enduring memories with his mentor. Houck recalled a lunch meeting at Subway when the two were first getting to know each other.
"As I was finishing my sub, Pablo put about two-thirds of his sandwich back in the bag," Houck said. "I asked, 'You aren't hungry?' He replied, 'No, I am. But where I come from, you can't eat your whole lunch because if you get chased, you can't be full if you're gonna jump fences to get home.' This reality was so far from my own world that we just cut up right there in Subway. We still laugh about eating subs and jumping fences. Otherwise, you'd cry."
Correa's journey now takes him to Salem, Oregon, where he has accepted a job as a visiting professor at Willamette University. His path will include a stop at the internationally renowned Sundance Film Festival next month in Park City, Utah, for the world debut of a film he worked on.
The documentary short offered another opportunity to collaborate with Davenport, who edited the film, "I Snuck Off The Slave Ship."
As Correa concludes his FSU career, he appreciates the exponential leap he's taken. He looked for opportunities, created some of his own, and along the way he learned lasting lessons about perseverance, friendship and redemption.
"I've seen my friends die and go to prison partly because when we were young we thought it was us against the world," Correa said. "When we did go against the world, we got kicked. After getting a taste of the real world, I was so motivated to get back in school and succeed. I had the passion and inspiration to pursue my second chance with a vengeance. FSU has been such an awesome experience."