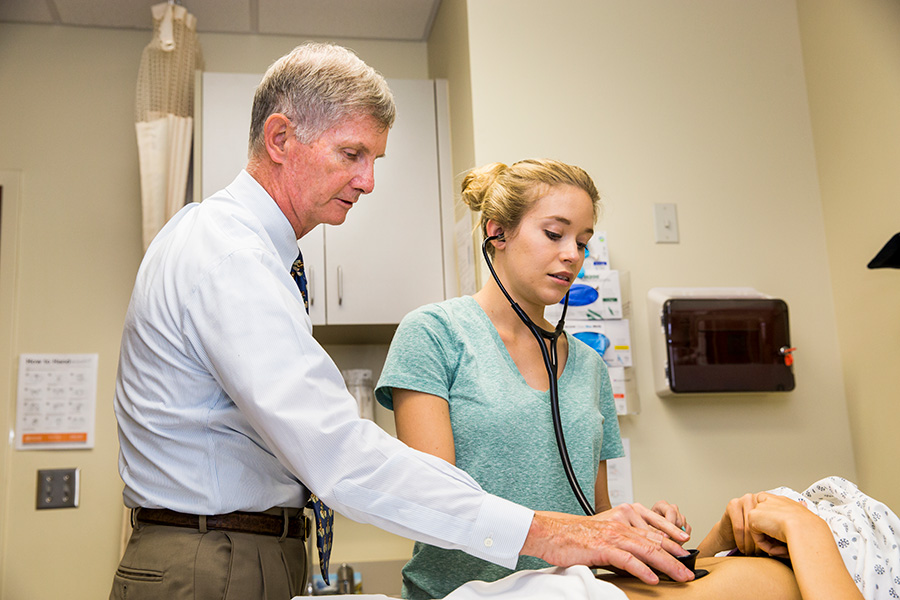 Long before John P. Fogarty was dean of the Florida State University College of Medicine, he was a U.S. Army division surgeon stationed at Fort Hood, Texas.
It was there, serving under the direction of a two-star general, that Fogarty was exposed to a style of leadership that continues to resonate with him today.
"The general's philosophy was great," he said. "If one of the subordinate commanders asked the division surgeon for something, my job was to say yes. I was not allowed to say no. That's been my philosophy ever since."
It's that philosophy that has helped Fogarty, known as "J" to friends and colleagues, guide Florida State's relatively young medical school to new heights and national prominence — and it's that philosophy that endures as a polestar for Fogarty and his entire administrative staff.
"Our job as an administration is to be responsive, to figure out what people need to be successful," he said. "I think we've done that. I don't care who gets the credit around here as long as we get the job done."
The Perfect Job
After four years of undergraduate study at West Point, Fogarty earned his medical degree from Albany Medical College of Union University in Albany, New York. From there, he went on to a successful 24-year career as an Army physician and academician, rising to the rank of colonel and serving as chair of family medicine at the Uniformed Services School of Health Sciences in Bethesda, Maryland.
Following his retirement from the military, Fogarty spent 11 years at the University of Vermont College of Medicine, where he served as chair of family medicine, associate dean for primary care and, eventually, interim dean of the college.
When a permanent dean was identified to fill that position, Fogarty was left asking, "now what am I going to do?" He had experienced success as a chair of family medicine, both in the military and in Vermont, and was eager to pursue a new challenge. When two friends alerted him to a new job opening down South, his interest was piqued.
"They said, 'Hey, J, there's a new medical school at Florida State University that's looking for a dean,'" Fogarty said. "So I did the research, I looked at the website, and I said, 'That's my school; I've got to have that job.' It was the perfect job for me as a family doctor — to specifically produce primary care doctors for Florida."
That enthusiasm only intensified when, during a visit to Tallahassee for an interview, Fogarty experienced firsthand the stark differences in seasonal weather between the temperate Florida Panhandle and alpine upper New England.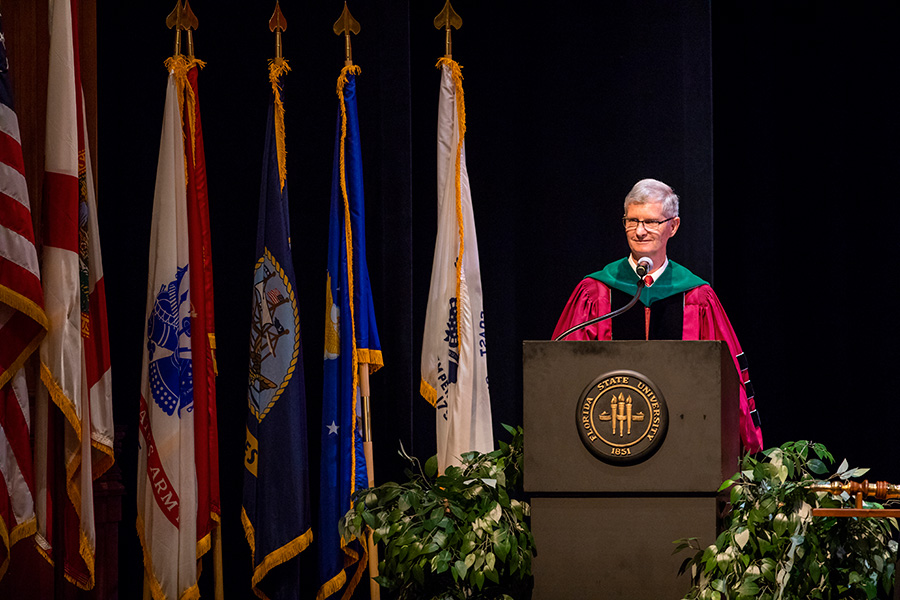 "I went through the interview process in February of 2008, and all three days I was in Tallahassee I could have eaten outside," he said. "I went back to Vermont and had four feet of snow on either side of my driveway. I thought, 'Oh, please Lord. I just hope they like me.'"
Fogarty was offered the job soon after, and he formally assumed the role of dean in August 2008. At that point, the college had graduated four classes, opened its six regional campuses and, most important, confirmed by a number of measures that an alternative, community-based approach could work. When it was first unveiled, there had been no shortage of skeptics about that approach within the medical education community.
Still, there was plenty of the fundamental work of college building to be done. As dean, Fogarty wasted no time in recruiting new distinguished faculty, revamping the college's curriculum and fortifying its research portfolio — all with the untiring spirit of someone with genuine passion for his work.
But it wasn't until well into his tenure, Fogarty said, that he better recognized the internal source of that passion.
"It took me a while to figure out why I liked this job so much, and I realized after a few years that it was because I was back in an organization that had a mission," Fogarty said. "Our mission is to produce the doctors that Florida really needs. Having spent so much time in the military, having a mission really made a difference for me."
A Unique Model
The way FSU's College of Medicine carries out that mission, though, bears little resemblance to the typical American medical school. While the first two years of instruction hew closely to standard practice, third-year medical students at FSU experience something altogether different.
While typical medical students complete their third-year rotations at an academic medical center, usually across the street from their college, FSU medical students are sent to one of six regional campuses scattered throughout the state. There, rather than being assigned to a team of rotating physicians as is the norm, FSU students are assigned to an individual, fully trained doctor in their specialty, who offers personalized mentorship and ample opportunity for constructive hands-on experience.
This approach facilitates a kind of intergenerational knowledge transfer that can be difficult to achieve in large groups. Students have the opportunity to cultivate meaningful relationships with their attending physician's patients — a valuable skill at a time when hospitals are often incentivized to treat and discharge patients at an increasingly accelerated pace.
"In our model, students actually get to see the doctors' patients in the office; they get to talk to them," Fogarty said. "The doctors share the patients' stories, their histories. They share their experience. Our students are taking care of large volumes of patients in the office setting. When I was in medical school, I might take care of 12 to 15 patients over the course of six weeks. Our students are logging more than 200 patients in an internal medicine rotation."
This decentralized structure also frees up the College of Medicine to arrange sponsored residency partnerships with hospitals throughout the state. This benefits both the medical residents, who have a wider array of programs available to them, and the hospitals, which are often able to translate the partnership into a more robust offering of services.
The college's statewide network of residency programs provides homes to medical school graduates from around the country who are moving on to their residencies.
"That's probably one of the most satisfying things," he said. "In the next year or two, we'll have over 150 residents in training in programs that we sponsor around the state. That puts us in pretty good company."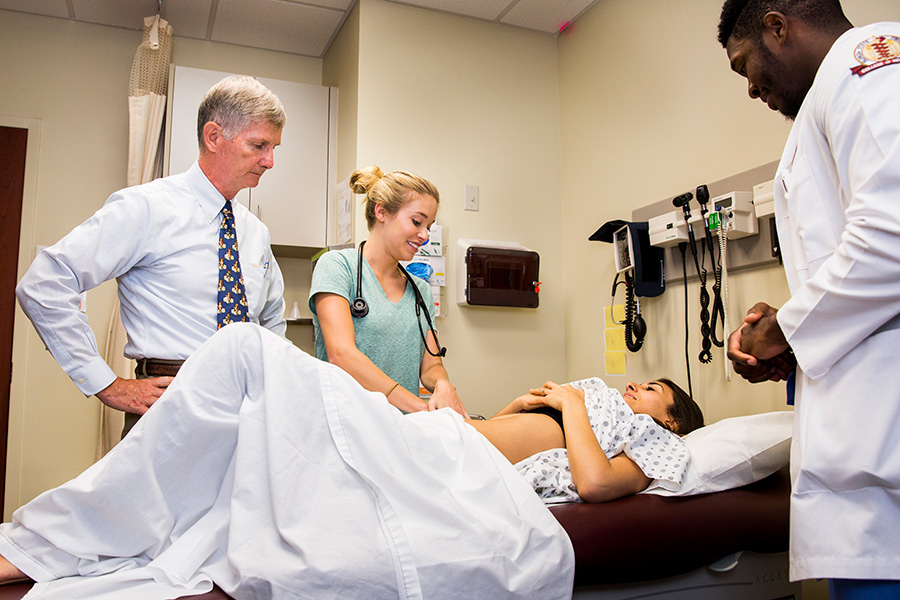 A Future Full of Promise
During Fogarty's tenure, the College of Medicine has experienced a number of indelible successes. The college has now graduated 1,255 students — more than half of whom are now in practice — and its total research funding just recently crested the $100 million mark, a testament to the school's remarkable, ever-growing faculty. But Fogarty believes the college's brightest days are yet to come.
The new School of Physician Assistant Practice is a particular point of pride for Fogarty, who said that he and his staff envisioned the seven-semester, master of science degree program as a direct response to the shifting landscape of global health care.
With interventional, surgical and pharmacological breakthroughs extending the lives of people around the world, the effort and expertise required to care for chronic conditions has and will continue to grow. That suggests a need for more health-care providers — a need the college's PA program will help to address.
"My sense is that team-based health care, chronic health care and disease management is really the care of the future," Fogarty said. "Having our doctors in training learn to work side by side with physician assistants, and vice versa, will be very exciting going forward."
Another object of Fogarty's excitement is the college's forthcoming primary care clinic in northwest Tallahassee.
Fogarty said the facility, located near Sabal Palm Elementary, will provide a venue for faculty to continue honing their clinical skills while simultaneously serving the community as direct representatives of the college itself — an especially exciting prospect for Fogarty, who said it's important that the college remains dedicated to making its presence felt in Tallahassee and neighboring areas.
"As I recruited the next generation of faculty, I also needed them to have some place to practice, to be relevant," he said. "This is a great opportunity to make a real visible mark and also to live our mission, to provide care for an underserved community that is really happy about what's going on there."
With a growing faculty, a suite of budding programs, an unconventional instruction model well-suited to the college's mission, and a community primary care facility on the way, Fogarty said he's bullish about the College of Medicine's progress. And now, as more of the burgeoning college's graduates emerge from the grueling residency pipeline, he has more reason than ever to believe the college is living up to its mission: to produce the health-care providers that Florida needs.
"We now have some great stats that suggest our students are training in terrific programs, coming back to Florida and working in our communities," he said. "Every time I go to one of our regional campuses, they introduce me to their poster children: folks who have graduated from here who are now back working in Florida, back in their communities. It's really exciting to see."