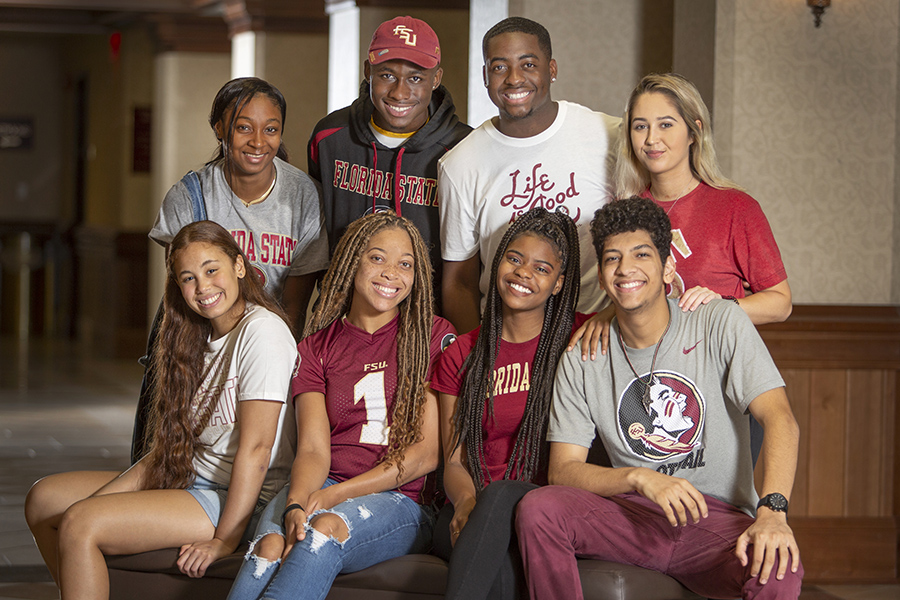 Florida State University will welcome about 42,000 students back to campus, along with 240 new faculty, as classes begin for the 2018-2019 academic year Monday, Aug. 27.
The incoming freshman class of about 6,400 students is expected to be one of the most academically talented cohorts in FSU history.
"We're thrilled to welcome an exceptional freshman class and a new group of top-notch faculty members as we start another academic year," said President John Thrasher. "Florida State University is on the rise, and I know these students and faculty will help keep the momentum going."
The application process has become more and more competitive for first-year students. FSU received 51,098 applications for admittance to the 2018 summer and fall semesters — a 17 percent jump over last year.
Of those freshmen who were accepted into the university for the summer and fall semesters:
• The average high school grade point average was 4.2 with an average 1340 total SAT score and ACT composite score of 29.
• This year's incoming freshman class includes students from 62 Florida counties, 43 states, Puerto Rico and 21 nations. After Florida, the states with the most new accepted freshmen are Georgia, North Carolina, New York and New Jersey.
• Women make up 61.4 percent of the new freshman class, while 38.6 percent of students are male.
• The top five majors selected by this year's admitted freshman class are: biological science, business, engineering, psychology and pre-health professions.
This fall, 240 new faculty members will join the Florida State family. That number includes 125 new faculty positions that were created with preeminence funds from the State of Florida.
"The addition of more faculty members will enhance and vitalize the overall academic experience for our students," said Provost and Executive Vice President for Academic Affairs Sally McRorie. "Having more faculty won't just reduce class sizes and faculty-to-student ratios, it will create exciting new opportunities for research and mentorship experiences with the faculty for our students."
Among the new hires are three new specialized honors faculty members who have designed a core honors curriculum around interrelated courses. The hires are a part of Florida State's goal to enhance the Honors Program and provide smaller, more complex and in-depth classes for the university's most high-achieving students.
"We're thrilled to welcome an exceptional freshman class and a new group of top-notch faculty members as we start another academic year," said President John Thrasher.
Other highlights of the new academic year include:
• Earlier this month, FSU introduced the Student Resilience Project, an online, evidence-informed trauma resilience training tool developed by the Institute for Family Violence Studies at the FSU College of Social Work. This fall, the institute will fully launch the training, which will be required for all of FSU's incoming freshmen and transfer students. The FSU Student Resilience Project uses highly engaging animation, videos and TED-talk style educational audio sessions from faculty and mental health providers. The training helps students build on their existing strengths and provides them with new strategies that promote health and teach crucial new resilience and coping skills. For more information, visit http://strong.fsu.edu.
• New this year, FSU will welcome 36 entrepreneurial-minded freshmen to the Entrepreneurship and Innovation Learning Community housed in Deviney Hall. Students will spend the year living together, taking courses, hearing from expert faculty in the Jim Moran School of Entrepreneurship, exploring their own passions and finding out about all the resources Florida State has to offer to foster innovation and development.
• Florida State's 20 residence halls, which are operated by the Office of University Housing, will open for the Fall 2018 semester at 8 a.m. Wednesday, Aug. 22. The residence halls will house more than 6,600 students this year. About 79 percent of the new students moving onto campus are freshmen. This year, a new online check-in system is available for students that will reduce the amount of time they spend standing in line and filling out paperwork.
• Engage 100 is a new initiative designed to enhance the student experience by connecting, engaging and challenging them from the moment they first arrive on campus. The goal is to have 100 percent of students experience high-impact engagement by participation in programs such as Undergraduate Research, Freshman Interest Groups (FIG) and Living Learning Communities (LLCs).
• FSU's historic and beloved dining hall, Suwannee Room, reopened in July with a bright new interior look, expanded menu and open-kitchen atmosphere that together elevate the quality of meals and create a fresh dining experience for the campus community. The renovation of Suwannee is part of FSU's goal to make Seminole Dining, with help from its food-service partner Sodexo, one of the top dining programs in the nation.
• Last month, the Florida State University Police Department released "Run. Hide. Fight." The educational video provides potentially lifesaving information to prepare the campus community and public for the possibility of active shooter situations. The video describes what to do in an active shooting event, how to recognize signs of potential violence and what to expect after an active shooting takes place.
• This summer, demolition began on the original Oglesby Union buildings to make way for a new Oglesby Union, which will open fall 2020. The existing Union and the Seminole Dining Food Court are open for business. Other programs and services are being housed in temporary space and alternate campus locations. Traditional programs such as Homecoming, Seminole Sensation Week, Paint-a-Pot and Market Wednesday will continue throughout construction. For the most up-to-date information and locations of Union department staff, the Student Government Association, student activities and programs, visit http://new.union.fsu.edu/.