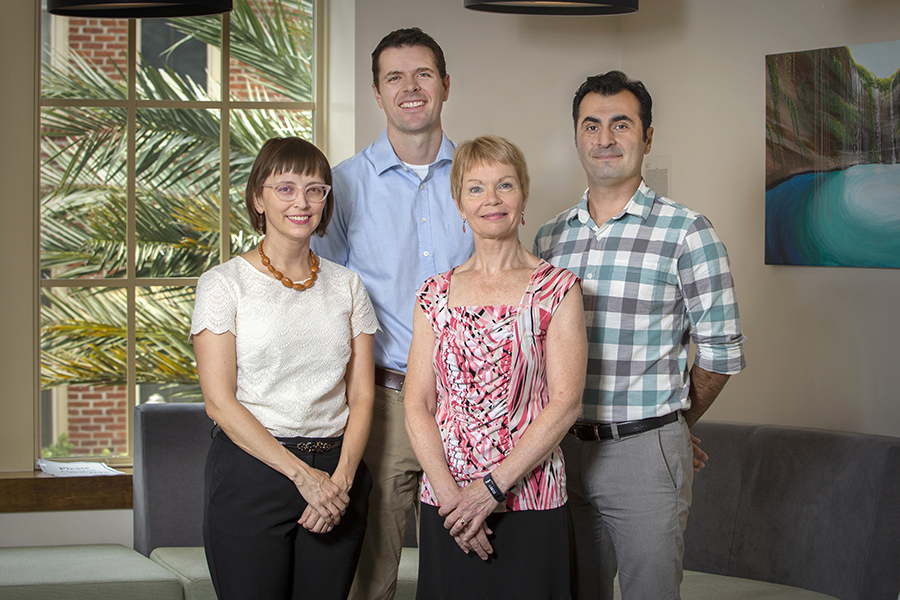 Florida State University is implementing some important changes to enhance the Honors Program this fall.
The program has named a new director and hired three new specialized honors faculty members who have designed a core honors curriculum around interrelated courses on enduring themes.
Annette Schwabe, associate dean of Undergraduate Studies and former director of Liberal Studies, said she is excited to take the helm of the evolving program, which provides smaller, more complex and in-depth classes for FSU's most high-achieving students.
"I am very excited to join the honors staff and faculty as we create and integrate cutting-edge academic and extracurricular experiences for all honors students," Schwabe said.
Schwabe, who joined the FSU faculty in 2005, also is a professor in the Department of Sociology within the College of Social Sciences and Public Policy.
"Dr. Schwabe brings a wealth of best teaching and academic practices to the program," said Karen Laughlin, dean of Undergraduate Studies. "As our former director of Liberal Studies, she has been successful in program and curriculum development and knows how to help students thrive in their academic and postgraduate careers."
The three new teaching faculty — Azat Gundogan, Ross Moret and Christina Owens — will begin teaching honors classes this fall, allowing for a more unified curricular experience for honor students across all majors and disciplines.
"From the moment honor students step on campus, we want to encompass them in an enriching learning environment," Laughlin said.  "These personnel and curricular changes will ensure that the program is challenging and meeting the needs of our highest achieving students."
The changes, which have received support from the Office of the Provost, are the result of an effort to make the Honors Program even more competitive.
The Faculty Senate Honors Program Policy Committee, former Honors Director Mark Kearley and Associate Director Jeff Badger brainstormed ideas on how to accomplish that goal. Hiring new faculty to teach liberal studies classes focused around a central theme or essential question was the first step of their plan.
"We want to have a close-knit cohort of students who will share quality time in small courses orbiting around a vital essential question," said Douglass Seaton, chair of the Honors Policy Committee. "The new faculty members have the freedom to design curriculum from their unique teaching perspective. This fall, they have chosen the theme Freedom and (In)Equality.
The university also is making student enrollment in the Honors Program more selective in order to enhance services and better serve students. It also has reduced class size from about 25 students to 19.
"Having these new faculty, along with smaller class sizes, will allow for more student involvement, research projects and travel that will result in an overall more focused and consistent shared curricular experience for honor students," Kearley said. "These new faculty will be able to dedicate most of their time to creating the most enriching courses possible." 
Gundogan, Moret and Owens will teach honors courses in their respective fields and develop new courses as the program matures.
Gundogan, an international faculty member from Turkey, specializes in sociology and urban studies with a background in Middle Eastern studies, political science, public relations and international relations. His broad interdisciplinary background will allow him to bring a different scholarly perspective to any topic.
"I'm thrilled to have the opportunity to contribute to FSU's institutional commitment to excellence in teaching and research," Gundogan said. "Working at FSU, such a preeminent, nationally and globally top-ranking research university, is a privilege."
Moret, an alumnus who recently earned his doctoral degree from FSU's Department of Religion, looks forward to helping the university continue to rise in the academic rankings.
"I'm most looking forward to developing a new paradigm for the Honors Program that will help honor students build a sense of community," Moret said. "Together, I believe these new elements of the program will offer a transformative experience for students."
Owens, a first-generation college student, traveled the world and lived abroad in multiple countries before pursuing her doctoral degree from the University of California, Davis. She specializes in cultural and women's studies and has taught at Vassar College. Owens' unique background shapes her academic research and teaching interests, which range from rural queer studies to race, gender and sexuality in U.S.-Japan relations.
"I am so excited to be a part of this new faculty team who will shape curriculum and build a stronger Honors Program at FSU," Owens said. "Working with first-year students is especially rewarding because I love introducing them to new ideas."
For more information, visit honors.fsu.edu.