Florida State University made history this weekend by hosting four spring commencement ceremonies for the first time, offering graduates a chance to celebrate years of hard work and savor a sweet moment of success.
More than 6,400 students graduated this spring with over 5,400 graduates participating in the ceremonies held Friday, May 4, and Saturday, May 5, at the Donald L. Tucker Civic Center.
FSU President John Thrasher presided over all four ceremonies and introduced each of the commencement keynote speakers, who offered advice and words of wisdom for the future.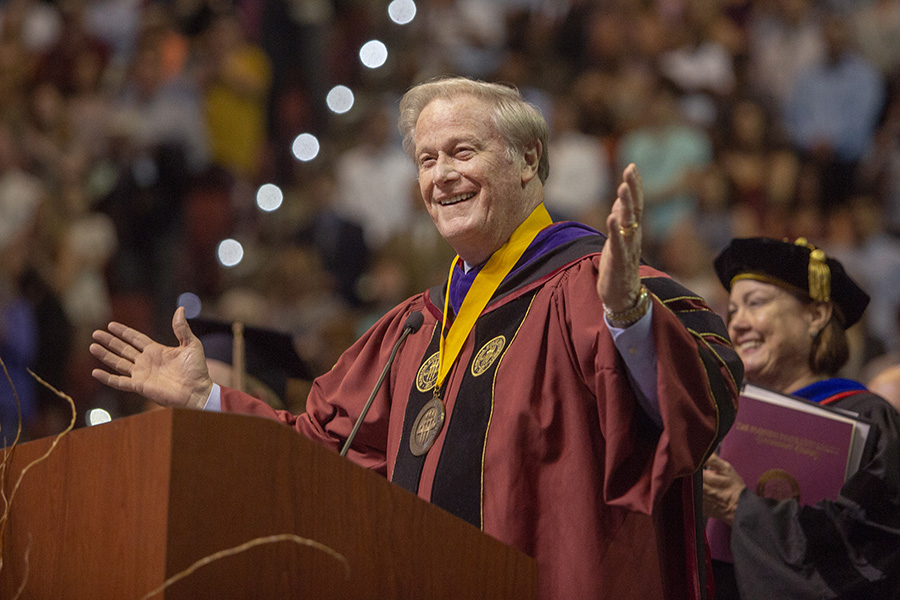 Jim Jenkins, CEO for Sodexo's Universities North America East — FSU's dining services partner, encouraged graduates to be proud of themselves, but also to thank their team — their family, friends and other supporters — who helped make their achievement possible.
He addressed graduates at both the Saturday morning and afternoon commencement ceremonies.
"Each of you have a support network," Jenkins said. "You're here because of your own work and the work and sacrifices of many others. Make sure you thank those supporters. Thank them today, thank them tomorrow and thank them every day."
After starting out as a production manager for Sodexo at American University, Jenkins now oversees the company's United States Universities business, an operating segment of Sodexo's $9.9 billion North American operations.
Jenkins told graduates that their hard work was truly just beginning — that a degree was not a ticket to success.
"Success will look different for each one of you," Jenkins said. "The path will swerve. There will be obstacles and times when you wonder if it was all worth it. Now, you have tools to help you. Hopefully, your Florida State experience has also given you tools to help to relate to others, to accept people for who and what they are and to withhold judgment. At the end of the day, if you work hard and if you are good to people, you will succeed."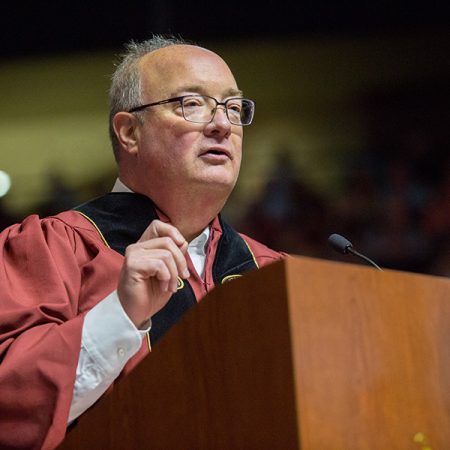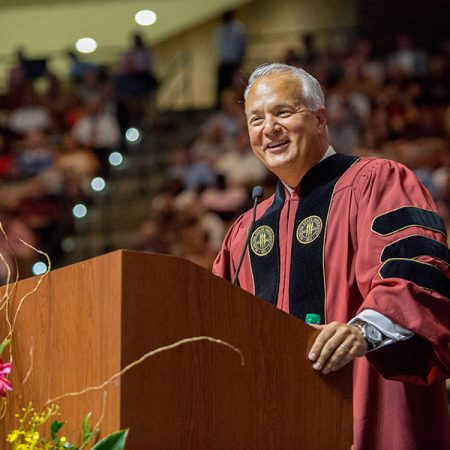 He also encouraged graduates to ensure their career ambitions never overshadow the people around them.
"Make the emotional connections," he said. "Use and leverage technology to enhance human interaction, not replace it. Make that extra telephone call to check in. Answer the phone when a friend calls. Make time for personal visits."
He closed by encouraging students to make a bucket list and keep adding to the list as they go through life.
"But don't just add," Jenkins said. "Check them off. If you end up with a long, unchecked list, you didn't get it right. You can start now. Today, you can put a big checkmark next to graduate. Savor that."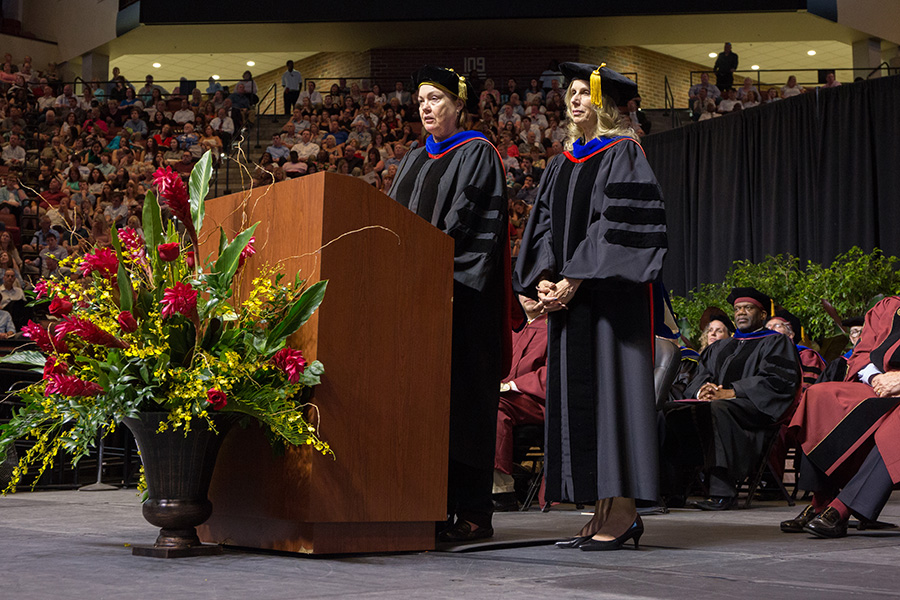 Jenkins' words resonated with new FSU graduate Mackenzie Teek.
"I am most grateful to my faculty mentors at FSU, especially Deana Rohlinger, who ushered me into sociology, and continued to push me to produce my best academic work," said Teek, who majored in sociology. "There are dozens of other faculty members who guided me throughout college, and to them, I express my sincere admiration and gratitude."
At Friday night's ceremony, FSU alumnus John Rivers inspired graduates to dream big. Once a successful health care executive who ran a billion-dollar company, Rivers walked away from it to pursue his own lifelong dream of owning a restaurant.
"If your dream does not require a miracle, dream bigger," said Rivers, who today owns 15 restaurants in Florida and Georgia. "You only have one life and as you sit here, you have your whole future in front of you. Risk it. Fail. Fall down. That's part of life, and that's the way you grow. You get back up and go at it again."
Rivers knows about falling down and getting back up. He arrived at Florida State in the mid-1980s barely able to afford the tuition. Since money was tight, it took him five years to graduate with a degree in marketing, but then he stormed into the health care industry and achieved his goal of becoming a company president before he turned 40.
In the nearly 30 years since graduating, Rivers said he's learned key lessons. Now, he knows making more money doesn't translate into happiness, but doing what you love does.
"When that opportunity presents itself to you — and it absolutely will — you will get a call one day that will define who you are in life," he said. "I pray that you have the courage to go for it."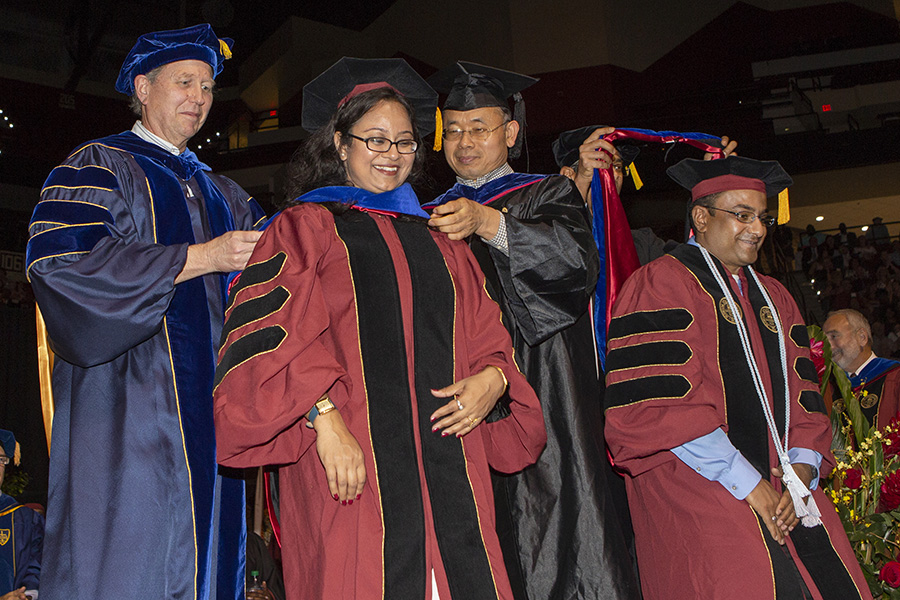 During the Friday afternoon ceremony, alumna Julie Dunn Eichenberg urged graduates to be grateful for the time they've spent at FSU.
"Be grateful for every moment here at Florida State," Eichenberg said. "Grateful for the opportunity to sit on Landis Green, grateful for the long nights spent in Strozier, grateful to be a Seminole."
Eichenberg, who graduated from FSU in 1994 with a bachelor's degree in marketing, is the vice president of Brand Distribution at Turner Content Distribution. She is an active member of the FSU community, serving as chair of the FSU Foundation Board of Trustees and as a member of the Seminole Torchbearers board. In 2017, Eichenberg was inducted into FSU's Circle of Gold which recognizes worthy individuals who personify the university's tradition of excellence.
"I am excited for you, because you have completed something big — graduating from one of the finest universities in the nation," Eichenberg said. "A degree from FSU will open doors for you, and as you go on to the next phase of your lives, reflect back on all that you have to be grateful for, thank your tribe, go and do remarkable things and recognize the gifts in your life and the gift you are to others."
Eichenberg left graduates with the wise words of legendary businesswoman, Oprah Winfrey: "Be thankful for what you have; you'll end up having more. If you concentrate on what you don't have, you will never, ever have enough."
These words hit home for graduate Margarette Swift, a social work major from Orlando, who plans on pursuing a master's degree and Ph.D. in social work from FSU. Her future plans also include writing a book about her life and starting a nonprofit for victims of sexual abuse.
She is extremely grateful for her time at FSU and for the CARE and Unconquered Scholars Programs at FSU, which helped her through tough times.
"FSU provided a very supportive environment for me full of mentorship that helped me physically, mentally and emotionally," Swift said. "I'm emotional and overwhelmed to be graduating today, it all feels like a dream. I'm very grateful to be a Seminole, and because of my family pushing me forward, I'm here today and ready to take on the world."
Tiffany Graham, a transfer student from South Florida, took the time to savor the big moment of walking across stage Saturday morning.
"It's been a long time coming and I'm extremely grateful," said Graham, who majored in political science. "As a transfer student, I initially didn't know what to expect coming here having missed out on two years at the university, but when I got to FSU, this school made me feel welcomed with open arms. I had so many opportunities given to me here that I wasn't expecting at all. I've met so many incredible people from professors to mentors to lifelong friends. It makes me proud to say I'm a Nole."