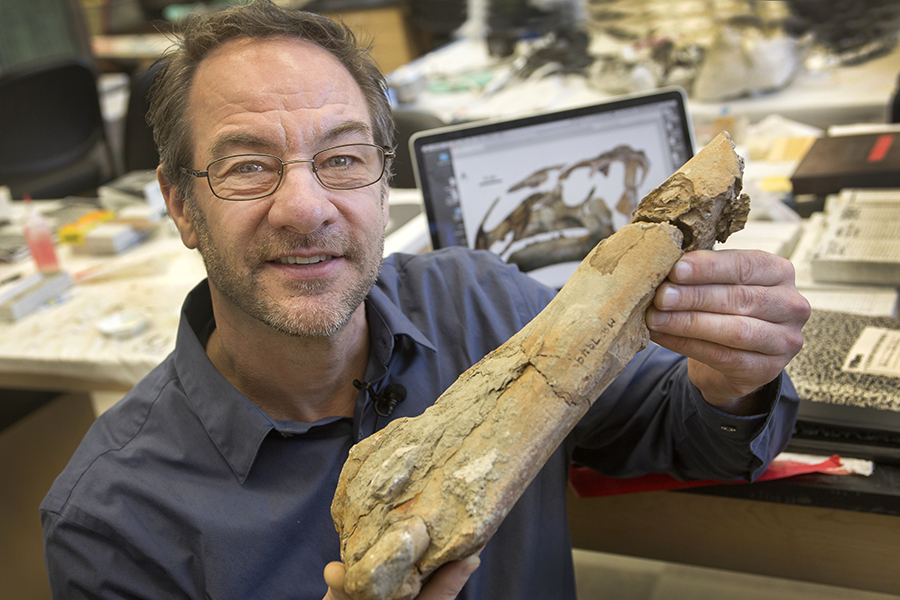 Professor of Biological Science Gregory Erickson received Florida State University's 2018 Distinguished Teacher Award during the annual Faculty Awards Dinner May 2.
The Distinguished Teacher Award is the university's most prestigious honor for teaching and includes a $7,500 stipend.
Erickson, a paleontologist, joined the FSU faculty in 2000 as an assistant professor and was promoted to full professor in 2011. He has taught introductory biology classes for non-science majors, herpetology and anatomy.

Erickson said it's important to him to break down barriers both between the instructor and students and also barriers between students. He encourages them to come to office hours and talks to them about his interest in rock music or his own undergraduate experience.
"I want to get my students engaged with me so they feel comfortable to come to me, and also I want to get them working together," he said. "Team learning is the way to go. It's not only a good way to learn, but good life skills."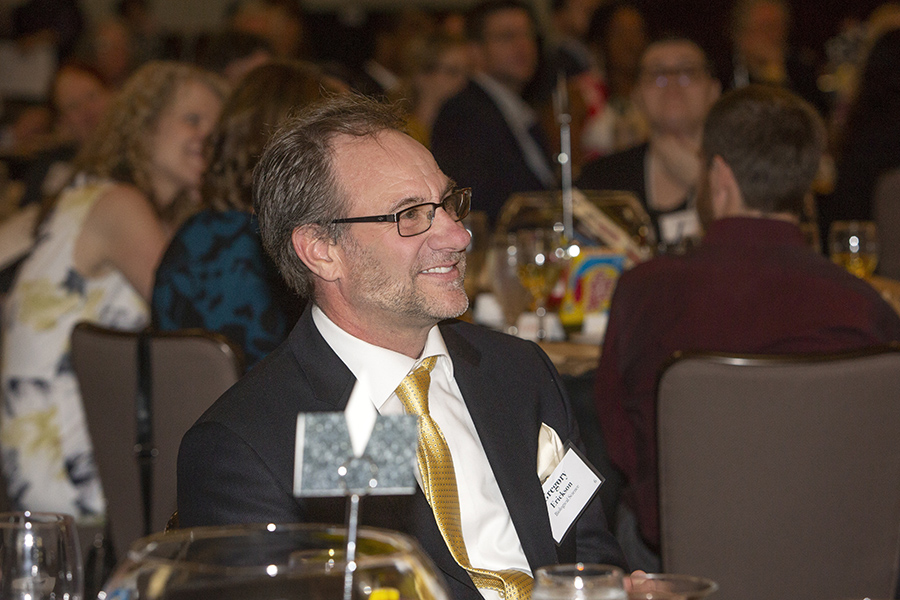 Erickson has received a number of other teaching awards in his tenure at FSU. He received the University Teaching Award in 2017, the University Excellence in Teaching Award in 2012 and the Elias Award for Excellence in Undergraduate Teaching in 2006.
Erickson said he tries to make sure his classes are memorable. In anatomy, he may have students dissect alligators or a bull shark. In his introductory biological science class, he brings in dinosaur fossils for the students to examine.
"Greg has been an exceptional teacher for our department for many years and is highly deserving of this award," said Don Levitan, chair of the Department of Biological Science. "His classroom instruction has inspired undergraduates and provided a role model for faculty."
Erickson said he was "pretty stunned" when he learned from the provost's office that he was receiving the award but also touched by the honor. He gave credit to all of the teaching assistants he has had over the years.
"I don't consider myself the best teacher here, but there are so many good teachers here at FSU, so I consider myself lucky to be considered among those ranks," he said.
OTHER HONOREES
Additional outstanding FSU faculty members were recognized in other categories during the Faculty Awards Dinner.
DISTINGUISHED UNIVERSITY SCHOLAR AWARD: This award recognizes non-tenured employees who are actively engaged in research or scholarly activity. The honor comes with a one-time award of $10,000 and the use of the title Distinguished University Scholar while at FSU. This year's winner is Ryan Rodgers (National High Magnetic Field Laboratory).
DEVELOPING SCHOLAR AWARDS: This award celebrates mid-career associate professor level faculty with a one-time allowance of $10,000 to support their research programs. The award was presented to Sara Hart (Psychology), Elizabeth Stroupe (Biological Science), Robert Spencer (Earth, Ocean and Atmospheric Science) and Kunihiko "Sam" Taira (Department of Mechanical Engineering).
DISTINGUISHED RESEARCH PROFESSOR AWARDS: This award acknowledges outstanding research or creative activity at the professor level with a $10,000 stipend and the distinction of using the title "Distinguished Research Professor" while at Florida State University. The award was presented to Professor of Psychology Pamela Keel and Professor of Chemistry Hedi Mattoussi.
GRADUATE FACULTY MENTOR AWARDS: This award recognizes faculty members who have demonstrated an outstanding commitment to graduate students. The award was presented to Geoffrey Strouse (Chemistry and Biochemistry), Gretchen Sunderman (Modern Languages and Linguistics), Mark Winegardner (English), Jesse Cougle (Psychology) and Michael Ormsbee (Nutrition, Food and Exercise Science).
HONORS THESIS MENTOR AWARDS: This award recognizes faculty members who have shown exceptional care and attention to students in the Honors program. This award was presented to Nick Cogan (Mathematics) and Megan MacPherson (Communication Science and Disorders).
UNDERGRADUATE RESEARCH MENTOR AWARD:  This award acknowledges substantive and long-term faculty involvement in undergraduate research. Awardees receive a $2,000 stipend funded by the FSU Student Foundation. The prize went to Meredith McQuerry (Retail Entrepreneurship).
UNDERGRADUATE ADVISING AWARDS: This award is reserved for faculty and staff who have dedicated their time to ensuring that students are provided with the best possible guidance related to course selection and career choices. This year's recipients were Lauren Dimmer (Psychology), Elizabeth Kistner (Economics), Schanell Hylton Mathis (Business) and Adrienne Stephenson (Graduate School).
UNDERGRADUATE TEACHING AWARDS: This award recognizes faculty members who have demonstrated excellence in undergraduate teaching. Nominations for this award are submitted by students and alumni, and each recipient receives a $2,000 award. This year's outstanding professors include Samer Al-Saber (Theatre), Randy Blass (Management), Christy Chatmon (Information), Russell Clayton (Communication), Bridget DePrince (Chemistry and Biochemistry), Nina Efimov (Modern Languages and Linguistics), Kenneth Hanson (Chemistry and Biochemistry), Alexander Jiménez (Music), Dale Jordan (Theatre), Justin Kennemur (Chemistry and Biochemistry), Maxine Montgomery (English), Phyllis Underwood (Teacher Education) and Lisa Waxman (Interior Architecture and Design).
GRADUATE TEACHING AWARDS: This award recognizes faculty for superlative graduate teaching. Nominations are submitted by students and alumni, and each honoree receives a $2,000 stipend. This year's awardees are Paolo Annino (Law), Vanessa Dennen (Educational Psychology and Learning Systems), Mary Frances Hanline (Teacher Education), Antje Muntendam (Modern Languages and Linguistics), Jeremiah Murphy (Physics), Justin Sevier (Law), Holly Sudano (Accounting) and Gwen Welliver (Dance).