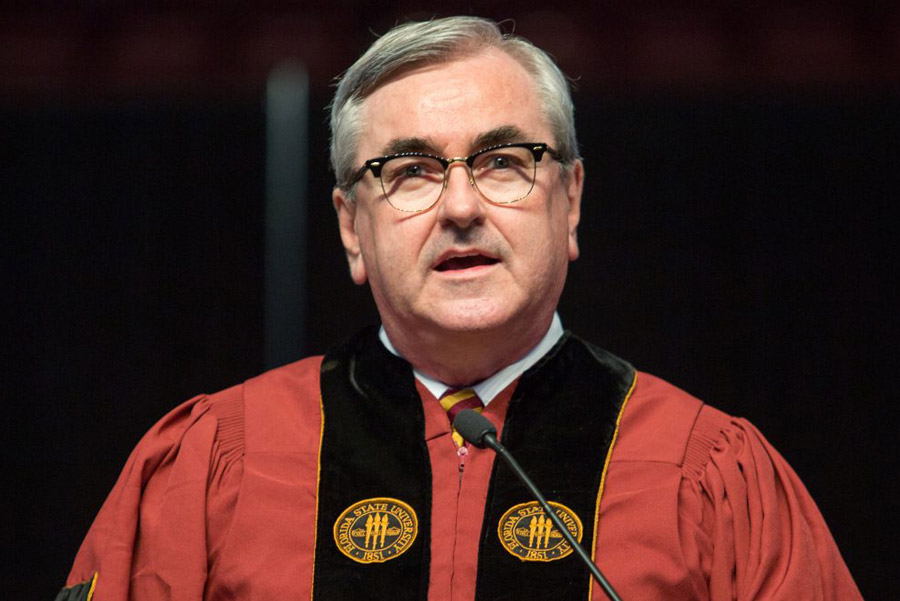 Bob Sasser has demonstrated once again he's a true friend and generous advocate of Florida State University and the College of Business.
Sasser, a 1973 marketing graduate, has matched a $500,000 gift to FSU from Dollar Tree Inc., the company he led as chief executive officer and president before recently becoming executive chairman. The match doubles the gift's impact to $1 million and establishes the Bob Sasser Professor of Marketing.
Dollar Tree's gift honors Sasser for his many years of dedication, remarkable achievements and leadership.
"We're grateful for Dollar Tree's incredible generosity and thrilled that this professorship will bear Bob's name and fund a much-needed professorship in the college," said Michael Hartline, dean of the College of Business. "These gifts will be a reminder of the numerous successes Bob has achieved over his career and an inspiration to future generations of students. Beyond that, Bob's matching gift, as well as others he and his wife, Pam, have generously made, are a reminder of the importance of giving back."
Sasser rose through the ranks of his profession to become the CEO of Dollar Tree Inc. He joined the Chesapeake, Virginia-based Dollar Tree Stores as chief operating officer in 1999, became president in 2001 and was named president and CEO in 2004.
Sasser's leadership transformed Dollar Tree into a Fortune 500 company, growing from a small regional company primarily in the Mid-Atlantic states to an international company with 14,835 stores across 48 states and Canada. Sasser has been cited by Forbes.com as one of the "Best Bosses for the Buck."
Sasser and his wife kick-started the college's building campaign in 2012 with a gift of $1 million. When they made their gift, they challenged fellow alumni to support the college's efforts to grow, prosper and strengthen the educational experience for generations of Florida State business students to come. In 2011, they established the Bob and Pam Sasser Fellowship in Marketing Excellence to benefit marketing graduate students.
"Pam and I are pleased to be in a position to give back to the College of Business, and we are especially happy we can be part of the school's efforts to give students a superb education," Sasser said. "The college has produced global business leaders, and we're hopeful that our gifts will inspire others to give and be part of this great legacy of educating the best of the best."
Sasser serves on the FSU Board of Trustees and formerly served on the FSU Foundation Board of Trustees. He is a lifetime member of the FSU Alumni Association, a member of Seminole Boosters and the FSU Foundation's Presidents Club. He and his wife are also members of the Vires, Artes, Mores Society.
In 2009, Sasser joined an elite group of College of Business graduates when he was inducted into the college's Alumni Hall of Fame. The distinction recognizes graduates who embody the qualities the college works hard to instill in students: integrity, respect, innovation, excellence and leadership.