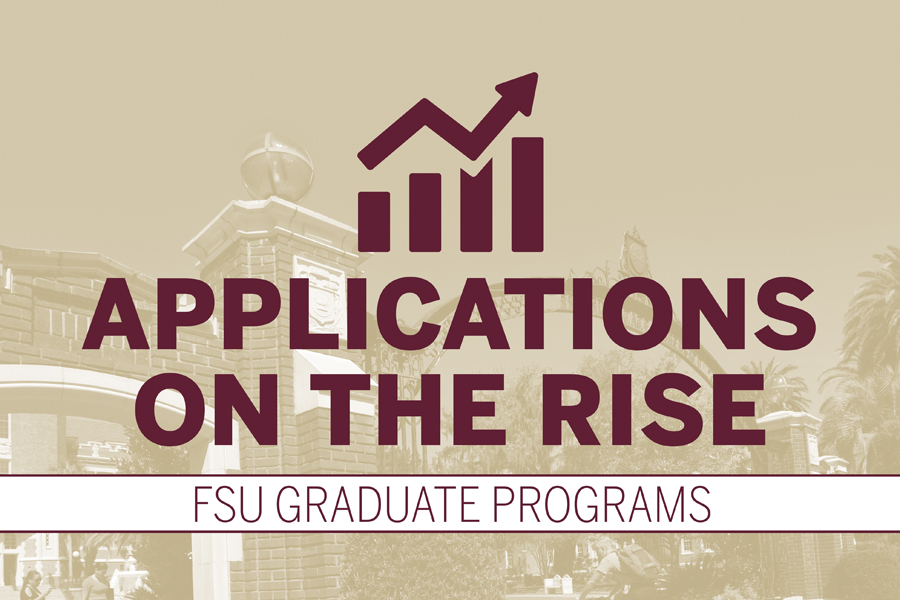 Florida State University has seen a significant increase in the number of applications for graduate school for the upcoming summer term.
The number of applications for admission to the FSU Graduate School has more than doubled since last summer.
There are currently 7,863 graduate students enrolled in FSU advanced degree programs, including the College of Medicine and the College of Law. Since the fall 2017 application cycle, FSU has received more than 10,000 applications for admission to its graduate programs.
"I believe there's excitement surrounding FSU," said Mark Riley, interim dean of the Graduate School. "People are hearing about it, and it is certainly a university on the move. They are hearing loud and clear how spectacular the education opportunities are at this university."
Riley also credits the use of a new application management and communication system for the increased interest in graduate studies at FSU. In August, the Graduate School, in conjunction with the Office of Admissions, designed, built and deployed a new web inquiry tool for prospective students.
Since its launch, 41 percent of prospective students who completed an initial web inquiry form started a formal application. Of those students who started formal applications, 61 percent actually completed a graduate application.
"This was a game-changer because of our ability to now strategically market to prospective applicants," said Brian Barton, associate dean for Business Operations at the Graduate School. "Now we are able to not only send marketing messages, but we can personalize those messages. It's all about creating the connection, so they can visualize seeing themselves here at FSU."
A new graduate enrollment team also is working behind the scenes to reach prospective graduate students. The positions were created by the Office of the Provost in alignment with the university's most recent strategic plan and at the direction of the Subcommittee on Graduate Recruitment.
"This is a group of superstars," Riley said. "A team of four has just come aboard this year, and they are doing incredible things. They are going out to see how we can improve the departments and colleges and work together to further enhance graduate education at FSU."
Graduate applications for the fall are also trending upward compared to previous years. The university deadline for graduate school admission for the fall semester is July 1.
Increased applications are not the only signs of progress within graduate education at FSU. The reputation of the university's graduate programs also is improving. Graduate programs in criminology, business, law, education, nursing and engineering all made significant jumps in the U.S. News and World Report 2019 edition of "Best Graduate Schools."
"Florida State University has a growing reputation for excellence in student success," said Sally McRorie, provost and executive vice president of Academic Affairs. "The expanding application numbers for our graduate programs indicate their rigor and quality, as well as our strong record of graduate alumni placement in advanced roles in a broad range of careers and professions."
This year, FSU also received a record number of undergraduate applications. More than 51,000 prospective first-year students applied for admission to the 2018 summer and fall semesters. FSU expects to enroll about 6,200 freshmen in the Class of 2022.
For more information on the Graduate School, visit http://gradschool.fsu.edu.