Florida State University is moving ahead with an ambitious plan to take down Oglesby Union and build a new one that incorporates FSU tradition, while elevating the look and feel of the entire campus.
But first, FSU is making plans to say goodbye to the quirky collection of buildings, some dating back more than 60 years, that make up the Oglesby Union complex.
Florida State will host a four-day farewell, called the "Last Call Before the Wrecking Ball," featuring a series of commemorative events from April 25-28 to honor the facility where so many memories were made.
The demolition project will start the Monday after graduation, May 7, and most of the structure is expected to be gone by the time students return in August.
The new four-story Oglesby Union will feature a visionary style, including sleek glass walls, comfortable outdoor seating, state-of-the-art technology and many of the venues students have grown to know and love.
Look for brand-new versions of the food court, Club Downunder, Crenshaw Lanes, the Art Center and Market Wednesday. In addition, a bigger and better FSU Campus Bookstore will feature prominently in the facility, along with new ballrooms, study and leisure areas, spaces for meetings and student groups, and new food venues.
"It's going to be transformative," said Oglesby Union director Matt Ducatt, who has been collaborating with a team of design and construction experts. "It's going to be a great facility for our campus and students."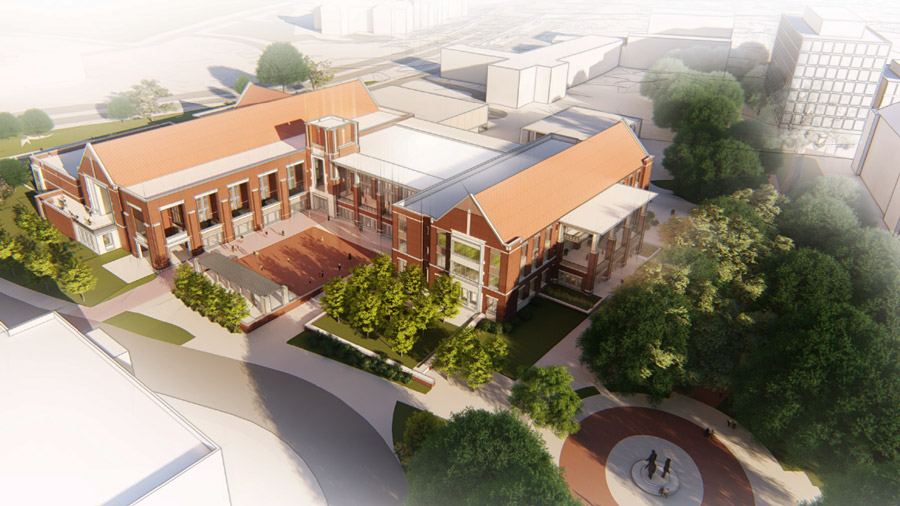 The new union, which is scheduled to open in fall 2020, will not only change the look of campus, Ducatt believes it also will reflect the FSU of today — a premier research university focused on moving into the nation's Top 25 public universities. Currently, FSU is ranked No. 33 after climbing 10 spots — more than any other university — in two years in the U.S. News & World Report rankings.
"You have to feel like you're in the Top 25 to get there, and this facility will be worthy of that designation," Ducatt said. "Florida State is an amazing place. We have very smart graduates, as well as many great resources and facilities, but the current Oglesby Union is not something on its own that supports that goal."
Parts of the union complex date back more than 60 years. The campus post office was built in 1954. Ten years later, the complex added four more buildings: Davis Building, Crenshaw Building, Student Activities Center and Moore Auditorium. In the late '80s, Turner was built to tie all of the structures together with passageways, creating a single facility with about 200,000 square feet of space.
The design made sense a generation ago, but today, Oglesby Union's outdated layout needs streamlining to better serve students.
"It was a series of buildings put together by hallways and connectors," Ducatt said. "I jokingly call it the 'office buildings.' No disrespect, and certainly, our students love this facility, but wait until they see where we are moving. They will be amazed."

The project, which will be funded by student fees, will remove about 75 percent of the current structure and incorporate existing elements like the recently renovated Moore Auditorium.
The new Oglesby Union will be larger, including nearly 300,000 square feet of space, and introduce a lively new sports-themed restaurant, as well as a half dozen new food operations. Ducatt said the redesigned union will be laid out with a smarter, more efficient design, making it easier to get around and enjoy outdoor amenities.
"We will get a more continuous flow and when you're in the new Oglesby Union, you will have no doubt you're at Florida State," Ducatt said. "The union needs to be different than any other university in the nation, so we are really paying attention to how we infuse the facility with tradition and energy without just putting garnet and gold on everything. It's not that literal. That's a big focus of this project, tying in tradition deftly, because this community will need to feel it's their building on their campus."
The west side will feature a stage and infrastructure to support FSU's popular Market Wednesday activities, food trucks and other student activities. On the east side, tentative plans include a new green space.
Union staff will continue to provide programs, events and services during construction. Employees will relocate to temporary spaces around campus, including Doak Campbell Stadium and the Thagard Building, to ensure a continuation of services over the next two years.
The design was developed by a partnership between Architects Lewis+Whitlock of Tallahassee and Workshop Architects of Milwaukee. The team has extensive experience with university construction projects. Construction will be led by the Ajax Building Corporation.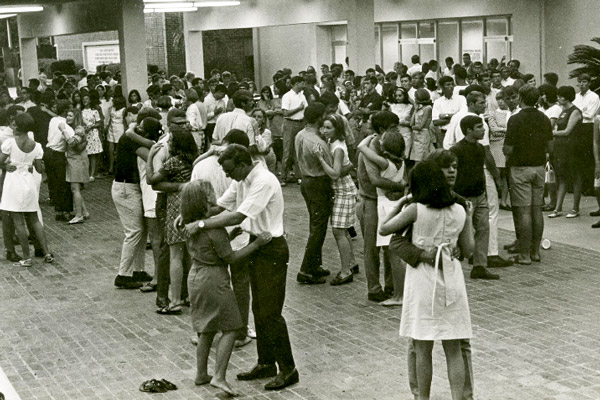 Ducatt has worked in college unions around the country for most of his 30-year career, and he is certain the new facility will be a shining star on campus.
"Oglesby Union will be such an amazing asset for an already preeminent university with so much honor and tradition," Ducatt said. "We are excited to bring this to the community because it will help us better engage with students, and that's really what it's all about."
The "Last Market Wednesday" at the old union will take place from noon to 2 p.m., April 25, in the Union Courtyard.
"CDU Fest" will feature local artists integral to the history of the current Club Downunder, which has been in place since 1988. The event will begin at 7:30 p.m. Saturday, April 28, at Club Downunder. Market Wednesday and Club Downunder concerts will continue at varying locations on and off campus over the next two years.
"Last Call Before the Wrecking Ball" evening activities will be held Thursday, Friday and Saturday, April 26-28. For more information, check the full schedule.