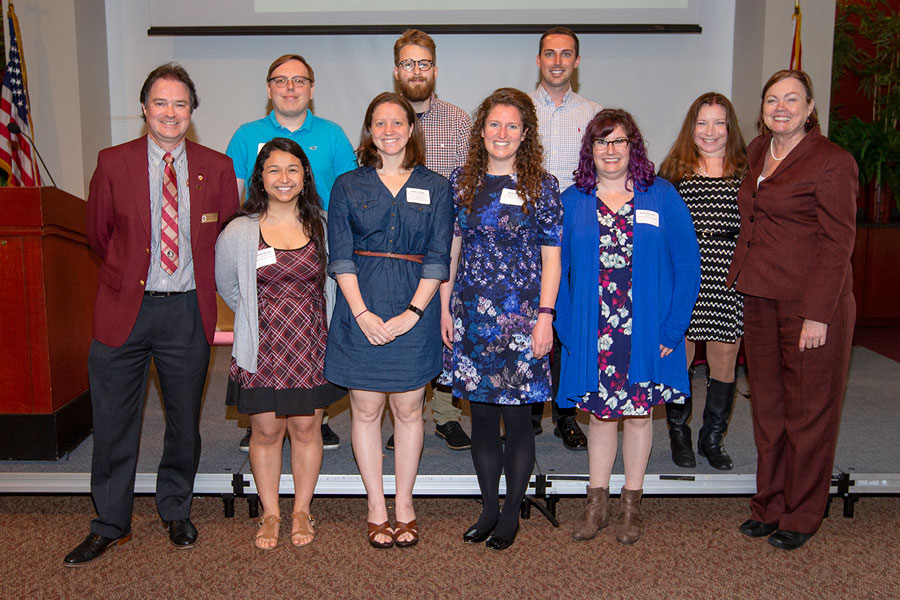 Florida State University Graduate School held their annual celebration of Graduate Student Excellence on Tuesday, April 10, an opportunity to honor the best and brightest within graduate education at FSU.
Mark Riley, interim dean of the Graduate School, presided over the program.
"Your contributions are truly vital to the university," Riley said. "I am confident that you'll keep being absolutely brilliant and continue to contribute to the excellence of this great institution."
Riley also took the time to honor his predecessor, Nancy Marcus.
"I wish Dean Marcus was here," he said. "What she achieved at FSU and what she did to propel the graduate experience forward was really, truly beyond epic. So much of what you enjoy as a graduate student at FSU is because of her."
Provost Sally McRorie also attended the event and provided remarks of greeting, thanks and congratulations.
"I can't thank you enough for all the help that you provide," McRorie said. "I know how much graduate students are engaged in their own work, but also helping to prepare younger students to succeed."
Jorge Piekarewicz, a longtime physics professor, provided the plenary address. He encouraged students to remain true to themselves and remain curious.
"As you all continue to move forward in your research activity and creative endeavors — whether understanding our genetic blueprint, the genius of Mozart or the origin of language — embrace the challenge and state unapologetically that you do what you love for the simple pleasure of finding things out," Piekarewicz said.
Dozens of students were recognized in the areas of teaching assistance, leadership, visual arts, research and creativity.
Kate Pierson, a doctoral candidate in the School of Theatre, was recognized for her service as a teaching associate in the Program for Instructional Excellence (PIE).
"I think it's great to recognize everyone who's doing really important work, and I feel honored to be a part of the work that's being recognized," Pierson said.
She also received the John F. Liseno Award that assists in covering travel expenses for PIE teaching associates who desire to present their research at a national or international conference.
Pierson's research focuses on teaching sensitive subjects and dealing with potential "hot moments" in the classroom. She said she is grateful for the PIE program because it allowed her to engage in an interdisciplinary environment.
"Moving forward, I feel prepared to go out into the world and know how higher education as a larger area functions," Pierson said. "I feel I'll be able to mentor undergraduates about the process of applying to graduate programs."
Students who received external awards, grants and fellowships also were recognized, along with graduate faculty mentors.
Other awardees include:
RECOGNITION OF PROGRAM FOR INSTRUCTIONAL EXCELLENCE (PIE) TEACHING ASSOCIATES
James "Matt" Anderson, modern languages and linguistics
Maribel Borger, chemistry and biochemistry
Gabriel De Marco, philosophy
Cameron Foltz, religion
Kate Hill, biological science
Vincent Lake, physics
Ramsey Mathews, English
Manal Tabbaa, psychology
Kate Pierson, theatre
Ashley Artese, nutrition, food and exercise sciences
Jeffrey Conley, economics
Haley Gentile, sociology
Fei Xing, educational psychology and learning systems
Joshua Tanis, music theory and composition
RECOGNITION OF
PREPARING FUTURE FACULTY (PFF) FELLOWS
Marissa Agama, art education
Steve Garris, special education
RECOGNITION OF
PREPARING FUTURE PROFESSIONALS (PFP) FELLOWS
Steve Garris, special education
OUTSTANDING TEACHING ASSISTANT AWARDS
Ana Laura Gil, modern languages and linguistics
Alan Febraio Parma, modern languages and linguistics
Melanie Hom, psychology
Michael Mesa, educational psychology and learning systems
Allison Gibbes, theatre
EXCELLENCE IN VISUAL ARTS AWARD RECIPIENTS
Erwin Skip Brea, art
Channing Gray, art
Gokila Dorai, computer science
GRADUATE STUDENT LEADERSHIP AWARDS
Vivianne Asturizaga, musicology
Heather Maranges, psychology
Corinne Kelley, marketing
Garit Poire, civil engineering
RESEARCH & CREATIVITY AWARDS
Amy Bustin, modern languages and linguistics
Galen Dean Peiskee, music
Leslie Wolff, art history
Ashley Artese, nutrition, food and exercise sciences
Gabriel dos Passos Gomes, chemistry & biochemistry
Amirhessam Tahmassebi, scientific computing
UROP POSTDOC / GRADUATE MENTOR AWARD
Joshua Gagnier, chemistry
Henry Cuddy, history
GRADUATE FACULTY MENTOR AWARDS
Michael Ormsbee, nutrition, food and exercise sciences
Geoffrey Strouse, chemistry & biochemistry
Gretchen Sunderman, modern languages and linguistics
Mark Winegardner, English
Jesse Cougle, clinical psychology