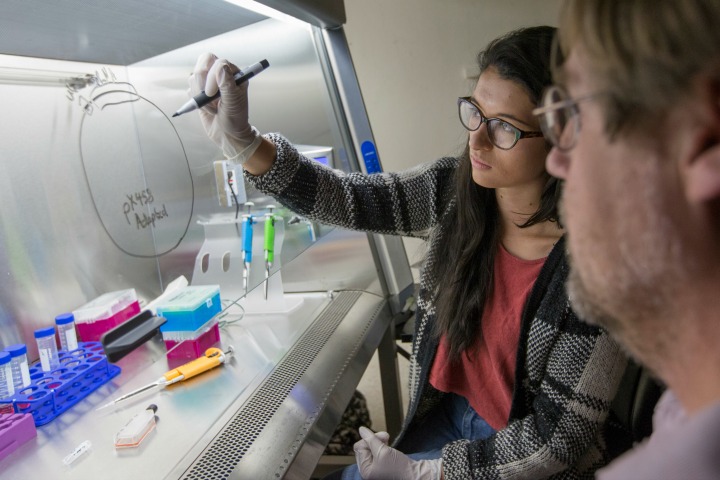 Topics ranging from carbon nanotubes to childhood trauma healing to confronting antibiotic resistance are only a glimpse of what undergraduate researchers at Florida State University are studying.
The campus houses a breadth of opportunities that allow students to seek out their own research experiences and learn directly from world-renowned faculty. Undergraduate research — a hallmark of an FSU education — will be on display at the FSU Undergraduate Research Symposium from 10:30 a.m. to 4 p.m. Tuesday, April 3, at the Oglesby Union Ballrooms.
Undergraduate-level research at FSU is coordinated by the Center for Undergraduate Research and Engagement (CRE), a growing initiative dedicated to involving students in research, innovation and scholarship through applied learning.
"Engaging students in research, innovation, and scholarship is the hallmark of a great research university," said Latika Young, Director of the CRE. "As a Research I University, research is at the core of our institutional mission, and the CRE plays an essential role in supporting this mission by serving as the central resource on campus for all things involving undergraduate research."
CRE offers several experiential learning programs and opportunities for students, including the Undergraduate Research Opportunities Program (UROP), which pairs freshmen and sophomores with faculty members to conduct research.
Meredith McQuerry, assistant professor of Retail Merchandising and Product Development and a nominee for this year's UROP Research Mentor Award, said she is a huge proponent of the UROP Program and that students of all academic disciplines should not hesitate to get involved.
"Hands-on training and experiential learning in a laboratory setting or research environment is the greatest learning experience that I believe we can provide to our students," McQuerry said. "It takes them out of the classroom and places them directly in front of today's real-world problems, challenging them to find and create their own unique solution."
Like McQuerry, many FSU professors emphasize the importance of completing research as an undergraduate, regardless of academic discipline or future career plans. Research at Florida State challenges students to expand beyond their comfort zone, which pays dividends for years to come.
Exposure to an area of research can help students further consider their career paths. The application of new knowledge is something that can be applied to all fields, and research experience helps cultivate an evidence-based professional approach that employers greatly value.
STEM research is one of the premier research areas at Florida State. Sven Kranz, assistant professor of Earth, Ocean and Atmospheric Science and another nominee for this year's UROP Research Mentor Award, said that being able to understand scientific research is an important life skill.
"Scientific research has crucial importance for our society — from biomedical research to environmental impacts and agricultural research to computer science," Kranz said. "An understanding of the complexities associated with applying the scientific method to real research questions allows students and citizens to evaluate scientific findings that they may encounter in their normal lives."
Angela Hodapp, a sophomore UROP student working in Kranz' lab, said participating in undergraduate research has been essential to her academic career so far.
"I believe it's very important for other students to receive the type of more independent and hands-on learning that occurs when pursuing undergraduate research," Hodapp said. "This has rung true in my career at FSU because I have been able to apply not only strategies but also concepts to other areas of my studies."