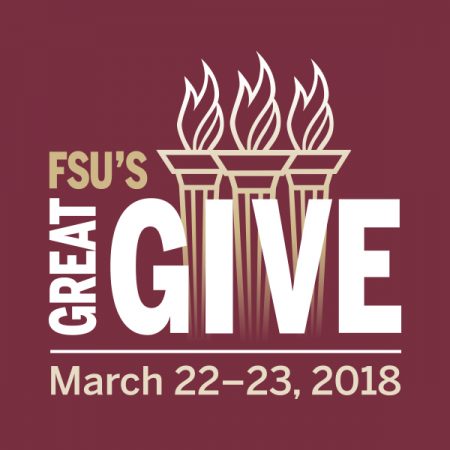 FSU's Great Give, Florida State University's 36-hour online giving campaign, recorded its most successful campaign to date, raising $413,147 for academic programs, student activities and scholarships.
The seventh annual event, which took place March 22-23, drew support from 3,376 donors, including 1,791 Florida State alumni.
"We are overwhelmed by the amount of support that was displayed during this year's Great Give," said Robyn Bertram, donor engagement officer for the Florida State University Foundation Office of Annual Giving. "This event has grown consistently since its inception, and the incredible response we received demonstrates a shared dedication toward advancing our university."
Throughout the campaign, 12 incentive challenges totaling more than $23,000 fostered a friendly competition among FSU's donors to give back and boost their chosen project's chances to receive cash prizes. Departments and units could win incentives for meeting specific criteria such as most donors during a certain time period.
The FSU Marching Chiefs took the $7,500 grand prize with the most alumni donors (299) during the 36-hour campaign. The Student Veterans Center, Home Stretch Microgrants and the colleges of Music, Education and Communication & Information also claimed incentive wins.
"FSU's Great Give is a chance for people to make a difference in areas that can be transformational for our students," Bertram said. "We are fortunate to have alumni and friends who recognize and actively support the amazing opportunities happening at Florida State."
Donors were encouraged to share their support using #FSUGreatGive through their social media channels.
Donors may still make a gift to Florida State by visiting give.fsu.edu or calling (850) 644-6000.