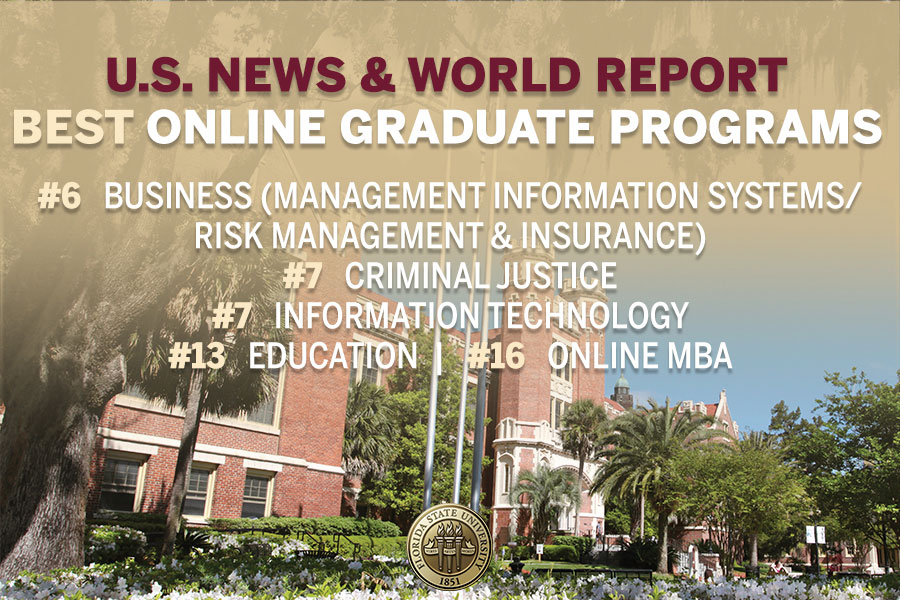 Florida State University's online programs are among the best in the nation — highlighted by five graduate programs ranked in the Top 20 and three in the Top 10 — according to U.S. News & World Report's 2018 Best Online Programs.
"We are pleased with the national recognition of our online programs, especially those ranked in the Top 10," said Sally McRorie, provost and executive vice president for Academic Affairs. "These rankings reflect FSU's strong commitment to student success."
FSU's Top 10 online graduate programs are: business (management information systems/risk management and insurance) (No. 6), criminal justice (No. 7) and computer information technology (No. 7). Florida State's online education graduate program checked in at No. 13, while its online MBA program remained at No. 16 in the latest rankings.
"It's always exciting to see the online rankings results," said Robert Fuselier, director of the Office of Distance Learning. "Every year the competition between institutions grows, and FSU's online programs continue to rank among the highest in the nation. I believe this reflects our dedication to offering a quality educational experience for our students."
The College of Business' online programs in management information systems and risk management and insurance moved up three spots to No. 6 in the latest report and placed No. 5 among public institutions. The college's MBA online program retained its No. 16 place overall in a highly competitive field.
"These high marks indicate the great progress we've made toward establishing preeminence among our nation's leading business schools," said Michael Hartline, dean of the College of Business, which houses the Dr. William T. Hold/The National Alliance Program in Risk Management and Insurance. "We take great pride in offering online programs that are taught by the same full-time faculty members who teach on campus. Our online students benefit from an affordable and flexible program infused with an innovative curriculum that equips them to move forward in any industry they choose."
The College of Communication and Information's online graduate program in information technology cracked the Top 10, rising to No. 7 in the category of computer information technology. The Master of Science in Information Technology degree is offered by the college's School of Information.
"There has been a lot of pioneering work by faculty in the School of Information to create a top-notch online program," said Larry Dennis, dean of the College of Communication and Information. "This ranking reflects the hard work and ingenuity of the faculty members involved."
The College of Criminology and Criminal Justice's online graduate program held steady at No. 7. The college offers a master's degree in criminal justice studies, combining a first-rate faculty with the flexibility of the distance-learning environment.
"We are excited that our college's online graduate program continues to be recognized among the very best in the nation," said Thomas Blomberg, dean of the College of Criminology and Criminal Justice and Sheldon L. Messinger Professor of Criminology. "We also are extremely pleased that, through this program, we are able to offer a diverse group of students from across the country the same high-quality education and instruction as our on-campus students."
The College of Education's online graduate program continues to rank among the best in the nation at No. 13. The college offers online programs in curriculum and instruction, educational leadership/administration, instructional systems and learning technologies, and learning and cognition.
"Our continued position as one of the top online graduate programs in the country demonstrates our commitment to providing students with an outstanding educational experience," said Marcy Driscoll, dean of the College of Education. "We continue to offer innovative online programs, such as our M.S. in curriculum and instruction and our Ed.D. in educational leadership and policy, that suit the needs of professionals in the field of education."
The methodology for assessing online programs included factors such as student engagement, faculty credentials and training, student services and technology, peer reputation and admissions selectivity.
For a complete list of the U.S. News & World Report online graduate rankings, visit http://www.usnews.com/education/online-education.