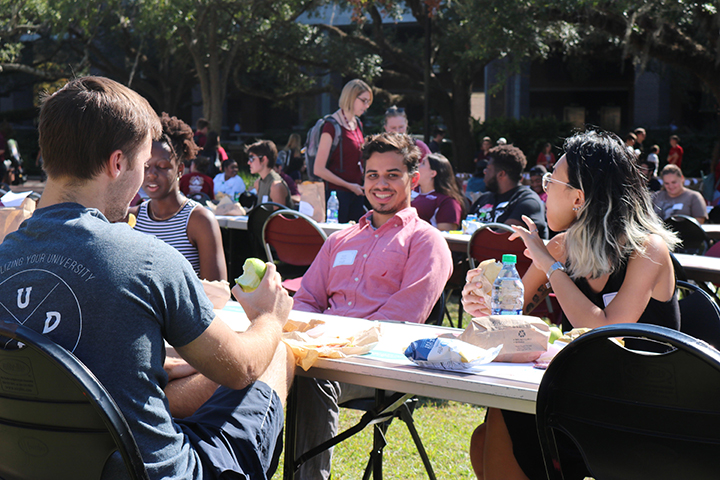 It's been more than a year since Florida State University's Student Diversity and Inclusion Council launched the Power of WE, a campaign encouraging students to address what diversity and inclusion meant to them.
The campaign enjoyed a rewarding and expansive first year, and students said that the connectivity helped them to feel unified as Seminoles while at the same time, recognizing their differences. Students took a step out of their comfort zones and connected with those who share different ideologies, fostering a spirit of unity and diversity across campus.
"Diversity and inclusion are more than just strategic goals at Florida State University — they are at the heart of everything we do as an institution," said President John Thrasher. "We recently received our fourth consecutive national diversity and inclusion award, and I think that is a great indication that what we are doing is working."
The student-run campaign, under the auspices of Office of the President, is designed to cultivate a campus culture of engagement and collaboration among the student body through various events and activities.
"Innovation lies at the intersection of different perspectives and contexts, and it's at the intersections that we find the solutions to our most pressing problems," said senior Inam Sakinah, founding chair of Power of WE. "We've realized that we have the opportunity to not just meaningfully impact FSU, but we can transform that impact into a model for campuses and communities to follow across the nation."
Now restructured from a campaign into an initiative, the movement has shifted into its next phase: expanding its mission and vision to unite campus and illuminate the power of the student voice.
"The main mission of Power of WE is to address polarization," said sophomore Isa Colli, vice chair of the Power of WE. "Our hope is to have students realize that if we can learn how to interact with and connect different ideologies now, then we can take it with us after we graduate and have a generation of FSU students bridging civic divides."
The Power of WE continues to make a name for itself on campus by hosting reoccurring events where students are invited to immerse themselves in dynamic discussions, sharing and embracing their different ideologies.
In November, celebrity chef and FSU culinary ambassador Art Smith was a special guest at the Power of WE's Longest Table. Smith addressed hundreds of students who came out to partake in food and share opinions, reminding them that breaking bread is a great way to build bridges.
"What molds us as people is the relationships we create," Smith said. "A little bit of food can change the way that people feel.
Students modeled this ideology as they chatted while enjoying lunch, creating the perfect platform to explore and examine their different opinions about issues in the world and on campus.
"Our agenda at all our events is for people of different identities and ideologies to come together with their ideas," said Colli, who will take over as chair next spring after Sakinah graduates. "I think we are one of the only entities on campus that creates a shared space for those ideas to be exchanged."
Some highlights from the Power of WE's first year were:
A campaign kickoff in September 2016 on Landis Green that drew a crowd of 300 diverse students to the event launch.
A public service announcement promoting the mission and vision of the campaign was unveiled on Saturday, Oct. 29, 2016, during halftime of the FSU-Clemson football game in front of an audience of almost 80,000 people.
In November 2016, the Power of WE established The Longest Table, a recurring tradition each semester, and welcomed 200 guests from diverse parts of campus to break bread and engage in meaningful conversation.
The Shared Spaces Series was instituted as a recurring event that centers on a profound topical question and features a discussion with panelists spanning the political spectrum followed by roundtable conversations among an ideologically diverse audience. Inspired by recent controversies surrounding the country's relationship to its history, the question this semester was "How do WE Honor the past and overcome its darkness?"
Power of WE leaders were invited to present their work at a major American Association for Colleges and Universities Conference in March 2017.
The Power of WE partnered with FSU Homecoming and the College of Fine Arts Leadership Council to co-create a Community Canvas that gave students the chance to paint a community art piece that will be displayed in the Oglesby Union.
Power of WE leaders have been invited to present the initiative's pioneering efforts at the upcoming 100th Anniversary NASPA Annual Conference in March 2018 in Philadelphia.
"As our founding members graduate, we hope that the Power of WE will continue upholding its spirit of innovation by pioneering new ways of engaging across divides and achieve new heights in its quest to co-create a world that views differences not as a threat but as a catalyst for our individual and collective success," Sakinah said. "It is more crucial than ever that we learn as a campus and as a country to both value how we differ and honor what we share."
For more information, visit powerofwe.fsu.edu.