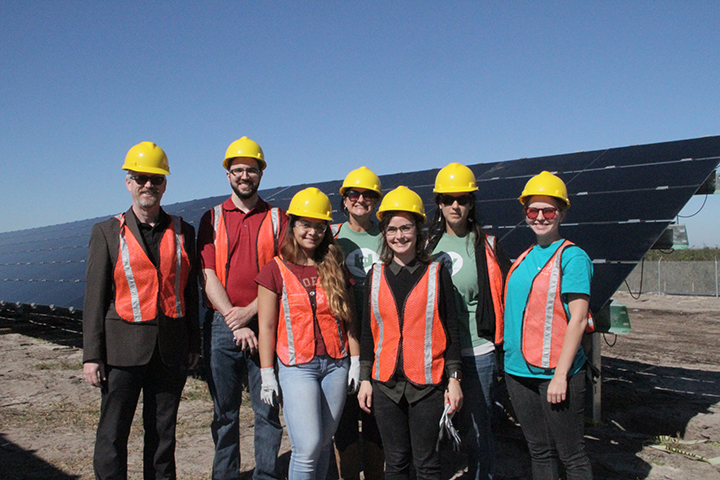 Florida State University has entered into a partnership with the City of Tallahassee that will provide the university with solar energy, making campus even greener.
The City of Tallahassee is putting the finishing touches on the community's first solar farm as part of the Tallahassee Solar Program, which allows residents and businesses to have all or a portion of their monthly electricity consumption powered by solar energy.
Florida State will procure approximately 20 million kilowatt hours of clean, green solar energy each year — about 10 percent of the energy consumption of FSU's main campus.
"We are excited to partner with the City of Tallahassee," said Kyle Clark, vice president for Finance and Administration. "This partnership is a key part of our strategic plan to reduce our overall footprint and build a university-wide culture of environmental care. FSU continues to be a leader in efficiency and effectiveness."
FSU has been moving forward on the path of solar sustainability, installing 12 solar panels on top of the FSU Sustainability Hub at the Seminole Organic Garden earlier this year. Additionally, FSU is home to an Off-Grid Zero Emission Building, designed and constructed to operate exclusively on solar energy. The building is a graduate-style flat with an office that serves as an energy-efficient model and prototype for developing and implementing cutting-edge, alternative energy technologies.
The City of Tallahassee Utilities and FSU have a long history of working together to reduce energy consumption and find more sustainable solutions. This new solar power partnership will benefit the university and the community in many ways — reducing carbon footprint, reducing air and water pollution, reducing dependence on finite resources like fossil fuels and drastically reducing energy costs.
"Florida State University is a leader when it comes to research, innovative technology and sustainability, and we value their support of the city's first solar farm," said Reese Goad, interim city manager of Tallahassee. "Through this partnership, FSU and the city are helping to preserve our natural resources by harnessing the power of the sun to meet the energy needs of campus and the community."
The construction of the city's 20-megawatt solar farm broke ground in May 2017. It is located on Tallahassee International Airport property and spans 120 acres with more than 200,000 thin-film solar panels. Constructed by Origis Energy, the solar farm is one of the largest operating in the state.
The idea for the solar farm has been well received by the community. More than 2,000 residential customers and businesses have signed up to participate, putting the program at maximum capacity.
To accommodate this influx of interest in solar energy, the city is already in the planning stages for a second solar farm that is expected to be twice as large. This planned 40-megawatt solar farm will be able to produce enough solar energy to power an additional 6,800 homes and businesses.
To learn more about Tallahassee Solar, visit Talgov.com/solar.
To learn more about FSU Sustainable Campus, visit sustainablecampus.fsu.edu.