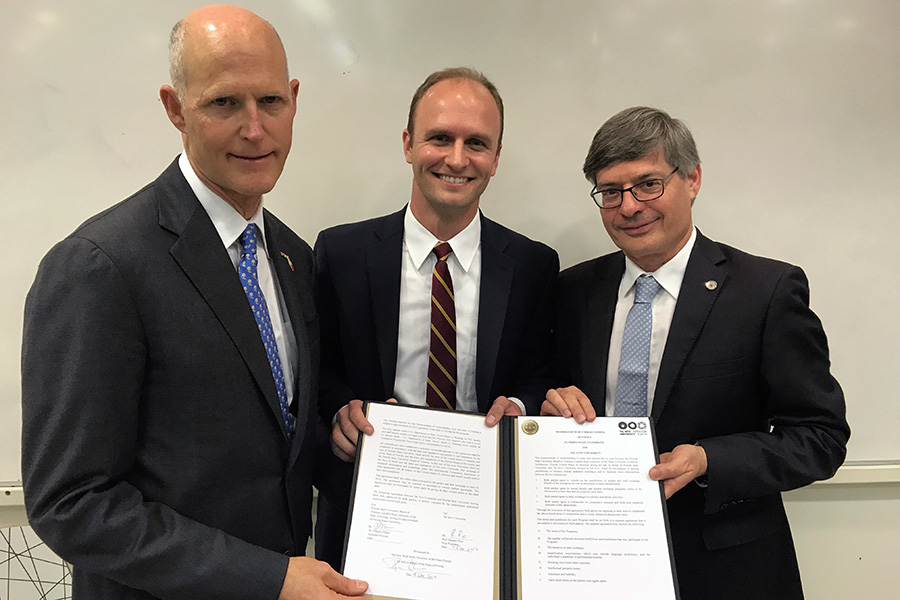 Florida State University signed a Memorandum of Understanding with Tel Aviv University today with the purpose of seeking possibilities to enhance mutual academic exchanges and to maintain close relationships between the two institutions. Florida Gov. Rick Scott served as a witness at the signing in Tel Aviv.
The MOU was signed by FSU Assistant Provost Joe O'Shea and Professor Raanan Rein, vice president of Tel Aviv University. O'Shea is part of Scott's delegation of nearly 70 Florida business and education leaders on a trade mission in Israel to continue to build on Florida and Israel's strong relationship. Florida's economic development and trading partnership with Israel exceeds $286 million a year.
"Florida's students are the leaders of tomorrow and these important partnerships are another way that we can provide them with every opportunity to learn and succeed," Scott said. "I applaud Florida State University and Tel Aviv University for working together to support our students by providing more opportunities for research and collaboration."
The agreement will support student and staff exchange programs, research collaboration and academic seminar opportunities.
"Tel Aviv University is among the world's leading universities in fostering entrepreneurship and innovation, and we are excited to partner with them to advance our shared goals," said Sally McRorie, FSU provost and vice president for Academic Affairs. "The partnership will allow our two institutions to work more closely together and exchange best practices, particularly as FSU builds our world-class Jim Moran School of Entrepreneurship."
View the agreement here.