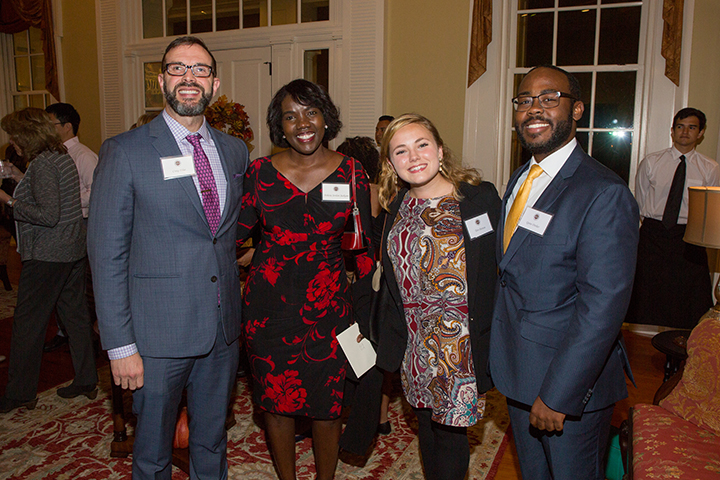 Fourteen Florida State University faculty members were honored by the Transformation Through Teaching program for their life-changing influence in their students' lives, both in and outside of the classroom.
The awards were presented during a ceremony and dinner Tuesday, Nov. 28 at the President's house.
"The faculty being honored tonight are not only teachers and researchers, they are mentors, role models and cheerleaders," said President John Thrasher. "They really care about their students and have helped them discover hidden passions, pushed them to reach higher and encouraged them to dream bigger. It's clear these professors have made an impact in the lives of their students that will last a lifetime."
The Transformation Through Teaching program is an initiative established by FSU's Spiritual Life Project, which seeks to foster integrative relationships that provide support for students in their lifelong search for meaning and self-realization.
The awards recognize faculty members whose contributions in the lives of their students go beyond conventional academic instruction. The following honorees were nominated by their students for their dedication to helping students find their authentic selves and pursue their dreams.
The 2017 Transformation Through Teaching Award winners are:
Christy Chatmon, Ph.D. student and instructor of information sciences, was nominated by Logan Saliga for going above and beyond while teaching students the art of computer coding.
"For someone who doesn't even know where to begin, coding can be very intimidating. Ms. Chatmon says that there are 'no coders left behind,' and stays true to it. She stays after class to draw images, explain theories and brings in every opportunity she can to give her students the chance to be immersed in the field. This is my second semester in one of her classes, and her passion for teaching the subject shines brighter than our laptop screens!" — Logan Saliga
John Felkner, assistant professor of urban and regional planning, was nominated by Long Chen and Alexandra Duprey for encouraging and mentoring students through all facets of life.
"In many ways, I strive to have the kind of academic and professional success that Dr. Felkner has. He has shown me that I can reach this success in my life through many possible avenues. Dr. Felkner encourages all of us to use him as a resource, to meet with him to talk about our career goals, and he even required that we schedule one-on-one appointments with him throughout the year. He always gave advice from his own experiences as a young adult, which inspired a few of my own choices as I navigate this weird period between college and career. His advice was always specific to me, to the courses I was taking and to the outcomes I wanted. However, some of our greatest conversations were about family, sports, traveling or just life in general. In these conversations, he was authentic in his honesty, his constructive criticism and in his encouragement." — Alexandra Duprey
Craig Filar, associate dean of Undergraduate Studies and director of the Office of National Fellowships, was nominated by Qaree Dreher for providing guidance to students and dispelling their doubts about what they can accomplish.
"Dr. Filar set my standard for how to mentor. So many students who I have looked up to, worked with or mentored have benefitted from Dr. Filar's love and accountability. Dr. Filar wears many hats, so his ability to make his presence felt campus wide is a direct result of efficiency, time management and intentionality. As I am transitioning out of Florida State and beginning my career at Facebook, I often think of how I would self-select out of seemingly unattainable opportunities because I did not feel qualified or competitive. Dr. Filar dispelled that for me and continues to dispel that for all students he works with." — Qaree Dreher
Felecia Jordan Jackson, associate professor of communication, was nominated by Tori Patton for motivating students through her own experiences and wisdom.
"Dr. JJ has inspired me to think both critically and deeply, and these are skills I will take with me for the rest of my life. She also pushed me, and the rest of my class, to recognize how we interact with and think about other cultures and races every day. She has encouraged me to ask questions. Because of Dr. JJ, I know that sometimes the best way to teach others is to start with questions — not answers. She has inspired me to think about my identities and how that impacts my life. She is a true inspiration to me." — Tori Patton
Bruce Manciagli, social entrepreneur in residence, was nominated by Kailon Thompson for sparking her passion for social entrepreneurship and "change making."
"The experiences that I have had with Mr. Manciagli over the past two semesters have left an indelible impact on my life. I can sincerely say that he has inspired a passion in me to pursue social entrepreneurship and explore the ways in which I can give back to the community and make a change in society. He often stressed what it means to be a part of a 'change maker' society, and how we as students can think of ways to increase our impact in making society better. I am really grateful for him and all that he has done." — Kailon Thompson
Maxine Montgomery, professor of English, was nominated by Samantha Crawford for encouraging students to follow their dreams and value their uniqueness.
"Dr. Montgomery has encouraged me to embrace my individuality, respect the diverse perspectives of my peers, strive for excellence and move beyond the obstacles that life brings. She has also motivated me to pursue my goals as a creative writer, a task that I felt unsure of before enrolling in her course. Because of her transformational role in my life and in the lives of my classmates, we have been empowered to move forward academically and not allow the opinions of others to hold us back." — Samantha Crawford
Frank Nero, director of the Florence Program and professor of art history, was nominated by Amanda Panchery for going above and beyond for his students.
"There is no one more authentic than Frank Nero. He loves Europe, he loves art history and he especially loves football (soccer). Nero gave his all every day and was there for us no matter the circumstances. He taught us how to grow from our mistakes and be better — whether that was on the soccer field, in the classroom or even just being there for us once school had ended, he was always on our side. He wanted the best for the program and for the students. His job didn't stop at 7 p.m., in fact, I don't think his job ever stopped. He worked relentlessly, helping us to grow. I think most of us could say we don't know where we'd be without him." — Amanda Panchery
John Reynolds, professor and department chair of sociology, was nominated by Sarah Barber for positively impacting the lives of students in and outside of the classroom.
"Dr. Reynolds helped me realize the route that I wanted to take regarding my future. I was questioning how I wanted to impact the lives of others, when I took a step back and realized that I want to be a professor because of the way Dr. Reynolds impacted my life. I hope to one day impact students' lives in the same way. He helped me decide this route without even knowing it. We had many conversations in museums and coffee shops, and I realized that he cares very much about educating the youth and being as much as a help as he can. He was always making us think about situations beyond what was taught in the classroom and expanding our knowledge about the world around us." — Sarah Barber
Linda Reynolds, professor of art history in the Florence Program, was nominated by Jessica Beasley for her positive attitude and spreading her passion for the arts to her students.
"Professor Reynolds is clearly teaching because she truly loves and respects art history. Her enthusiasm to a good question is not only encouraging but inspiring. I have never seen someone so successfully living for happiness. This woman transferred countries and learned a whole language just to chase her passion. She's unapologetically brilliant, and her extensive travels have given her unparalleled experiences. I decided to pursue graduate school after realizing where her own graduate school experience had taken her. The idea of the 'lifelong student' has never been better personified by anyone else, and I hope to follow in her footsteps." — Jessica Beasley
Jessica Ridgway Clayton, assistant professor of retail, merchandising and product development, was nominated by Jessica Bachansingh for being a mentor and friend while driving her to pursue her love for fashion.
"Dr. Ridgway is so genuine. I consider her more of a friend than faculty. She is always willing to help me with anything I need in school, for our fashion club, scholarships or even for my own nonprofit business. She is truly there for me at all times. My experiences with Dr. Ridgway have tripled my passion for fashion and my drive to succeed. Her life experiences and passion for her research on body image are inspiring. She has encouraged me to set a goal and pursue it to the end. Where I may lack knowledge on a subject, she is always there to help and reaffirm me in my ability to succeed." — Jessica Bachansingh
Alysia Roehrig, associate professor of educational psychology and learning systems, was nominated by Erica Wiborg for giving a student the tools and knowledge necessary to teach others.
"Dr. Roehrig directly influenced my decision to pursue my doctoral degree in higher education. She has confirmed my commitment and interest in teaching leadership education. She also challenged us to critically reflect on our personal teaching philosophies. Many of the things I learned from her have carried into my core teaching philosophy and practice to this day." — Erica Wiborg
Valerie Shute, professor of educational psychology and learning systems, was nominated by Ahmad Rahimi for inspiring students through example, teaching them to be hardworking and passionate about their work.
"Not only is Dr. Shute my adviser, she is also my academic mother. She is always there for me. She has a purpose in life — to enhance learning with her creative work. She is very good at getting others excited about what she does and is hardworking and passionate about her work. Dr. Shute starts working from 5 a.m. with a lot on her to-do list. I try to replicate that work ethic, and it is really paying off. By working with her, my time management skills, communication skills, leadership skills, goal setting skills and many other skills I need to be successful in the future have greatly improved. It was her formative feedback that initiated those improvements." — Ahmad Rahimi
Annette Schwabe, associate dean of Undergraduate Studies, director of liberal studies and professor of sociology, was nominated by Marigny Nevitt for guiding and encouraging students throughout their entire college experience.
"I cannot imagine what the past four years of my life would have looked like if I had never met Dr. Schwabe. She took the time to tell me that she saw my potential and wanted to help me continue to grow. I would never have completed my honors thesis if Dr. Schwabe had not encouraged me to continue my research. When I started graduate school, Dr. Schwabe made a point of maintaining contact with me and continuing to develop our relationship. She has always encouraged me to take on new endeavors. Now, as I am applying to law school, she continually asks me questions that force me to look at variables I hadn't considered before and points out characteristics I hadn't noticed in myself previously. I wouldn't have had the courage to become the person I am today without Dr. Schwabe's guidance." — Marigny Nevitt
Mark Zeigler, professor of communication, was nominated by Clare Dwyer for caring about students' overall mental health and wellness and connecting with them on a personal level.
"Before Mr. Zeigler starts his lesson, he asks every student to state their highs and lows for the day or week. This is a quick way for him to be able to make sure everyone is doing okay. If for some reason any student in the class isn't, he goes out of his way to talk with them, and he helps them sort it out. What makes Mr. Zeigler different is that he really cares about our lives outside of the classroom, and he wants us to be the best version of ourselves. Mr. Zeigler is genuine, which makes him approachable, and this is why our interactions have been so authentic."  — Clare Dwyer
For more information about Transformation Through Teaching, visit slp.fsu.edu.