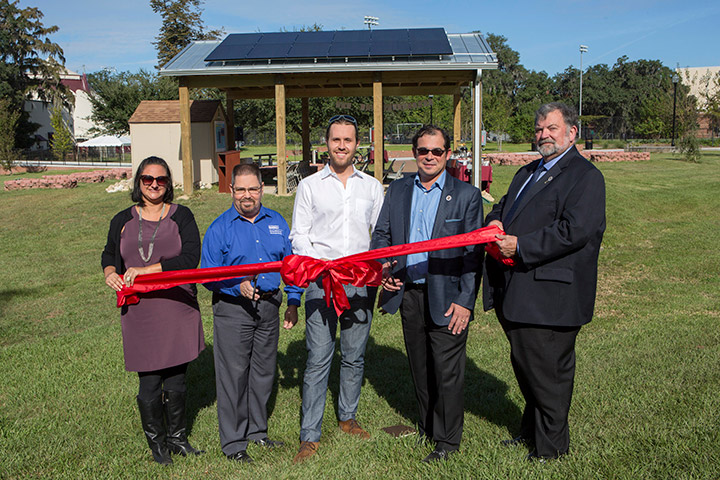 Florida State University celebrated the grand opening of the new Sustainability Hub at the Seminole Organic Garden with a ribbon-cutting ceremony on Friday, Oct. 20.
The hub is an outdoor learning center dedicated to educating students about renewable energy sources and promoting sustainable lifestyles. The pavilion-type structure is located behind the FSU Circus and overlooks the Seminole Organic Garden.
The Sustainability Hub was brought to life by FSU Sustainable Campus with the help of FSU Facilities and FSU alumni. It is a physical representation of how when the Seminole community works together, anything is possible.
"This is just the beginning of FSU's commitment to a renewable energy future," said Elizabeth Swiman, director of FSU Sustainable Campus. "We're so excited to celebrate the completion of this wonderful project with our faculty, staff, students, alumni and campus partners."
Swiman has led FSU Sustainable Campus in the development of multiple environmentally driven projects, including the Sustainability Hub.
With the help of three alumni, another special element was added to the hub that took its sustainability to the next level — solar panels. Justin Vandenbroeck, Chris Diaz and Scott Minos, who all work in the renewable energy industry, recently provided and installed 12 solar panels, pro bono.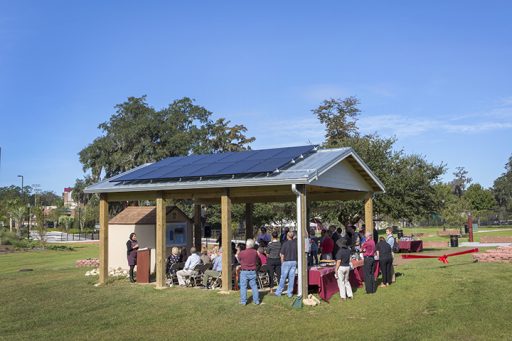 The idea for the project came from Vandenbroeck and his mentor Minos.  Bringing solar energy to campus was something he envisioned since he first came to FSU.
"Being able to bring solar energy to my alma mater is a dream come true," Vandenbroeck said. "There were so many times as a student I would walk around campus, look up at the rooftops and think 'that would be a perfect spot for solar panels.'"
The project was set in motion when Minos met with Swiman during one of his yearly visits to FSU to speak to classes on energy-related topics. They came up with the idea of incorporating solar energy onto FSU's Sustainability Hub.
The next step was figuring out how to finance the project, and Vandenbroeck had someone in mind. Diaz, who he had met in 2014, is one of the top financiers of solar projects in the country. He pitched the idea to Diaz while at a solar conference in San Diego in March 2017. Diaz was immediately on board.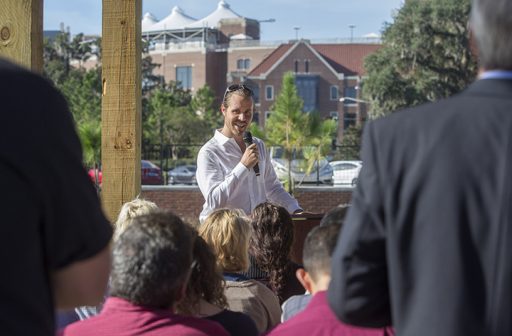 Vandenbroeck addressed the crowd on Friday at the grand opening and said he hopes the solar panels will catch student's eyes and pique their curiosity and interest in solar energy.
"There are a lot of people who made this happen here today," Vandenbroeck said. "I think it's really exciting to have this here because while the amount of electricity may be small, the impact it can have on an individual is huge. I hope we see this as the start of a serious investment of renewable energy here and honor the vision of this institution."
The solar panels make the hub self-sustaining — it doesn't require any outside electricity. The hub also is currently the location for the True Seminole Tailgates during FSU football home games.
"These alumni's relationship, commitment to FSU, and commitment to a cleaner future are a shining example to all students and alumni and we are immensely grateful for their contribution," Swiman said.
The hub is located near the Seminole Organic Garden, also run by Sustainable Campus. The garden provides a location with more than 20 garden beds for students, faculty and staff to grow and harvest their own fresh organic fruits and vegetables.
"The garden is a place for everyone to get a little dirty, build their self-efficacy skills and learn how sustainability fits into their lives," Swiman said.
FSU has been working to make campus more energy efficient for the past 20 years, saving the university more than $20 million.
"We incorporate practices that reduce our overall footprint and build a university-wide culture of environmental care," Swiman said. "We actively pursue climate action, waste minimization, resource stewardship and education for sustainability."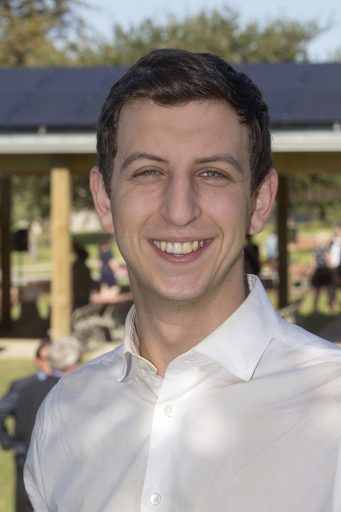 FSU Sustainable Campus hopes to further FSU's solar capacity along with other forms of energy conservation, while also inspiring students to get involved whether it's during their undergraduate career or as an alumni.
Student Hunter Becker, a senior at FSU majoring in environmental science and policy, is the director for the Office of Student Sustainability. He believes that students play a vital role in helping the university become more environmentally friendly.
"I believe it only helps the student body," Becker said. "So that future generations of Seminoles get to enjoy the beauty of the campus as well. The fact that the university cares so much about energy efficiency is important to me as a student, and it feels like we're moving forward in the right direction."
For more information about FSU Campus Sustainability, visit sustainablecampus.fsu.edu.