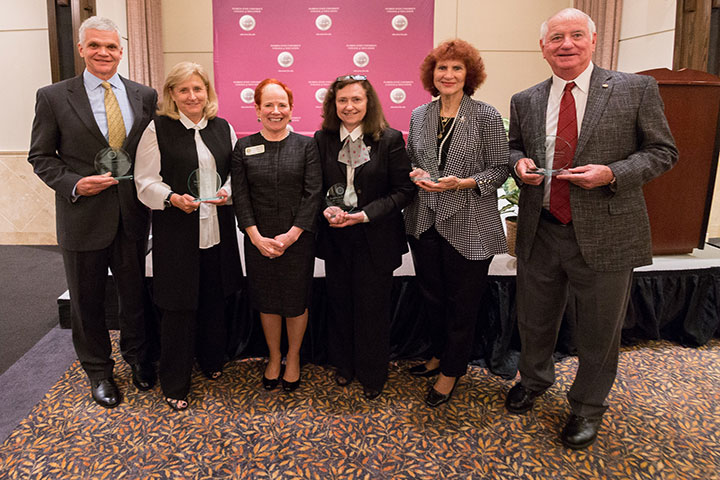 The Florida State University College of Education announced its 2017 Distinguished Alumni Award winners at a ceremony earlier this month.
Established more than 25 years ago, the College of Education Distinguished Alumni Awards provide an avenue of honoring graduates of the college who have distinguished themselves through scholarly, creative and humanitarian achievement and service to their profession.
Each year, recipients are nominated by their peers and selected by the College of Education selection committee. This year's award winners are:
Business and Industry: Becky Bailey (Ph.D. '79), award-winning author, renowned teacher and internationally recognized expert in childhood education and developmental psychology
International Affairs: Leslie Waters (B.S. '69, M.S. '70), mayor of the City of Seminole, founder and proprietor of the Leslie Waters Government Relations consulting firm and adjunct political science professor
K-12 Education: Kathleen "Kay" F. Hufford Esmiol (B.S. '60), author, former American studies and English teacher for the U.S. State Department in Russia and Disney's 2001 Middle School Humanities Teacher of the Year
Postsecondary Systems: Daniel Connaughton (Ph.D. '95), professor of sport management and associate dean for faculty and staff affairs in the College of Health and Human Performance at the University of Florida
Sport Management: Mike Martin (B.S. '66), Florida State University baseball head coach and American Baseball Coaches Association Hall of Fame inductee
The College of Education dean, administration, faculty, family and friends honored the five individuals at an awards ceremony and dinner held Friday, Nov. 17, during Florida State University's Homecoming week.
To learn more about the College of Education's Distinguished Alumni Awards, visit education.fsu.edu/distinguished-alumni.