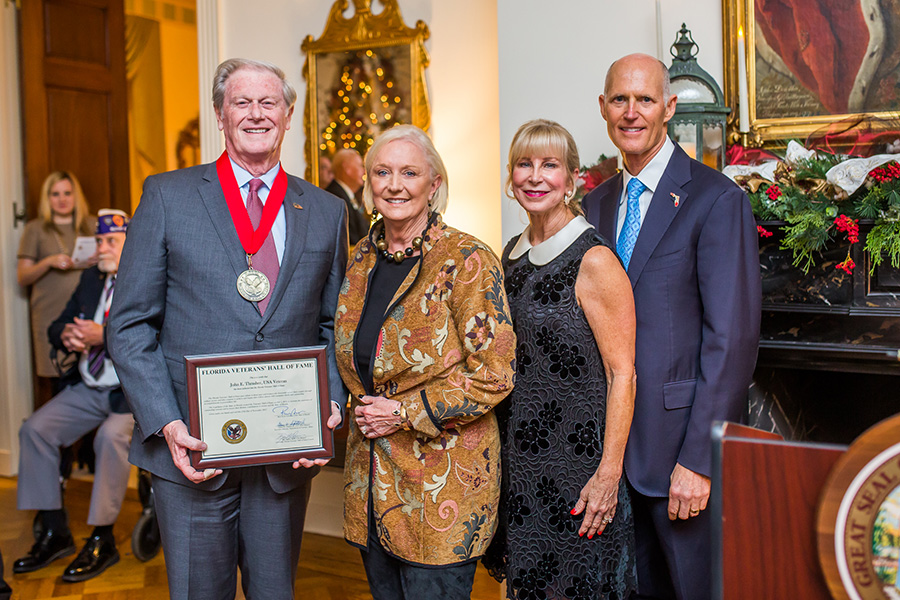 Florida State University President John Thrasher was one of 20 individuals inducted into the Florida Veterans' Hall of Fame during a ceremony at the Governor's Mansion Monday night.
Gov. Rick Scott and First Lady Ann Scott joined the Florida Department of Veterans' Affairs in honoring the inductees to the Florida Veterans' Hall of Fame, which recognizes and honors military veterans who have made a significant contribution to the State of Florida through civic, business or public service.
"As a Navy Veteran myself, I'm proud to honor these brave veterans for their courageous service to our great nation," Scott said. "These inductees worked to better their communities after their military service. Ann and I join all Floridians as we thank these veterans for their service to our state and country."
After graduating with a bachelor's degree in business from Florida State in 1965, Thrasher joined the U.S. Army where he received the Army Commendation Medal in Germany and was awarded two Bronze Stars for his service in Vietnam. He was honorably discharged as a captain in 1970.
Thrasher returned to FSU, where he earned a law degree with honors in 1972, and went on to enjoy a distinguished career in public service.
From his time as a state representative and Speaker of the Florida House of Representatives to state senator and now in his current role as president of Florida State, Thrasher has been a prominent advocate for veterans' issues in the Sunshine State. Under his leadership, FSU continues to be one of the nation's best universities for student-veterans.
The Florida Veterans' Hall of Fame is not a traditional military hall of fame, as it focuses on post-military contributions to the State of Florida.
"This year's inductees join a distinguished heritage of patriotic Floridians whose work, values and ethics have made a positive impact on the lives of others," said Florida Department of Veterans' Affairs Executive Director Glenn Sutphin. "Their names will be proudly added to the Florida Veterans' Hall of Fame Wall in the Florida Capitol."