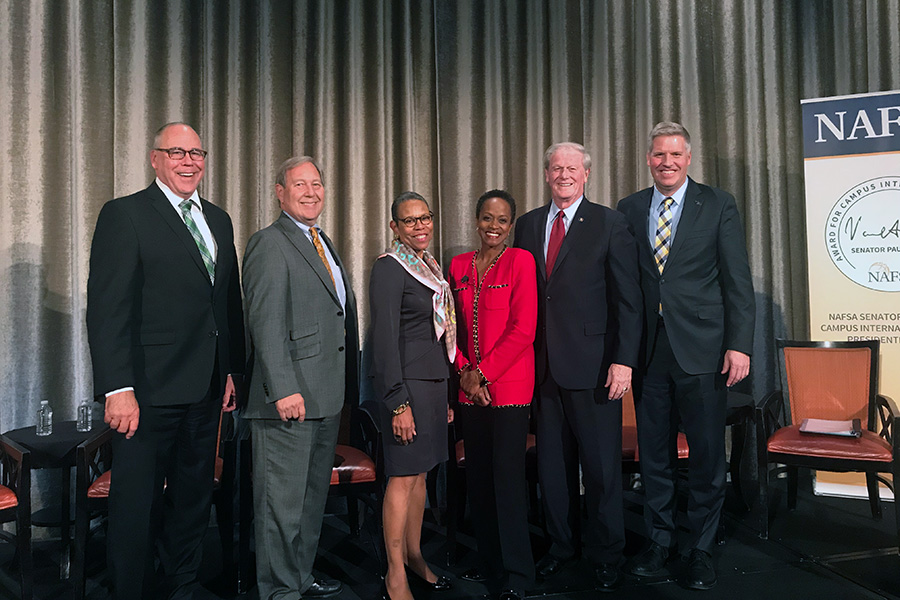 Florida State University's President John Thrasher accepted the 2017 Senator Paul Simon Award for Campus Internationalization, which is given annually by NAFSA: Association of International Educators, at a reception to celebrate International Education Week Tuesday in Washington, D.C.
In April, Florida State was one of only four institutions to be selected for the 2017 Simon Award, which recognizes excellence in integrating international education throughout all facets of the university. Santa Monica College, the University of Iowa and the University of Pittsburgh were also honored.
"FSU has a rich history of supporting internationalization and cultural diversity," said President John Thrasher. "Ensuring that our students have the skills, competencies and global awareness needed for success in the 21st century has long been one of our top priorities. We are honored to be recognized with such a prestigious award."
Thrasher also participated in a panel discussion on how to expand access to the global learning opportunities that graduates need in order to succeed in the world economy. He was joined by presidents and chancellors from other 2017 Simon Award and Simon Spotlight Award-winning institutions.
Named for the late Sen. Paul Simon of Illinois, the award recognizes U.S. colleges and universities that are making significant progress toward comprehensive internationalization, especially those using innovative and creative approaches.
The Simon Award recognizes overall excellence in internationalization efforts as evidenced in mission, strategies, programs and results.
During his 22-year career in Congress, Simon was a champion for international education and cultural exchange. He was a strong advocate of study abroad because he believed it taught students the critical skills necessary to compete in a global economy.
Institutions selected for the Simon Awards were featured in NAFSA's report, Internationalizing the Campus: Profiles of Success at Colleges and Universities, this fall.
To learn more about NAFSA's Senator Paul Simon Awards, visit www.nafsa.org/SimonAward.