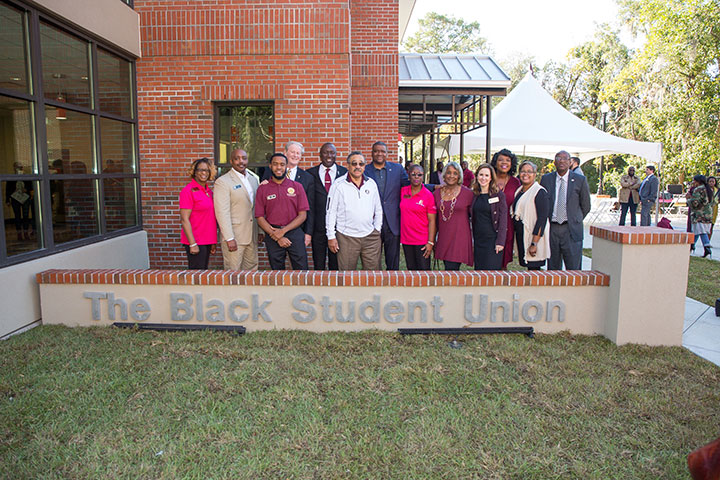 Students, alumni and friends got a sneak peek of Florida State University's new Black Student Union, described as a home away from home and a place for multicultural fellowship and education, during a Homecoming preview event at the facility Friday, Nov. 17.
Coinciding with this year's Homecoming theme, "Spirit of Unity," many expressed their desire for the new 5,600-square-foot, two-story building on West Jefferson Street to be a place for students of all backgrounds to learn and grow.
FSU President John Thrasher kicked off the preview by thanking all stakeholders who made the new space for the BSU a reality. He encouraged the entire FSU community to utilize this state-of-the-art building.
"A building is a building," Thrasher said. "It's really what's going on inside that makes a difference. Working together, we have a Black Student Union that's like no other in the state of Florida. We are proud of it. I am proud of it, and I know wonderful things will emanate from this great building because it will be a place for our students to flourish."
Established in 1968, the Black Student Union is a student government agency that offers black students a form of identity, a social life as a vehicle of communication to the FSU faculty and administration.
Eric Friall, the current president of the FSU National Black Alumni, was one of the people who helped bring the project to fruition. He called it a dream at least 15 years in the making.
"We had a vision that was larger than a house," Friall said. "We wanted it to be a center and have an academic component. We wanted people to be able to learn things here. It's not just going to be a place to hang out. We wanted it to be more significant, a place that represents our culture, that others can come and see this is the black student experience at Florida State University."
Members of the Black Student Union also provided tours of the newly constructed space. Students described their plans to gather artwork and historical artifacts to hang up on the now barren walls. Furniture is still needed to fill up office spaces for BSU executive board members and academic space for FSU's African American studies program.
BSU President Andrew Melville said Homecoming was the perfect time to allow alumni of the university to see the great new things taking place for the Black Student Union.
"I'm speechless," Melville said. "I can't even put it into words how I feel about this moment. I really want to cry, I'm just trying not to."
Former BSU President Elijah Smiley said he changed his calendar so that he could show his support. Smiley serves as a judge in Florida's 14th Circuit Court. He served as BSU president from 1979 to 1981, and it was under his administration that the BSU acquired the old house that sits on Woodward Avenue.
"I was really delighted to see this building," Smiley said. "Back then, acquiring that building was a really big deal, so now to come back and see this building which is so much larger and so much more magnificent, I'm sure that the students are indeed happy. This is an important facility. FSU is a big school, and you have students from all backgrounds. For some students, the extra support that the BSU provides can mean the difference in some students being successful or not."
Current BSU Vice President Diamond Hill is hoping the new center will be a place to foster student success for black students and others to learn, grow and achieve.
"I hope more people come out and learn about who we are, what we do and why we're so important to this campus," Hill said. "In our old house, we were closed off and there wasn't enough room. Now that we have this space and opportunity, I hope this building will encourage collaboration and cause more students to work together to push agendas forward. I think there's power in collaboration."