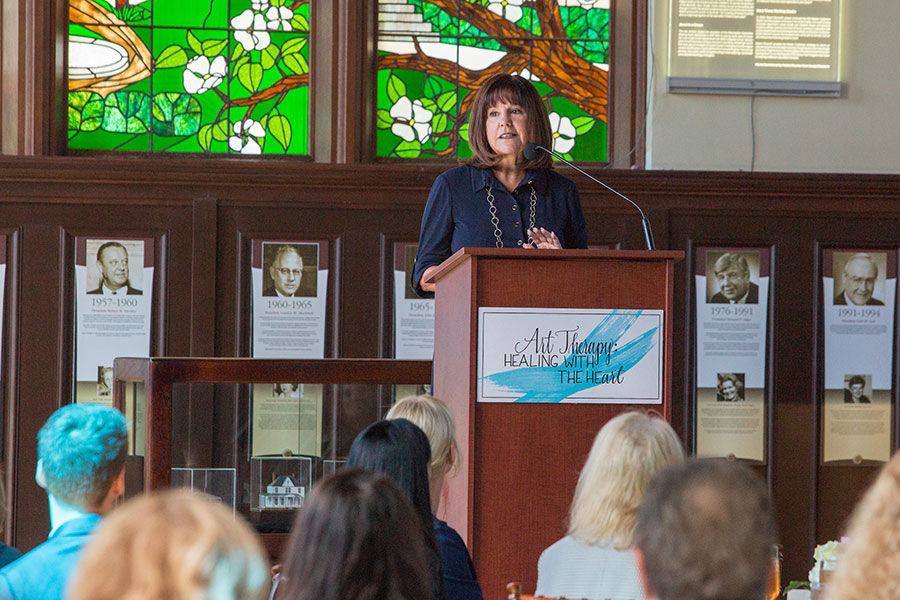 Florida State University welcomed Second Lady Karen Pence to campus Wednesday for the announcement of her new art therapy initiative, Art Therapy: Healing with the HeART. Pence chose Florida State as the venue for the announcement because of its nationally acclaimed art therapy graduate education program.
"I chose only one initiative to champion, and it is art therapy, which is near and dear to my heart," said Mrs. Pence. "It is evident when I visit art therapy programs across the United States and world, that art therapy is making a positive difference."
Mrs. Pence, a former elementary school teacher who holds a master's degree in art education, has been involved with art therapy since 2006, after observing a session at Tracy's Kids, an art therapy program for children with cancer in Washington, D.C.
Now, through her initiative, she aims to achieve three goals:
Elevate the profession so that people understand that art therapy is a mental health profession, and not arts and crafts.
Help people understand that art therapy is an option for various conditions, illnesses, and life experiences.
Encourage young people to go into the profession.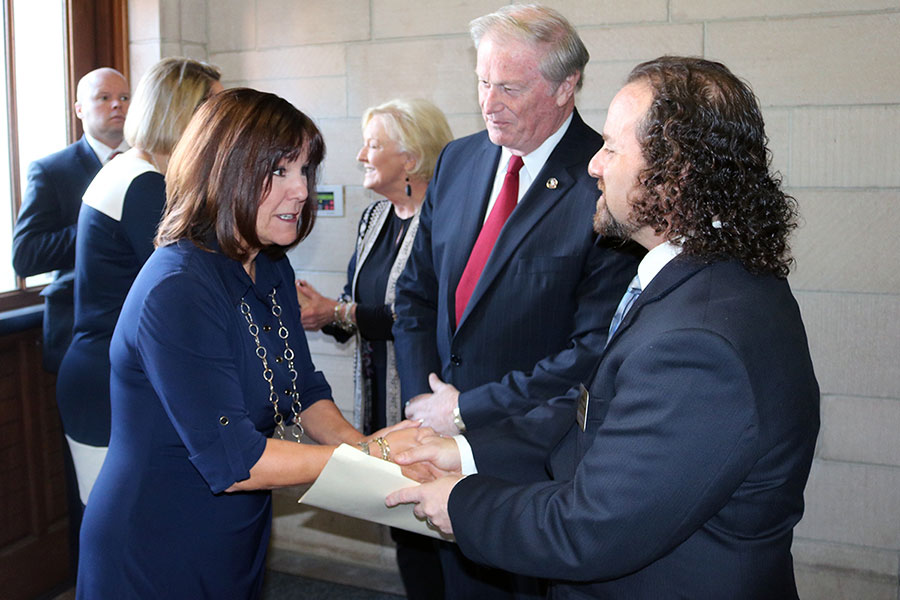 FSU President John Thrasher and Ann Scott, first lady of Florida, joined Mrs. Pence for the announcement at FSU's William Johnston Building, along with Donna Betts, president of the American Art Therapy Association and a graduate of the FSU doctoral program; Dave Gussak, chair of FSU's Department of Art Education and a professor in the art therapy program; and Dr. Sara M. Kass, a retired Navy captain and senior military and medical adviser to Creative Forces: The NEA/Military Healing Arts Network.
"Art therapy is truly one of the academic disciplines that people don't know a lot about," said President John Thrasher. "What they do makes a difference in the lives of other people, and that's why we're so pleased Mrs. Pence chose to champion the importance art therapy. By coming to Florida State University, she is shining light on what I believe is one of the best art therapy programs in America."
FSU's Master of Science in art therapy program, established in 1987, is a two-year graduate program approved by the American Art Therapy Association. FSU also is one of only five programs in the United States that offers a doctoral degree program in art therapy.
"We are honored to help Mrs. Pence launch her efforts raising awareness of the power and value of art therapy," said Sally McRorie, provost and executive vice president for Academic Affairs. "Florida State is proud to be a national leader in art therapy research and in the educational and clinical preparation of highly qualified art therapists."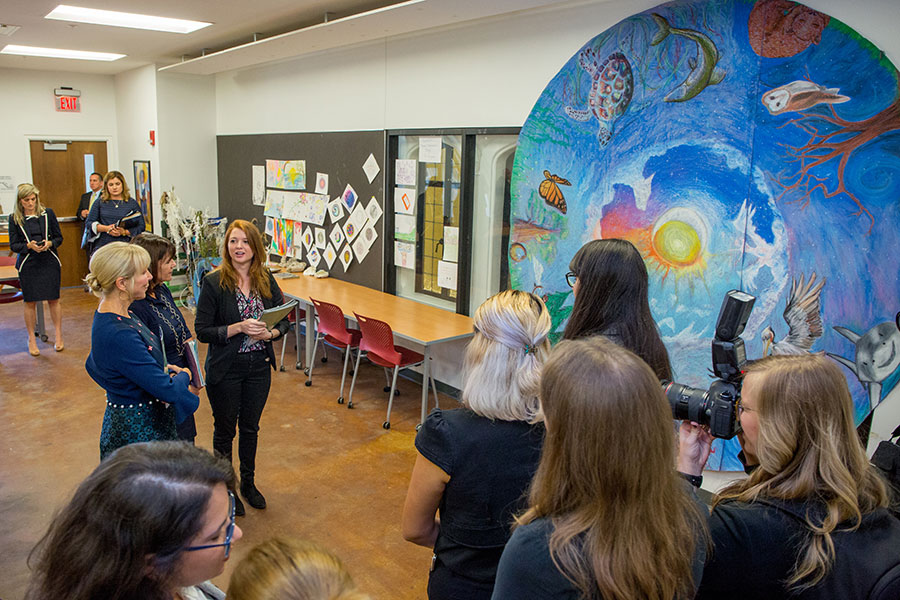 The program, housed in the Department of Art Education in FSU's College of Fine Arts, attracts students from all regions of the country and the world and boasts a 90 percent job placement rate within three to six months of graduation.
"We are honored and humbled that you felt your initiative should officially begin here and that our art therapy program, now in its 30th year, was worthy of this distinction," said Gussak, who has been a faculty member at FSU for 16 years. "I have been fortunate to see some of the highest caliber professional art therapists come from our program."
Graduates have gone on to achieve significant clinical, research, educational and discipline leadership accomplishments throughout the United States and the world. They hold positions as art therapy educators at respected universities and work as clinicians in settings such as prisons, outpatient mental health centers, psychiatric hospitals, homeless shelters, medical centers, schools and more.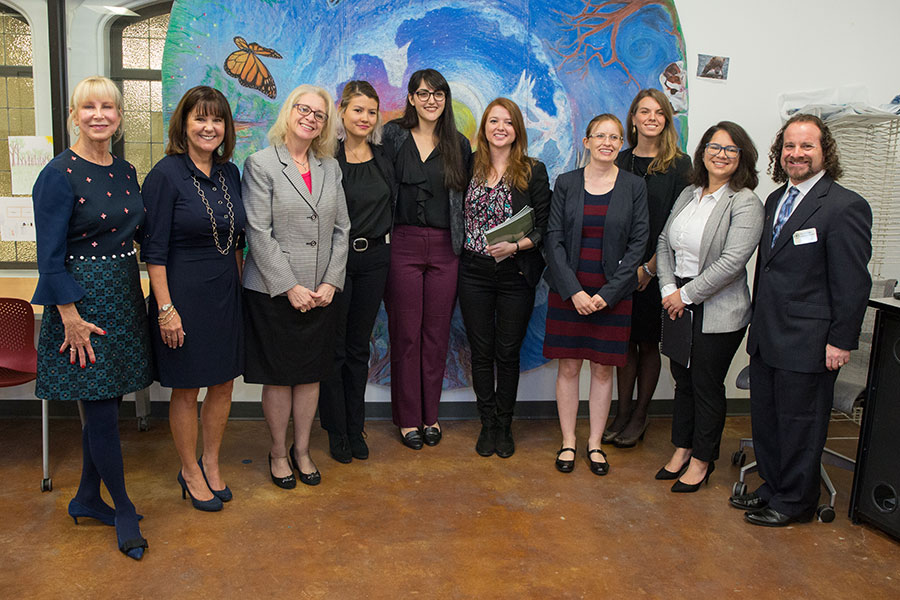 Gussak said Betts is just one example of the quality of FSU's art therapy alumni. Along with serving as president of the ATAA, Betts is associate professor and research director of the graduate art therapy program at the George Washington University.
"It is my personal conviction that Second Lady Mrs. Karen Pence's initiative is a gift to all Americans and will enrich the profession so that more people can be helped, and more lives can be improved by the power of art therapy," Betts said.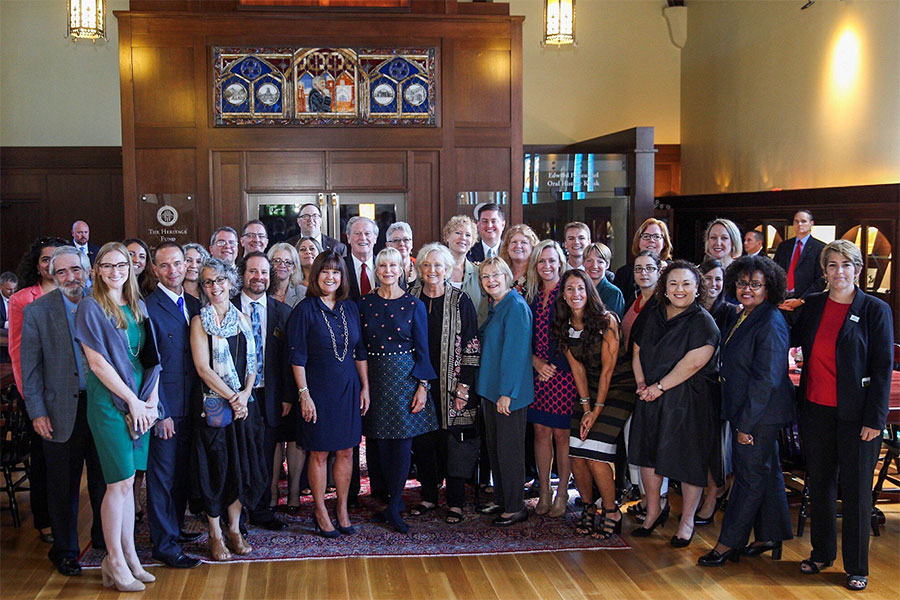 Following the announcement, Mrs. Pence toured Florida State's art therapy program, visiting with faculty and students. There are currently 30 students pursuing a Master of Science degree in art therapy and four students pursuing doctoral degrees in art education with a focus in art therapy.
"I want to encourage more young people to go into this profession," Pence said. "It's great that you have such an amazing program. I can't believe the number of students you have in this program — that is just phenomenal. I think more people need to know that this is an option."
For more information about the Second Lady's initiative, visit the Second Lady's Blog Page. For more information on Florida State University's art therapy program, visit http://arted.fsu.edu/programs/art-therapy/.