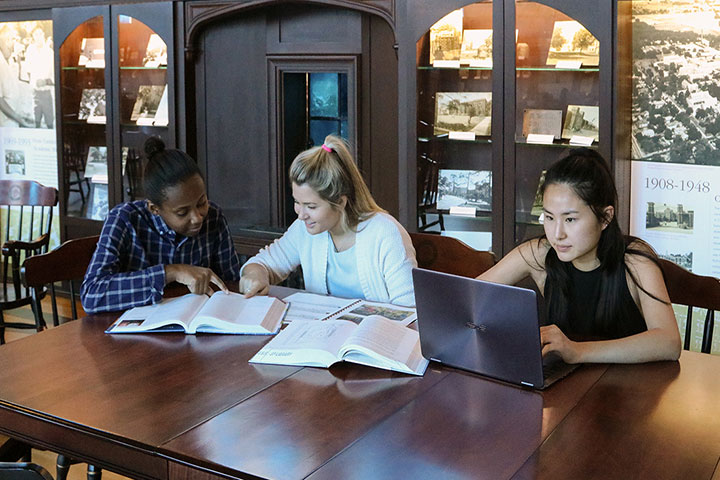 Florida State University is leading the way nationally when it comes to satisfaction among students new to the university and those preparing to graduate, according to recent data from the National Survey of Student Engagement.
Once every three years, FSU freshmen and seniors participate in the national survey as a way for the university to gauge its performance in meeting student needs. The results are compared to those from participating national research universities and nine other public universities in the State University System of Florida. 
"Our students love being at Florida State," said Sally McRorie, provost and executive vice president for Academic Affairs. "We have a wonderfully vibrant, diverse and supportive community where students get the best of both worlds: the challenge and stimulation of a major research university, with the engagement and support of a small, private college. We work hard, and we have exciting opportunities for success."
Seniors were asked questions such as "If you could start over again, would you go to the same institution you are now attending?" At FSU, 88 percent said yes, which was significantly higher than the participating SUS institutions (83 percent) and national public research universities (84 percent). FSU students also were more likely to say they would definitely attend the same institution again, compared to students surveyed who were attending other institutions. 
They also were asked to evaluate their entire educational experience at the university. Ninety percent of FSU seniors rated their experience "good" to "excellent" compared to 85 percent of seniors attending SUS peer institutions and national public university cohorts.
Survey creators said student engagement involves two critical aspects. The first is the amount of time and effort students put into their studies and other meaningful educational activities. The second is how institutions use their resources and provide opportunities for academic and personal growth linked to student learning.
FSU seniors responded significantly more favorably than their SUS and national peers to questions related to how much their experience contributed to acquiring job or work-related knowledge and skills, developing and clarifying a personal code of values and ethics and being an informed and active citizen.
Other areas where FSU excelled included quality of interactions with faculty, support for students' overall well-being and opportunities to hold formal leadership roles in a student organization or group.
Approximately 2 million freshmen and senior students were invited to participate in the survey in the United States, Canada and three other countries. About 47 percent were freshmen and 53 percent were seniors. 
The National Survey of Student Engagement officially launched in 2000 and was updated in 2013 in order to better assess the extent to which students engage in educational practices associated with high levels of learning and development. The data is used by institutions as well as prospective students, parents, counselors and academic advisers.
For more information on the survey, visit http://nsse.indiana.edu.