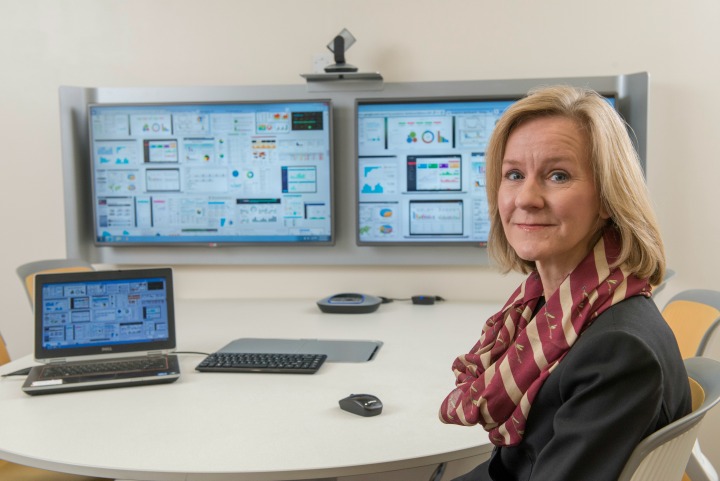 The Florida State University College of Business is launching a one-year Master of Science in Business Analytics (MS-BA) designed to produce graduates who can manage and leverage big data for a company's benefit.
"Not only will these new graduates have the quantitative and technical skills needed to mine data for key business information, but they will also enter the workforce with the developed analytical skills that empower them to predict best strategies for their employers," said Ashley Bush, chair of the Department of Business Analytics, Information Systems and Supply Chain.
With every smartphone call, every purchase, every online check-in from the international airport to the local coffee shop, individuals around the world generate digital data that can be used by businesses to make informed decisions. Businesses seek new hires who can transform this raw data into trusted analysis.
"We must create innovative uses of big data to harness its economic benefits," said Guangzhi Shang, assistant professor of business analytics and Dean's Emerging Scholar. Students will be taught best practices and techniques for data analysis and will apply them to real-world cases."
The college's new graduate program is the first to be developed from the ground up at a state university in Florida, according to Bush. The MS-BA curriculum lies at the intersection of data analytics, information technology and business, said Noyan Ilk, assistant professor of business analytics. Unlike the college's highly ranked online MIS master's degree, which focuses on managing information systems, the new, on-campus MS-BA program zeros in on managing and analyzing data.
Demand for business analytic professionals continues to surge. New jobs are expected to exceed 35,000 in the next three years, an increase of more than 15 percent, according to a 2017 report supported by IBM and the Business Higher Education Forum. Another recent study by big-data consultant McKinsey & Company found that 15 percent of operating-profit increases could be linked to the hiring of data and analytics experts.
Faculty members expect the new program's first graduates to secure jobs in various industries, including finance, insurance, hospitality, entertainment, supply chain, traditional consulting firms and solution providers of big data.
Because of the high level of quantitative techniques, including programming and statistical modeling, built into the MS-BA curriculum, the program is designated as a STEM (science, technology, engineering and math) degree. The college is recruiting recent undergraduates from STEM-related majors as well as business.
Defined by the U.S. Department of Education, STEM programs ensure students are gaining the priority technical and analytical skills employers seek to remain globally competitive. The STEM designation also allows eligible graduates on student visas to extend their work stay in the United States up to two years longer.
March 1, 2018 is the application deadline for the MS-BA program, and the first admitted class begins in May 2018. To learn more and complete a request form to receive more information, visit business.fsu.edu/msba.