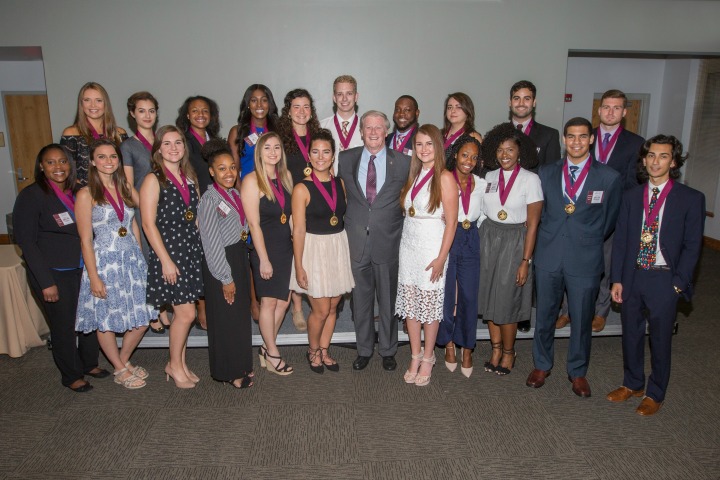 Florida State University welcomed 34 new inductees into its prestigious Garnet & Gold Scholar Society this summer.
Established in 2010, the Garnet & Gold Scholar Society facilitates involvement and recognizes undergraduate students who excel within and beyond the classroom in at least three of five areas: international experience, internship, leadership, research and service.
"We are so proud to welcome this new group of inductees to the Garnet & Gold Scholar Society," said Amy Hecht, vice president for Student Affairs. "They are a wonderful representation of the university, and we are pleased to give them recognition for their involvement to better the campus and community."

To become an inductee of the Garnet & Gold Scholar Society, students must meet the engagement area criteria and submit a synthesis reflection project in their final semester before graduation. Participants are recognized at graduation and receive a designation on their official university transcript, both of which make the students more marketable to potential employers or graduate programs.
The students were inducted into the Garnet & Gold Scholar Society during a special ceremony Tuesday, Aug. 1. The inductees, along with their hometowns and academic majors, are:
Birmingham, AL
Jacqueline Cannon, dance and management
Blountstown, FL
Melissa Newsome, biological science and international affairs
Charlotte, NC
Chloé Halfhide, psychology
Coral Springs, FL
Nicholas Tremblay, biological science
Destin, FL
Ashley Ward, food and nutrition science
Dixon, IL
Michael Rivera, music and biological science
Fort Lauderdale, FL
Miranda Guzman, exercise physiology
Hagerstown, MD
Hunter Williams, biological science
Hollywood, FL
Arthur Saint-Cyr, family and child sciences
Jacksonville, FL
Devin Sapp, psychology
Maiya Carmichael, retail merchandising and product development
Mallorie Lesher, advertising and creative writing
Lakeland, FL
Amanda Schell, statistics and international affairs
Miami, FL
Jessica Injiac, family and child sciences
Kelly Mendoza, family and child sciences
Ketia Jeune, editing, writing and media
Maya Pierre, marketing and sport management
Mount Dora, FL
Brittany Anne Palmer, media/communications studies and international affairs
New Smyrna Beach, FL
Nick Davenport, biomathematics
Ontario, Canada
Christopher Spiegel, international affairs and political science
Katriana Dubytz, psychology and environment and society
Orlando, FL
Gabriela Montero, sociology
Laura Garcia, international affairs and political science
Palm Beach, FL
Danielle Fuller, food and nutrition science
Pensacola, FL
Aaron Shirar, exercise science
Hope Hardy, anthropology
Seaford, DE
Zach Cannon, geology and international affairs
Tallahassee, FL
Ahmed Mahdy, information technology
Mackenzie Vecchio, social science and geology
Tampa, FL
Essence Malveau, marketing and real estate
Vernon Hills, IL
Tara Rooney, sport management
Vero Beach, FL
Halle Horn, marketing and Spanish
Wayne, NJ
Eric Luberto, hospitality management
West Palm Beach, FL
Emilio Figueroa, criminology and sport management
For more information, visit garnetandgoldscholar.fsu.edu.