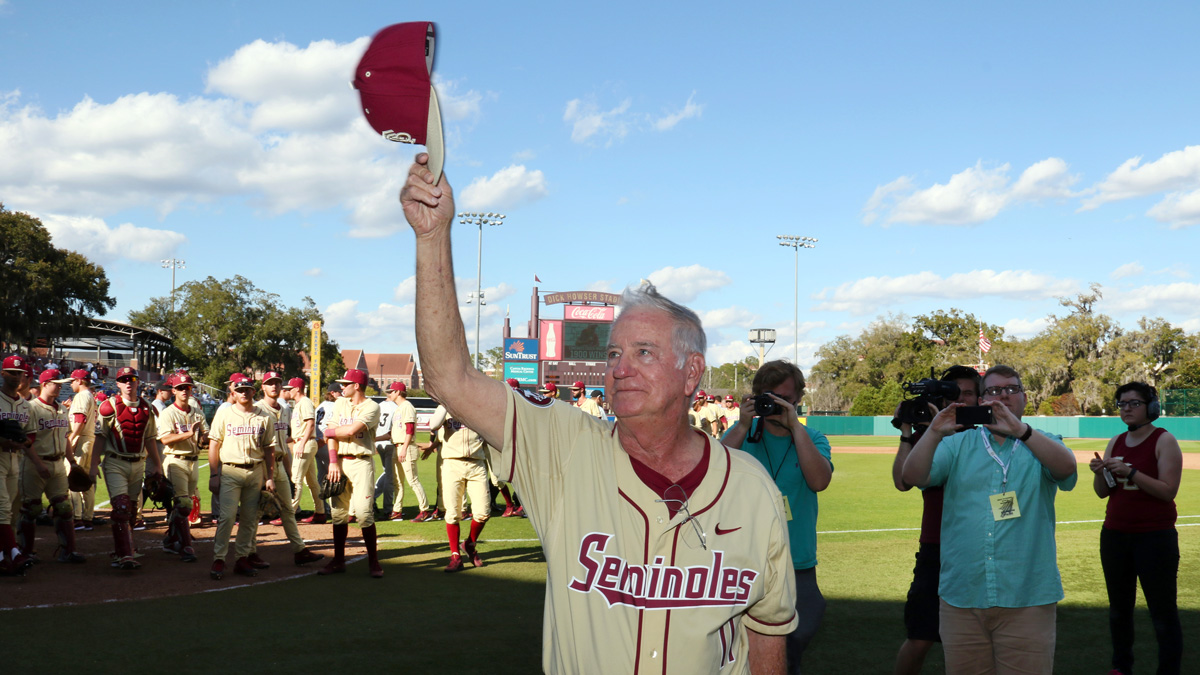 Florida State University baseball coach Mike Martin will be the featured speaker at the 2017 summer commencement ceremony.
The Hall of Fame coach will deliver the commencement address at 9 a.m. Saturday, Aug. 5, at the Donald L. Tucker Civic Center, 505 W. Pensacola St. The ceremony will be livestreamed at http://learningforlife.fsu.edu/fsu-graduation/.
Florida State will celebrate the graduation of 2,510 students this summer: 1,662 will be awarded bachelor's degrees, 680 will be awarded master's/specialist's degrees and 153 will be awarded doctorates. FSU's College of Law will award degrees to 20 graduates and the College of Medicine will confer a doctorate to one student. About 1,500 students are expected to participate in the summer ceremony.
Martin's teams have won nearly 2,000 games during his 38 seasons as FSU's baseball coach. Since 1980, Martin has compiled a career record of 1,944-694-4, which makes him the second all-time winningest coach in NCAA Division I college baseball history.
Martin was a standout baseball player at FSU, where he played center field in 1965 and 1966, batted .354 and was a member of FSU's 1965 College World Series team.
Under Martin's leadership as head coach, Florida State has made 38 consecutive postseason appearances; won seven Atlantic Coast Conference tournament championships since 1992; won 11 Metro Conference championships between 1980 and 1991; and played in 16 College World Series.
Martin was inducted into the Florida Sports Hall of Fame in 2005 and the American Baseball Coaches Association Hall of Fame in 2007. FSU has honored him by naming the baseball field at Dick Howser Stadium, "Mike Martin Field." He earned a bachelor's degree from Florida State in 1966 and a master's in 1971.
The Martin family has been longtime supporters of Tallahassee Memorial Hospital's children's center and newborn intensive care unit. TMH honored the Martins by naming an area for children the "Mike Martin Family Playroom." He and his wife, Carol, have three children and four grandchildren.
Other activities scheduled for FSU's 2017 summer commencement:
The College of Social Work will host a Summer Graduation Reception and Pinning Ceremony for its graduates and their guests from 2:30 to 4:30 p.m. Friday, Aug. 4, in the Oglesby Union Ballrooms. Two speakers will address graduates: keynote speaker Machelle Madsen Thompson, a researcher and adjunct faculty member of the college, and alumna Lisa Panisch, who earned a master's in social work.
The College of Social Work will award bachelor's degrees to 21 students, master's degrees to 100 students and doctorates to two students. The Army ROTC program will commission three second lieutenants in a ceremony at 5 p.m. Friday, Aug. 4, at Harpe-Johnson Hall, 103 Varsity Way. Leon County Judge and retired Col. Augustus "Gus" Aikens Jr., will address the cadets: Emmanuel Johnson, Thomas Muratore and Kendrick Richardson.