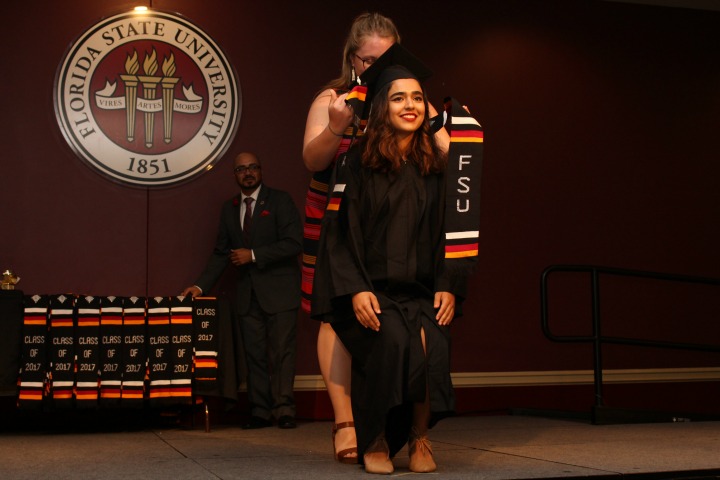 While graduation is time for celebrating one's success, it's also a time for those moving forward to look back.
Brandon Wolf, a survivor of the Pulse Nightclub shooting in Orlando and the vice president of The Dru Project, spoke Thursday, May 4, to Florida State University graduates at the V-rak-ke-ce-tv Cultural Graduation Ceremony about the importance of community in their journeys.
Wolf told the graduates that 22 percent of African-American adults have a four-year college degree, a figure that dips to 16 percent for the Latin community. Meanwhile, by 2020, he said, it is estimated that 65 percent of jobs will require a college degree.
"That is why today is so critical," Wolf said. "The reality is that you in this room are the pioneers. Those diplomas you'll receive are the product of nurturing homes, loving families and sacrifice. Today, we're not only honoring graduates; we're honoring parents and grandparents, neighbors and families. We're honoring communities."
Wolf said his mother's family is Cayuse, a First Nation's tribe in eastern Oregon.
"As with most native communities, it's a common belief that wisdom and knowledge are more valuable than cars and clothing," Wolf said. "That rather than celebrate our wisdom, pat each other on the back and then let it wither and die on the vine, we truly believe it is a gift that should be shared with the next generation."
Wolf recalled his mother sacrificing to prioritize his education and told the graduates in the room it was their turn to lift others up. As they enter the workforce and chase new careers, he said they each have an obligation to bring others along on that journey to "lift them up, guide them, inspire them."
"Your college achievement is a beacon for young people just like you," Wolf said, "It's a reminder that no matter what you look like or where you come from, anything is possible."
The Center for Leadership & Social Change, Student Government Association and Center for Academic Retention & Enhancement recognized 150 graduates at the ceremony. The name "V-rak-ke-ce-tv" is the Seminole Creek phrase meaning "to honor." The ceremony is meant to honor students' accomplishments through their journey, honor their families and friends for their continued support and honor what it truly means to be a Seminole.
Each graduate was celebrated by friends, family members or mentors placing a stole bearing the colors of the Seminole Tribe over their shoulders.
Florida State University's cultural graduation program maintains a relationship with the Seminole Tribe of Florida and works to highlight and honor Seminole culture and tradition.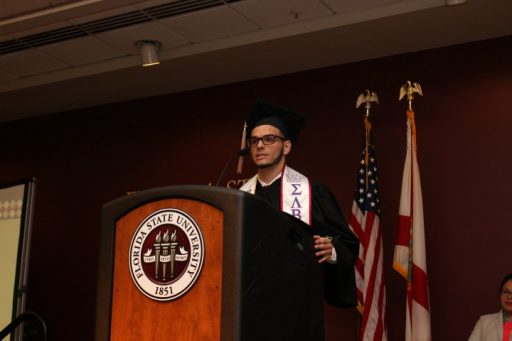 Jimmy Calvo, who graduated with a bachelor's degree in finance and accounting, offered a student reflection to his classmates.
He criticized what he called a flawed philosophy promoted in society that connects the expression of emotions with weakness and encouraged his fellow graduates.
"Strive to be vulnerable and authentic with yourself and those you love," Calvo said. "Don't allow yourself to run away from your smiles, your tears or your fears. Embrace those emotions because at the end of that day, that's all that really matters."
Calvo also challenged his fellow graduates to deal with the difficulties of change during their transitions by finding an anchor that reminds them all of where they come from.
"As circumstances change, do everything in your power to remember where you come from," Calvo said, "If you don't know where you come from, you'll never know where you're going."
Hope Young, who is earning a master's degree in higher education spoke on the theme of the strength of community.
For Young, some of her greatest challenges as a student came from within.
"As a person who holds many marginalized social identities, it at times would be hard to ignore the feelings of doubt and incompetence that would hang on my heart and my mind," Young said. "When those feelings seemed insurmountable lean on a group of people for support and comfort."
She challenged graduates to find their voices and cherish them unabashedly and wholeheartedly.
"Always surround yourself with communities and people who also cherish your awkward and allow it to grow and to thrive," Young said.