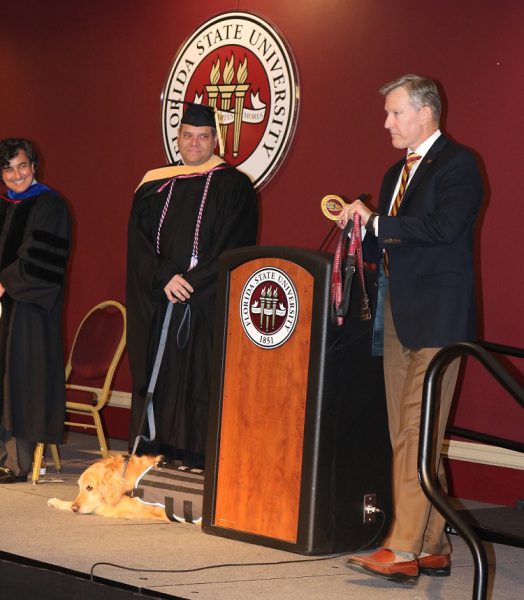 Florida State University recognized about 6,800 graduates — and one incredible service dog — during its spring commencement festivities this past weekend.
Bella and her owner Bryan Wimberly — a student-veteran who earned his Master's of Social Work — were recognized at the College of Social Work's Convocation & Pinning Ceremony Friday, May 5.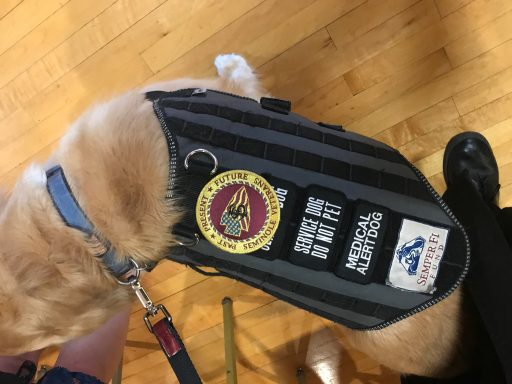 Billy Francis, director of the FSU Student Veterans Center, presented Bella with a specially made FSU Veterans leash and patch to place on her service animal vest to celebrate her unique role in Wimberly's academic success.
"You guys are witnessing history here," Francis said. "We're here to recognize a very special shipmate here today, one that is in touch and in tune with the very pulse and the breathing of their shipmate. There is a love, a commitment and devotion that is worthy of honor."
The loyal companion patiently waited with her shipmate and owner for the rest of the graduation ceremony. This dog is more than just man's best friend, she's a hero's support system.
Wimberly is a U.S. Navy veteran with PTSD who served three combat tours in Iraq and is an advocate for service and therapy animals and those they serve. He believes that providing veterans with dogs like Bella could save lives.
"More than 20 veterans per day commit suicide," Wimberly said. "I feel Bella has been a significant reason why I'm not one of those statistics, and I truly believe Bella has saved my life."
Bella has attended classes with Wimberly for seven years, beginning at Tallahassee Community College through completing his master's degree in social work.
Bella is trained to perform multiple tasks for Wimberly, including calling 911 if he passes out from his medication, or if he starts showing symptoms of anxiety, Bella will put her paws on him so that he pays attention to her.
"My favorite part about Bella is she's so sensitive to everyone around her," Wimberly said. "She wasn't just my service dog, she was everyone in my classes service dog."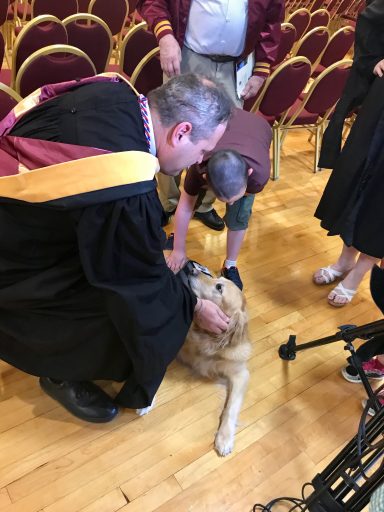 Wimberly recalled how Bella would sit next to other student's during exams when she sensed their anxiety and wanted to comfort them.
"There's a special power that service animals have," Wimberly said. "Soldiers that go fight in combat and come back, they don't ask for PTSD, but dogs like Bella they save lives every day."
Wimberly is currently working with Tallahassee Memorial Hospital Animal Therapy, where he will be developing new programs which take therapy dogs into schools to assist children.
A total of 84 veterans graduated from Florida State this spring, which includes former members of the U.S. military, as well as active duty, National Guard and Reserve members. These students earned their degrees on an FSU campus, including Panama City and the Republic of Panama, or through the university's distance learning programs.