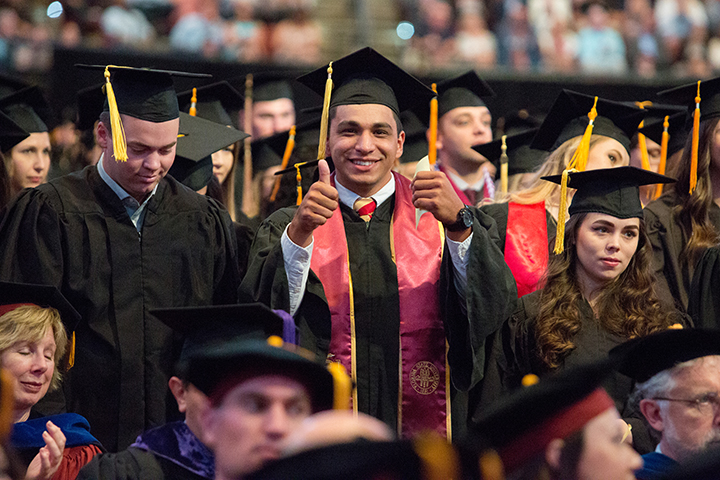 Alumnus and advertising executive Michael Goldberg used a time-honored Florida State University tradition — the war chant — to get across one simple, but powerful, piece of advice for graduates to follow.
"The key to success is in the tomahawk chop," Goldberg said after leading the 2017 graduates in a one last united and classic Seminole chop. "Let it guide you, just follow your arm and look up. Look up on life. Look up from your phone. Look up for love. Look up to yourself."

Goldberg spoke at the second of Florida State's three spring commencement ceremonies held May 5 and 6, at the Donald L. Tucker Civic Center. FSU President John Thrasher presided over all three ceremonies as the university awarded degrees to about 6,800 graduating students, which will go in the record books as one of the largest groups of graduates in university history.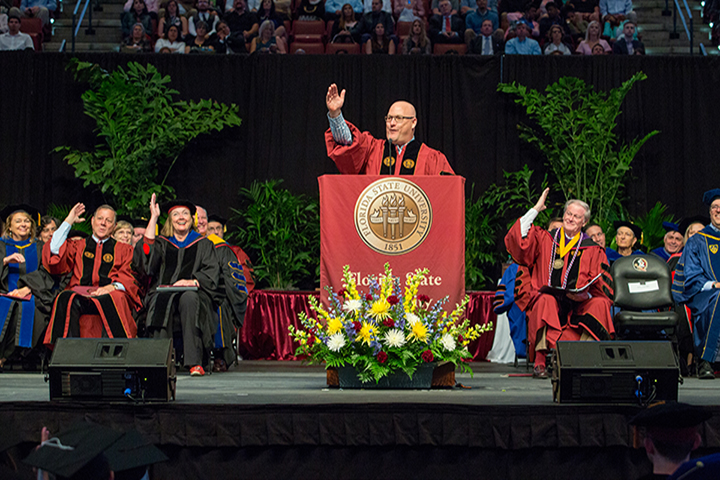 Goldberg, a School of Communication alumnus, is the CEO of Zimmerman, which employs more than 1,000 people and generates revenues of more than $3 billion a year. Its list of clients includes Nissan, Party City, Dunkin' Donuts, Michaels and more.
He attributed looking up — to life, from your phone, for love and to yourself — as the four key factors to his own prosperous and happy life.
"Why not be a more positive force in the world when you can," Goldberg said. "When that happens — in those special moments — there are suddenly no wars, no hunger, no crazy politics and no hatred."
Goldberg encouraged students to be focused on life in the moment, to build real connections and to contribute something to every aspect of their professional and personal lives.
"You see, when you look up, something special happens," Goldberg said. "It doesn't just lift your head. It lifts your eyes, it lifts your body, your spirit and your outlook. It lets you live life in person to connect with people that will be your base."
The last and most significant piece of advice gave to students was to believe in themselves and to think less and do more.
"If you can't imagine your own possibilities, nobody else will either," Goldberg said. "Lean forward and never stop seeing yourself successful. That is the path to great value and success."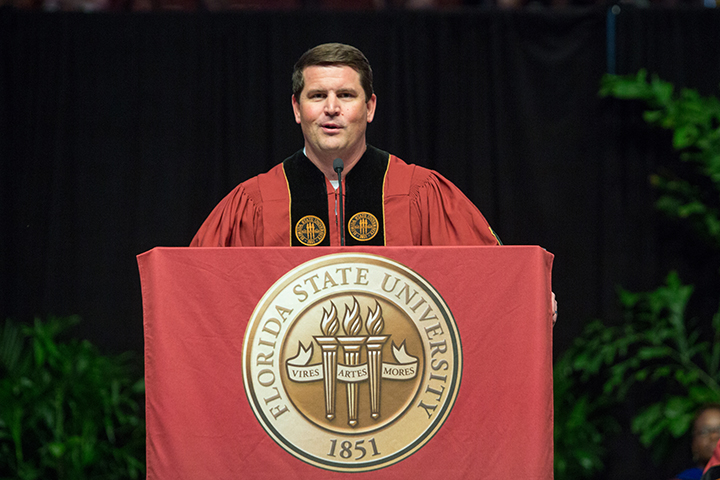 While the morning commencement ceremony chopped away, attendees at the Saturday afternoon ceremony cooked up a recipe for success as alumnus Brian Murphy shared the three key ingredients with graduates.
"I thought success was this singular thing," Murphy said. "I could not have been more wrong. I learned over the short period of time since I left Florida State that success is multiple. Success is interdependent, it's dynamic and it means something different to everybody."
Murphy earned degrees in accounting and finance from Florida State in 2000. He is the founder of cybersecurity firm ReliaQuest. Since its founding in 2007, the company has grown into one of the leading providers of IT security solutions for Fortune 2000 organizations across the world.
For Murphy, attitude, energy and effort are the three ingredients to consider while striving toward success.
"Just don't be negative," he told the audience.
He encouraged graduates to focus on who and what is truly important and to forget about the spectators in the crowds of life.
"I challenge you as you move forward to pay attention to your attitude, it's your filter," Murphy said. "How are you reading that email? How are you reading that text message?"
Murphy talked about his second key ingredient, energy, and how to use it.
"Can you have it all?" Murphy asked. "Most people would tell you no, but I disagree with that. I focus on what's important. I love my wife, my children and my company, and I allocate my energy accordingly."
The final ingredient toward successful living is effort.
"Work hard and when you think you're working hard, work harder," Murphy said.
Murphy left the graduates by challenging them to consider two questions: How good can you be? And, why not you?
"Why not have the next leader in global finance in this room?" Murphy asked. "The next leader in education, in the arts, in government — why not you? And when you get to some place you're proud of, ask yourself, how good can you be?"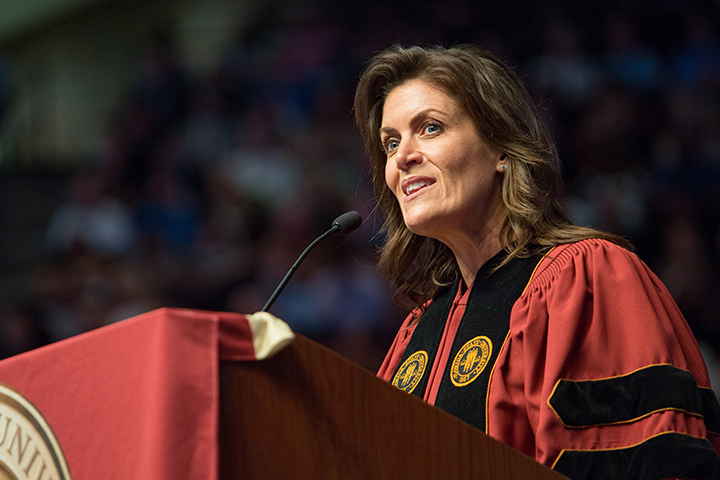 During Friday night's ceremony, parents of Florida State graduates received some sweet affirmation from speaker Wendy Ludlow Clark, a 1991 graduate and renowned advertising executive.
"It turns out your parents were right. About everything," Clark said.
The line got one of the biggest laughs and cheers from graduates and parents alike.
Clark, the CEO of acclaimed advertising agency DDB North America, has been praised as one of the most impactful ad execs in the industry. Her leadership has breathed new life into iconic international brands like Coca-Cola, AT&T and McDonald's.
Twenty-six years ago, Clark sat in the crowd at FSU's commencement preparing to start a new job at an ad agency as a receptionist. It was not quite the dream job she had imagined after four years of hard work in college, but she gratefully accepted the position and performed every task with care and pride, even when it meant making copies and getting drinks for visitors.
Clark said she has never forgotten the humble start to her career, and she encouraged graduates never to be above doing anything.
"I am still never above doing anything," Clark said. "Working nights, working weekends, picking up food or coffee on the way to the office. That work ethic has stayed with me to this day. Again, your parents were right, never be above doing anything."
She encouraged graduates to smile, even at people they don't know.
"Give them a moment of free happiness," Clark said. "There are no catches. Your parents were right, and your kindergarten teacher was right. Kindness matters."
Clark concluded, "This is your moment. It's time to chase your dreams and live your best life."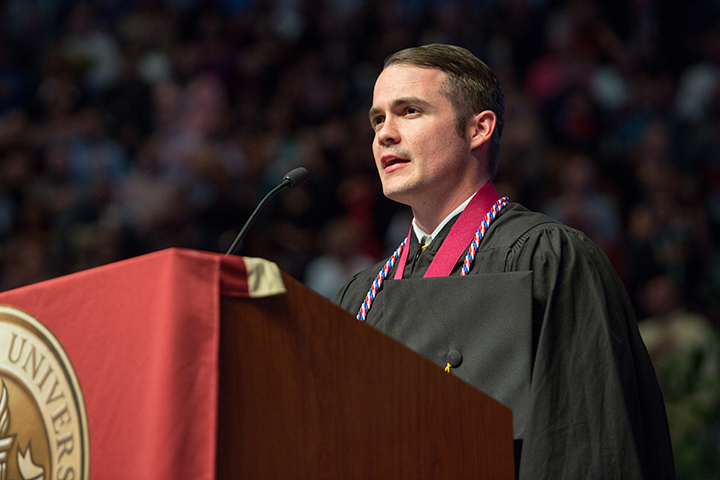 Student-veteran Ryan Taylor, who led Friday's crowd in the Pledge of Allegiance, was one many graduates who felt like they  chased and caught their dreams this weekend.
Taylor, who joined the U.S. Marines at the age of 17 and went on to serve in both Iraq and Afghanistan, said he was elated to graduate and be a Florida State Seminole. As he climbed the stairs and walked across the stage to accept his degree, Taylor said he was thinking about his military buddies who never came home from war in the Middle East.
"There were a lot of Marines who I saw give their lives in service to their country and they would've made phenomenal Seminoles," Taylor said. "They don't have the opportunity to be here, and so the thought of not finishing school never crossed my mind. It is an amazing honor to be here. I feel like I'm carrying the weight of their hopes and dreams. It's a special feeling and I'll cherish it for the rest of my life."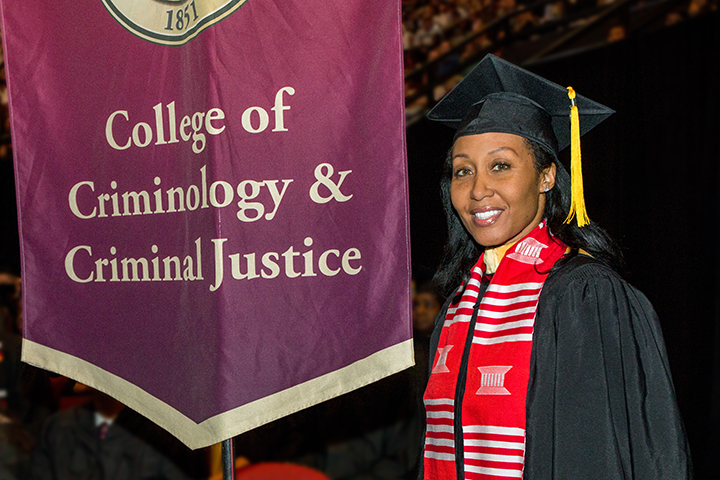 Saturday morning's commencement ceremony was Madalyn Sophie Gainey's first time seeing the Florida State campus in person. She's a distance learning student from Seattle and an active duty colonel in the U.S. Army who earned her master's in criminology completely online.

Gainey originally got into FSU when she was 18 but at the time was unable to attend her dream school. She was ecstatic to attend commencement and finally join her Seminole family.
"I have chills," Gainey said, describing what it felt like to finally be on the campus in person. "I'm full of excitement, and I'm extremely humbled to be here. I'm a Seminole, full of garnet and gold at heart, and I feel so welcomed and like such a part of the university."
Gainey has served in the military for 25 years and plans to pursue her Ph.D. in criminology through FSU distance learning online classes after graduation.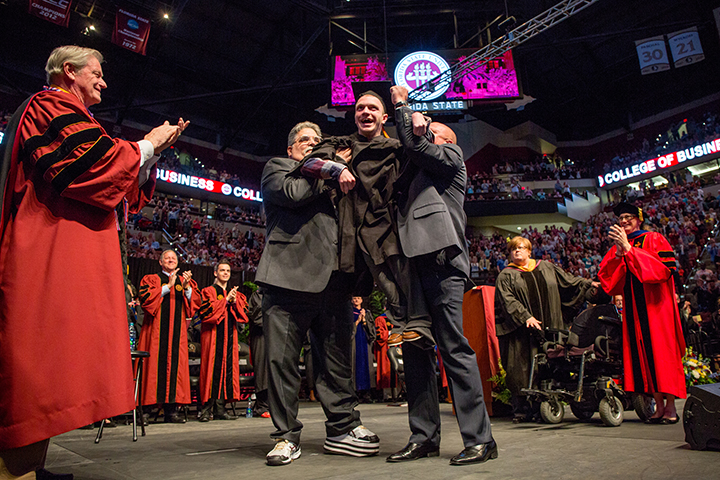 On Saturday afternoon, graduate Payton Poulin brought the capacity crowd to its feet as he walked across the stage to shake the hand of President Thrasher.
Poulin has the rare neurological disorder Schizencephaly and uses a wheel chair, but beat the odds to earn a bachelor's degree in business from his dream school. He walked with the assistance of his father, Patrick, and family friend Dmitri Rigas.
"It's always been my dream to go Florida State, and to be here today means the world to me," Poulin said.
Poulin, who has received national attention as an FSU football super fan, said he was humbled by this moment.
"I grew up being a fan of Florida State football, and when I got accepted it was amazing," Poulin said. "I've strived to uphold the traditions we have here at Florida State, and I'd like to say that I lived my dream these past four years."