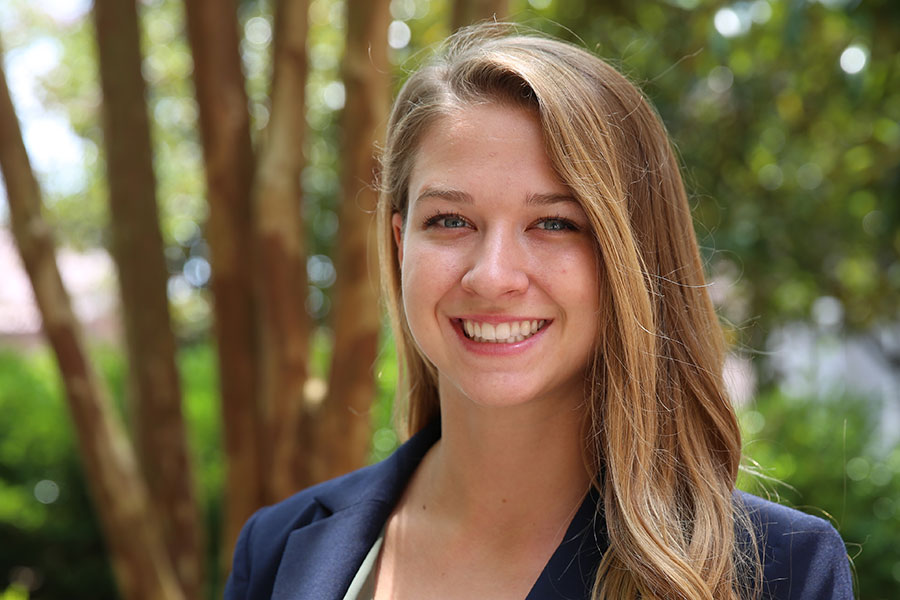 A Florida State University graduating senior will be studying at the University of Oxford this fall after being selected as a Frost Scholar. 
Rachel Drummey, 22, received the prestigious award through the Frost Scholarship Programme, which funds current State University System of Florida students for one-year, full-time master's courses in science, technology, engineering and mathematics (STEM) at Oxford. 
"It's kind of a long shot," said Drummey, who is graduating this weekend with dual honors after completing the Honors Program and an honors thesis in her major. "Oxford wasn't something I ever really considered. If you told me freshman year that I would be doing this, I wouldn't have believed it." 
Drummey will travel to the United Kingdom to begin her studies in radiation biology at Oxford's Department of Oncology in October 2017. It will be the first visit to Europe for the native of Bradenton, Fla. 
"Rachel Drummey has demonstrated incredible innovation and dedication in her scholarly pursuits in biochemistry at Florida State University," said Craig Filar, assistant dean of Undergraduate Studies and director of the Office of National Fellowships. "Her rigorous research and coursework have been recognized, as Rachel joins an illustrious group of STEM scholars who have pursued graduate study at Oxford on a Frost Scholarship. Rachel exemplifies all that is wonderful about FSU's undergraduate experiences, and she demonstrates that studying here can prepare you to make an impact in the world.  It is incredibly satisfying to see her recognized for this well-deserved honor." 
Drummey, a biochemistry major, began working in an FSU research lab during her freshman year, and there she realized science's connection to real life. As a sophomore, she began conducting research in Associate Professor of Biochemistry Brian Miller's lab, where she did her honors thesis. 
"I was really involved in research at Florida State, and I think that's the reason I probably got this scholarship," Drummey said. "I really attribute my research in Dr. Miller's lab at FSU to getting that experience and building my resume. All of that support exposed me to what real research is about." 
During her time in Miller's lab, Drummey investigated how mutations in a specific human protein, glucokinase regulatory protein, cause hyperlipidemia and cardiovascular disease. 
"What is most remarkable about Rachel is her ability to both work independently and balance a busy schedule, two qualities rarely observed in scientists at an early career stage," Miller said. "She has a bright future, and I'm proud of the research she has conducted in my lab over the last few years." 
Drummey said her time at Miller's lab helped her land an internship at the Centers for Disease Control and Prevention where she received exposure to a large research organization. She plans to attend medical school following her year at Oxford and wants to incorporate research in her career in medicine. 
"Research is how advances in medicine are made, so I want to combine the two," Drummey said. 
A 2013 graduate of Manatee High School, Drummey is a member of FSU's American Medical Student Association chapter for premed students and, earlier this spring, she was inducted into the prestigious Garnet and Gold Scholar Society. She has served as a volunteer at Camp Boggy Creek, a medically safe camp for children with serious illnesses. This summer, she will work full-time at another camp within the SeriousFun network, Victory Junction, in North Carolina. 
The Frost Scholarship Programme, which is supported by the Phillip and Patricia Frost Philanthropic Foundation, covers 100 percent of university and college fees and provides a grant for living costs. 
The University of Oxford, located in Oxford, England, is a leading research university and the oldest university in the English-speaking world. 
Before they begin their studies in October, Frost Scholars take part in an exclusive weeklong orientation programme at one of Oxford's oldest colleges, Exeter College, to introduce them to academic life at Oxford.