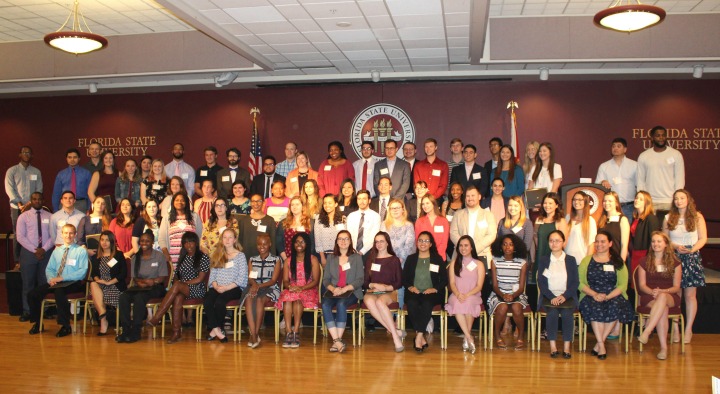 The Florida State University Career Center hosted its third annual Student Employee of the Year award ceremony, April 10, to celebrate the vital contributions student employees make to the campus community.
A total of 141 nominations were received from departments and divisions on the Tallahassee and Panama City campuses.
Florida State awards five different honors to student employees, each named after an aspect of the institutional seal or in honor of an exemplary alumnus.
The 2017 awards and their recipients are:
The Vires (Strength) Award, recognizes the student employee who consistently goes above and beyond job duties, taking initiative in his or her role: Jordan Landers, Campus Recreation.
The Artes (Skill) Award, recognizes the student employee who best demonstrates critical thinking skills in the workplace: Hannah McLaughlin, College of Social Work.
The Mores (Character) Award, recognizes the student employee who exemplifies outstanding professionalism in all aspects of the role: Allison Metcalf, Office of the Provost.
The Torch Award, recognizes the student employee displaying exemplary customer service: Lauren Apgar, The Career Center.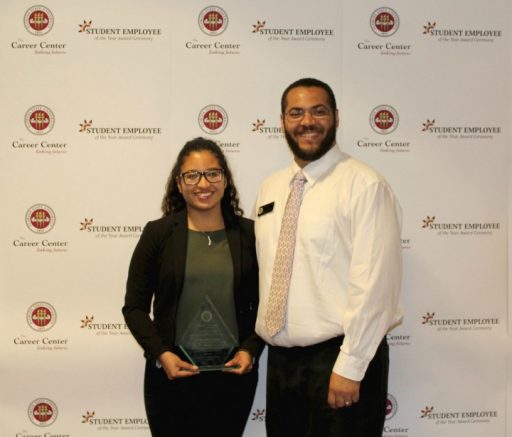 The Tony DiBenedetto Overall Student Employee of the Year Award, named in honor of a former FSU student employee and prominent alumnus, is bestowed upon the outstanding student employee that demonstrates strength, skill and character while delivering exceptional customer service and always going above and beyond the duties of the role: Maria Montano, Center for Academic Retention & Enhancement.
DiBenedetto, the overall winner award's namesake and Tribridge chairman and CEO, credits much of his growth and development to the skills he learned from supervisors during his time as an FSU student employee.
The ceremony, held in conjunction with National Student Employment Week, April 9-15, recognizes that the university could not accomplish initiatives or create a welcoming atmosphere without these students' daily contributions. To further celebrate FSU's student employees, The Career Center is encouraging FSU departments to share photos of their student employees using the hashtag, #NolesAtWork and #NSEW.
For more information on Career Center services, programming or initiatives, visit career.fsu.edu.